We nurses have tremendous dedication in giving the best possible care to our patients. To achieve that, nursing care go hand in hand with technology. With a mobile app that provide us, let's say, quick reference to a drug or disease, providing safe and efficient care is achieved all the time. These 35+ nursing apps are invaluable throughout our career, whether as a student or a professional nurse.
Nursing Diagnosis and Care Plans
1. Nursing Diagnosis Handbook (In-app purchases – Android, iOS)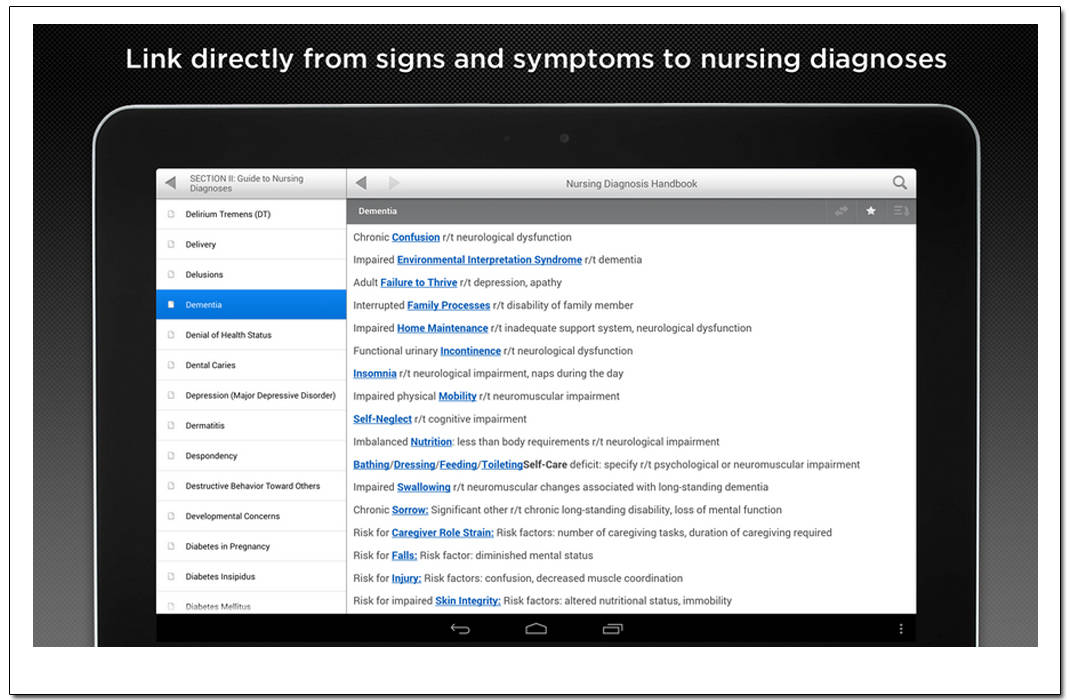 Nursing Diagnosis Handbook delivers the essential information needed to quickly reach an accurate nursing diagnosis and write effective care plans. Users can locate suggested nursing diagnoses for 1,300 signs and symptoms, medical diagnoses, surgeries, and disorders, then link directly to 200+ detailed sample care plans. Topics contain citations with links to the PubMed database making Nursing Diagnosis Handbook the perfect evidence-based guide for practicing nurses and nursing students.
2. Nurse's Pocket Guide (In-app purchases- Android, iOS)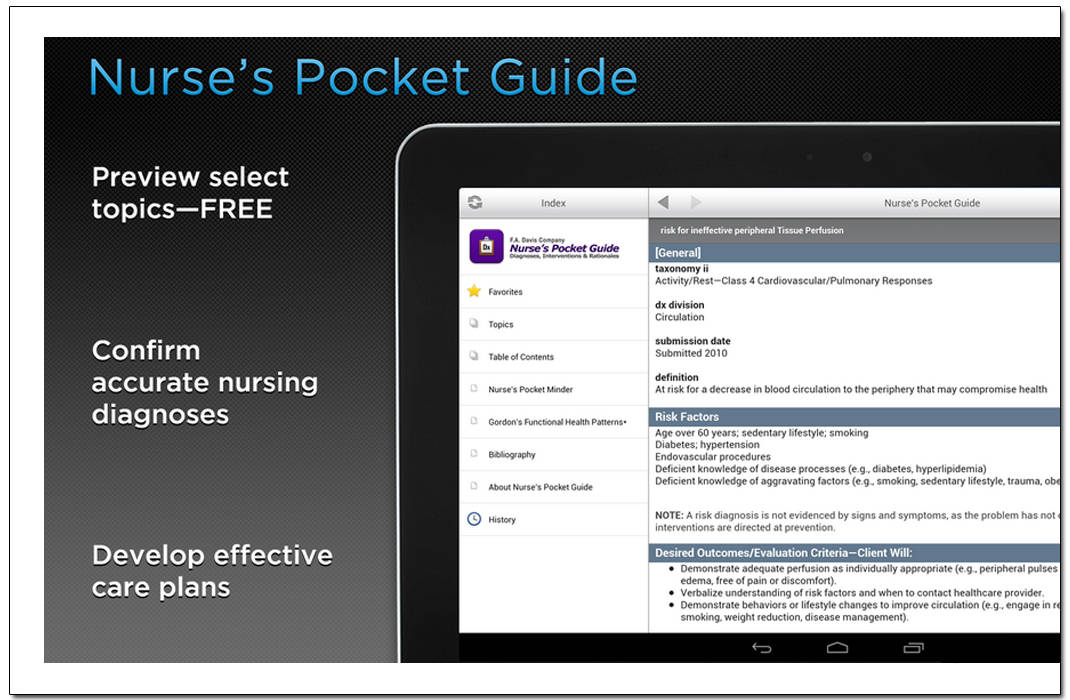 Create accurate nursing diagnoses and develop effective nursing care plans with this app. Each diagnosis listing includes a definition, related factors, defining characteristics, prioritized actions/interventions, NIC/NOC classifications, and documentation guidelines. Or, choose by patient symptom and link directly to associated nursing diagnoses.
3. Nursing Care Plans – NDA (1.99 USD – Android, iOS)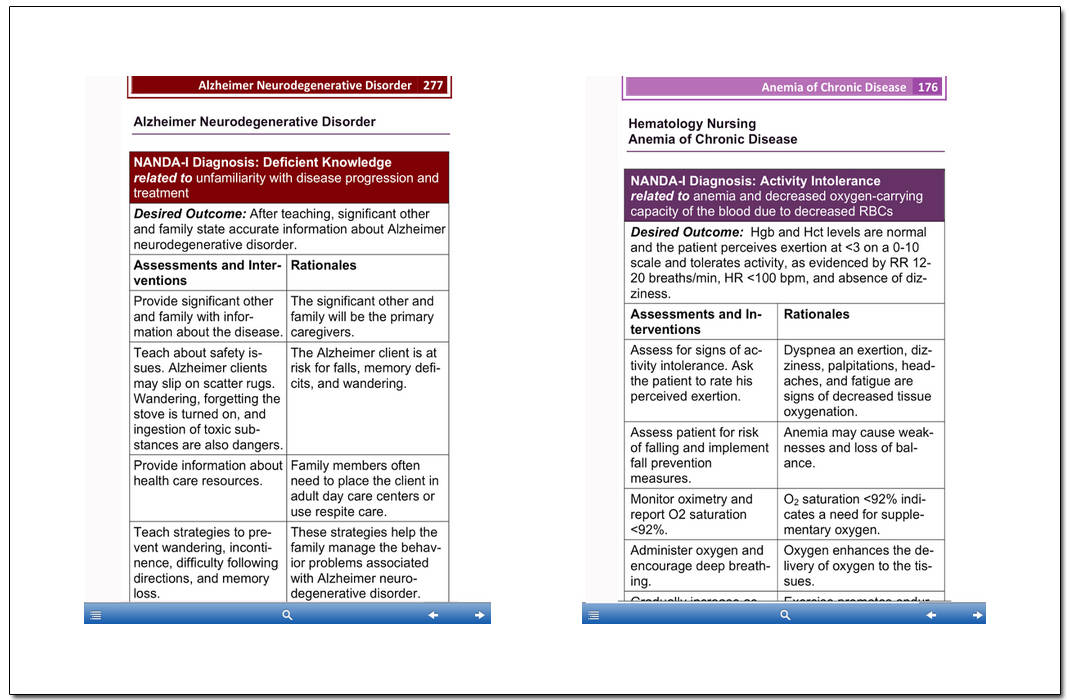 This app features over 500 care plans with nursing diagnoses, interventions, and rationales. It can help nurses write customized care plans for their patients and print out care plans for your patients and for your assignments.  Nursing Care Plans includes care plans for medical-surgical nursing, maternity, pediatrics, and psychiatry.
Pharmacology
4. Drug Guide (Free – Android)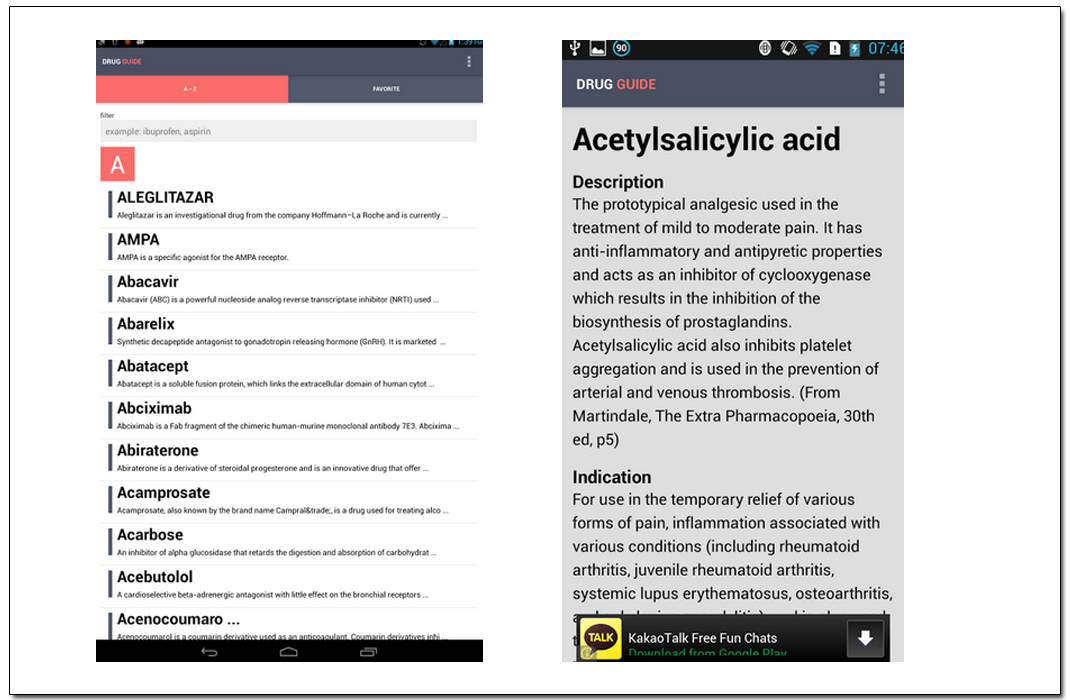 The Drug Guide app can help you find complete information about drugs at the ease of your fingertips. Includes search by drug name, brands, and category. The app also provides thorough information such as: drug name, description, indication, synonyms, pharmacology, toxicity,dosage,brands, price, mechanism of action, affected organism, drug interaction, drug category,and bookmarking facility. All the database is saved in your device for quicker access (no internet access required).
5. MED MNEMONICS Pro (2.99 USD – Android, iOS)

Get a headstart in nursing pharmacology with this app as it presents medications in a well categorized archive of mnemonics, acronyms and interesting facts.
6. I.V. Drug Handbook (In-app purchases – Android, iOS)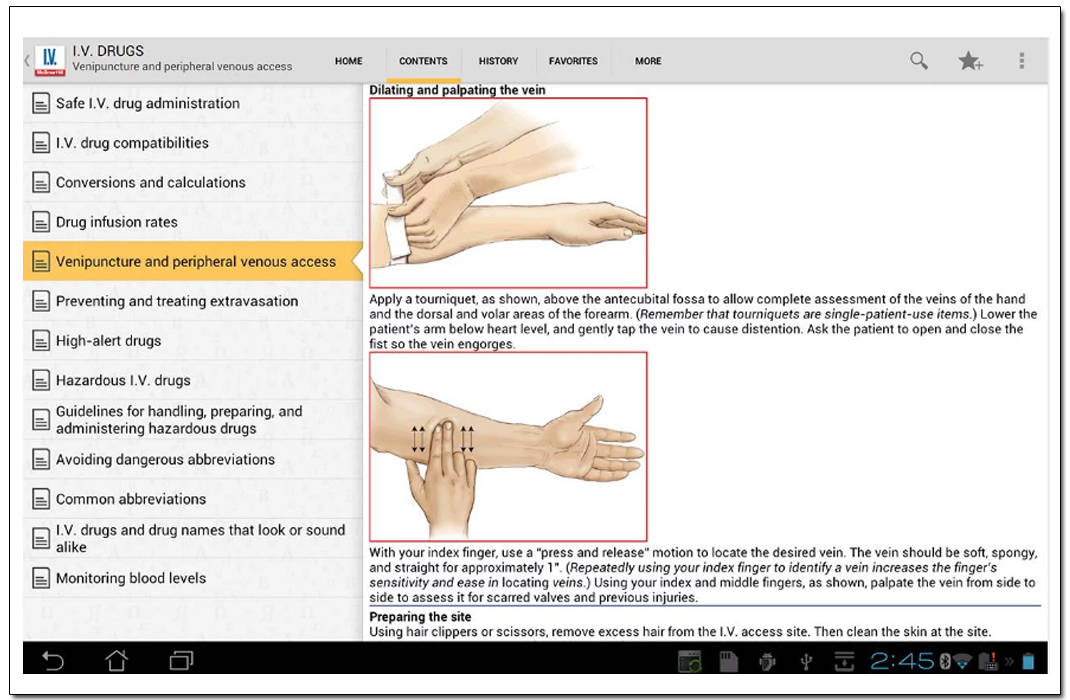 This app is published by McGraw-Hill and has a strong focus on patient safety, administering, and monitoring IV drugs. The handbook is a concise and practical guide to help your carry out one of the most difficult tasks you face.
7. Medical & Drug Dictionary (Free – Android, iOS)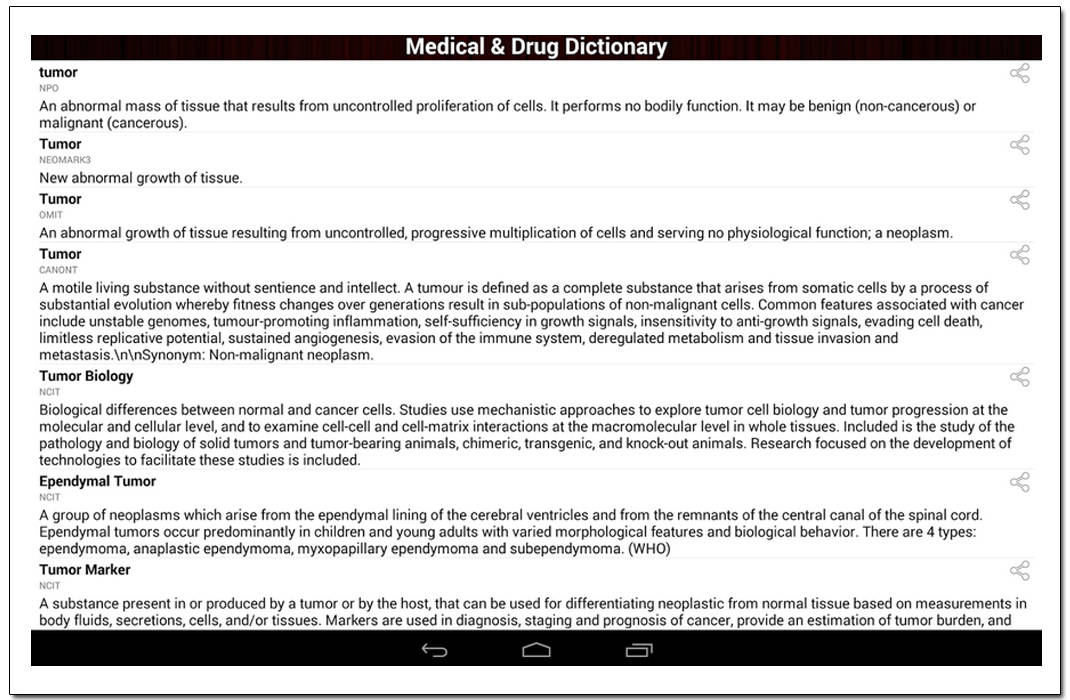 This app is your handy-dandy medical and drug dictionary that contains more than 300,000 medical terms. Excellent for nursing students! It also contains semantic and dictionary search available.
8. Drugs Dictionary (Free – Android)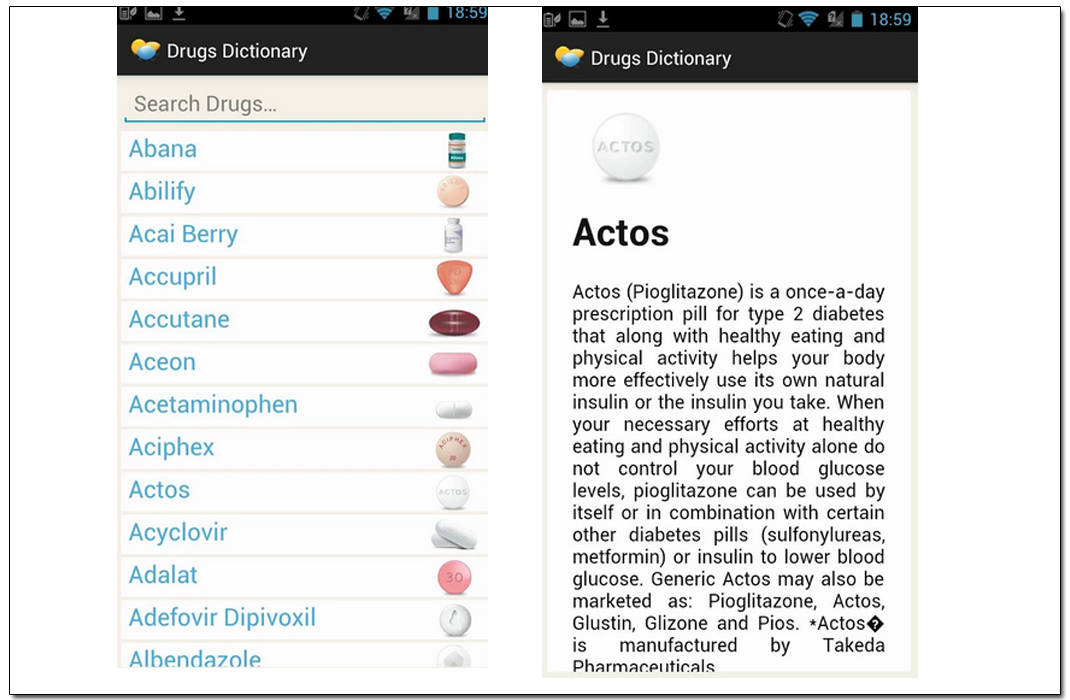 Another useful drug dictionary that includes a user-friendly interface. Includes information about drugs: uses, how to take, side effects, precautions, drug interactions, missed dose, storage.
News and Journals
9. MedPage Today (Free – Android, iOS)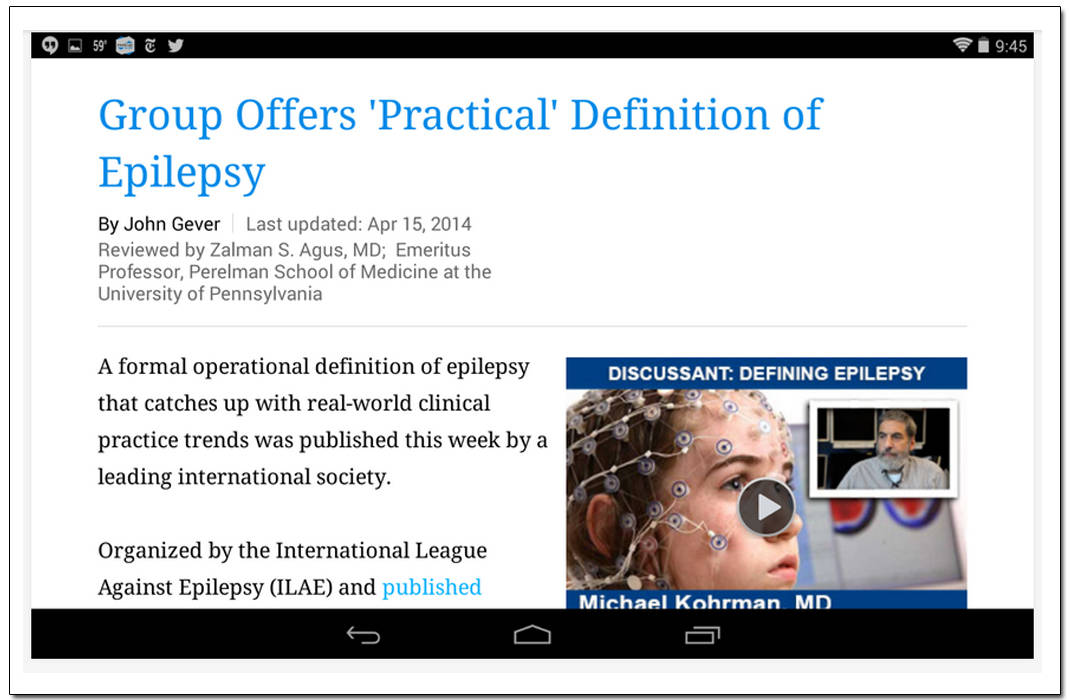 MedPage Today includes breaking medical news, comprehensive reference information and FREE CME/CE credits at your fingertips. MedPage Today is the only service for physicians that provides a clinical perspective on the breaking medical news that their patients are reading. Co-developed by MedPage Today and The University of Pennsylvania School of Medicine, Office of Continuing Medical Education, each article alerts clinicians to breaking medical news, with summaries and actionable information enabling them to better understand the implications.
10. Medscape (Free – Android, iOS)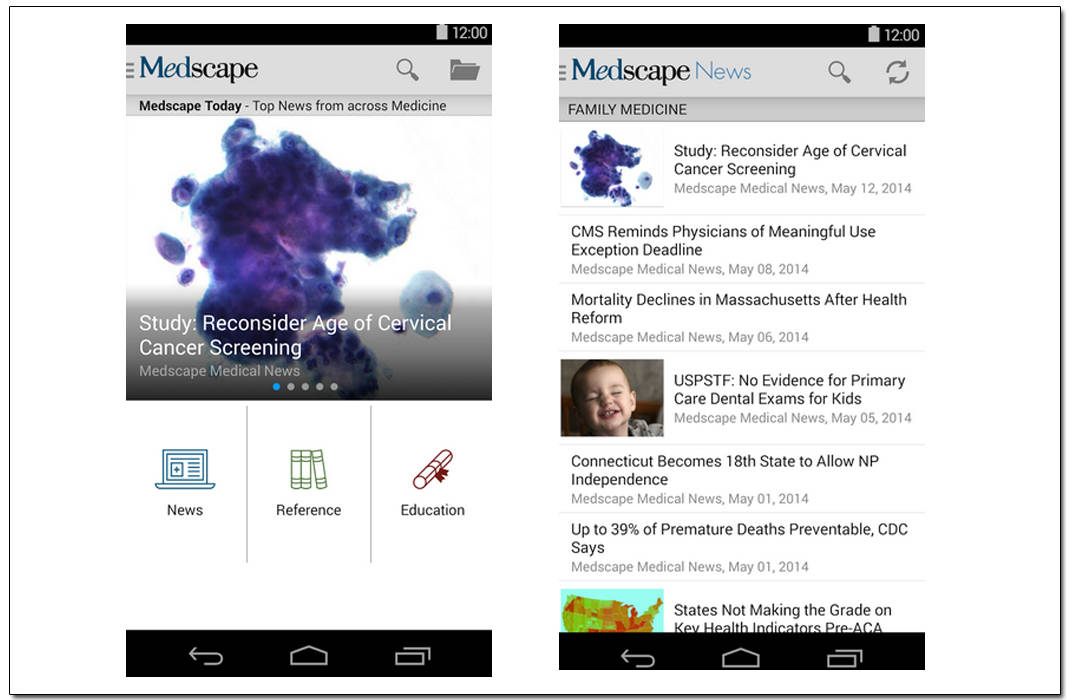 Medscape is the leading medical resource most used by physicians, medical students, nurses and other healthcare professionals. Includes Medical News, Drug Information and Tools, Disease and Condition Information and Medical Calculators.
Anatomy Apps
11. Human Anatomy Atlas (29.99 USD – Android, iOS)
The most content of all true 3D anatomy apps. Over 3,800 anatomical structures (1) New microanatomy of senses (2) Anatomy of male and female urinary and reproductive structures (3) Optional animations that present physiology and function.
12. Pocket Human Physiology (Free – Android)
This is an ideal application if you want to learn about physiology in detail. Includes topic about the different bodily systems.
NCLEX-RN Test Apps
13. NCLEX RN Mastery (29.99 USD – Android, iOS)
NCLEX RN Mastery is one of the beautifully crafted review app. It recently won the Mobile App of the Year and Innovation of the Year! It has over 1600 meticulously crafted NCLEX Questions with rationales and pictures with content based on past NCLEX questions. With NCLEX Mastery, you can learn while waiting in line, at lunch, between classes and maybe even during class!
14. Nursing Exam Prep (Free – Android)
This interactive quiz app is for anyone who wants to pass the NCLEX-RN and NCLEX-PN Exams.Using this Nursing Exam Prep application, Nurses and medical students can also refine their skills. NCLEX students can practice this quiz app which includes 1000 unique questions organized within NCLEX area, body function & clinical area.
15. NCLEX-RN Exam Prep (Free – Android)
The very important exam such as the NCLEX-RN, we feel overwhelmed by the amount of content there is to master. This App will help you organize your knowledge and get ready to take and pass the Licensure Exam for Registered Nurses. This introduction discusses the NCLEX-RN exam in general and how the Exam App can help you prepare for the test. It doesn't matter whether this is the first time you're going to take the exam or if you have taken it previously; this App gives you the necessary information and techniques to obtain licensure.
16. NCLEX Flashcards (Free, Premium available – Android, iOS)
Using Flashcard will help you learn faster and remember more in a shorter time by showing flashcards just before you will forget them. NCLEX Flashcards app has several learning modes: Study, Slide show, Matching, Memorize, Quiz to make the learning process for NCLEX exam more exciting and fun.
17. Davis Mobile NCLEX-RN® Q&A (19.99 USD – Android, iOS)
Over 1,500 questions let you study anytime, anywhere based on your personal needs. It's easy to build your own quizzes, analyze your strengths and weaknesses, and create new quizzes designed to improve your performance in specific areas.
Nursing References
18. Heather's Nursing Cheat Sheets (Free – Android)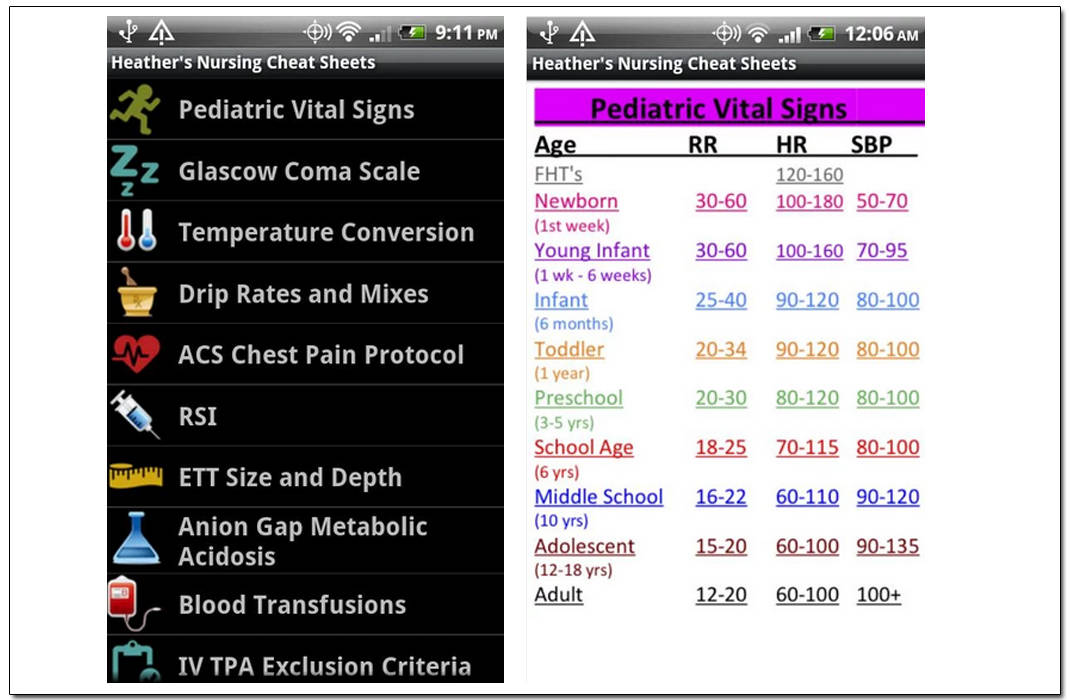 A handful of cheat sheets for different types of nurses that gives you instant access to information that you need to know now.
19. Epocrates (Freemium – Android, iOS)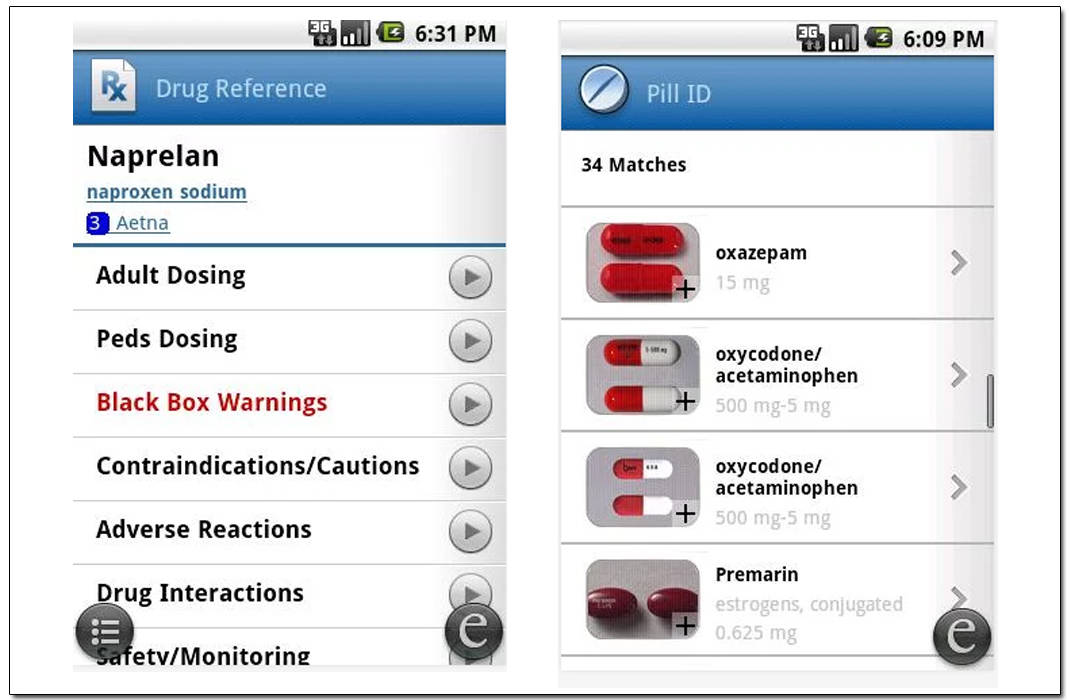 Epocrates is used by million of active users. It includes disease information, alternative medications, laboratory guides, and more if you'll upgrade to an Epocrates Essentials subscription.
20. Mini Nurse (2.99 USD, Lite Version Available – Android)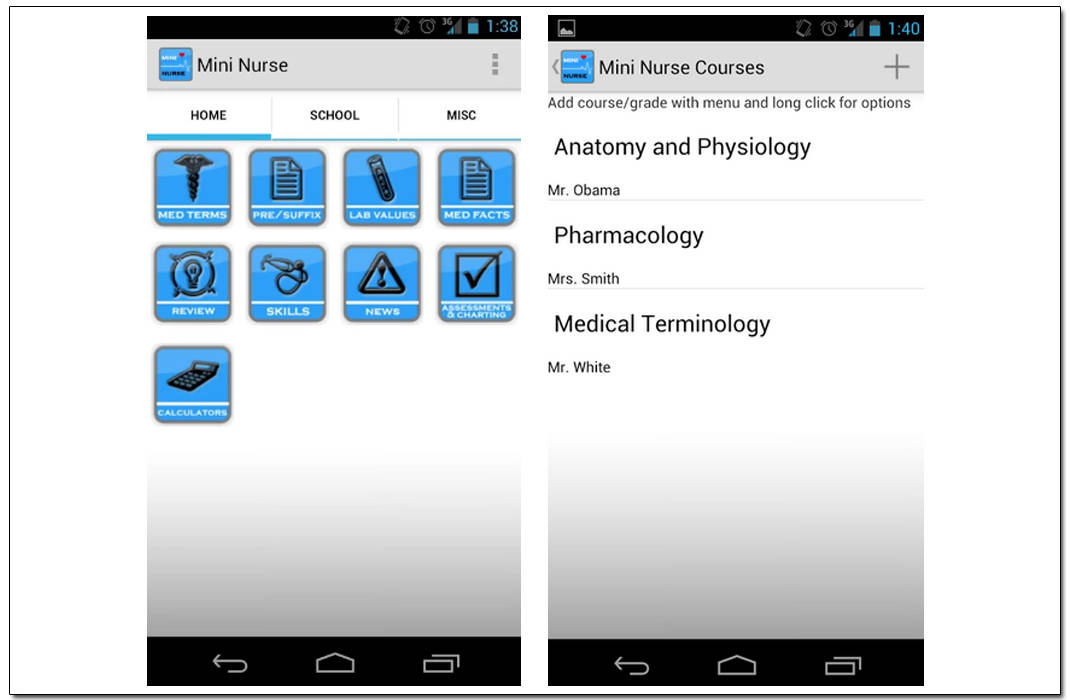 Mini Nurse is a great reference for nursing students who would want to learn about the basics of nursing. Includes: General information from medical terminology, medical abbreviations, medical suffixes and prefixes, different type of calculators, lung and heart sounds, subcutaneous injection sites, medical calculation practice, practice questions on various nursing subjects, and much more!
21. Nursing Essentials (7.99 USD – Android, iOS)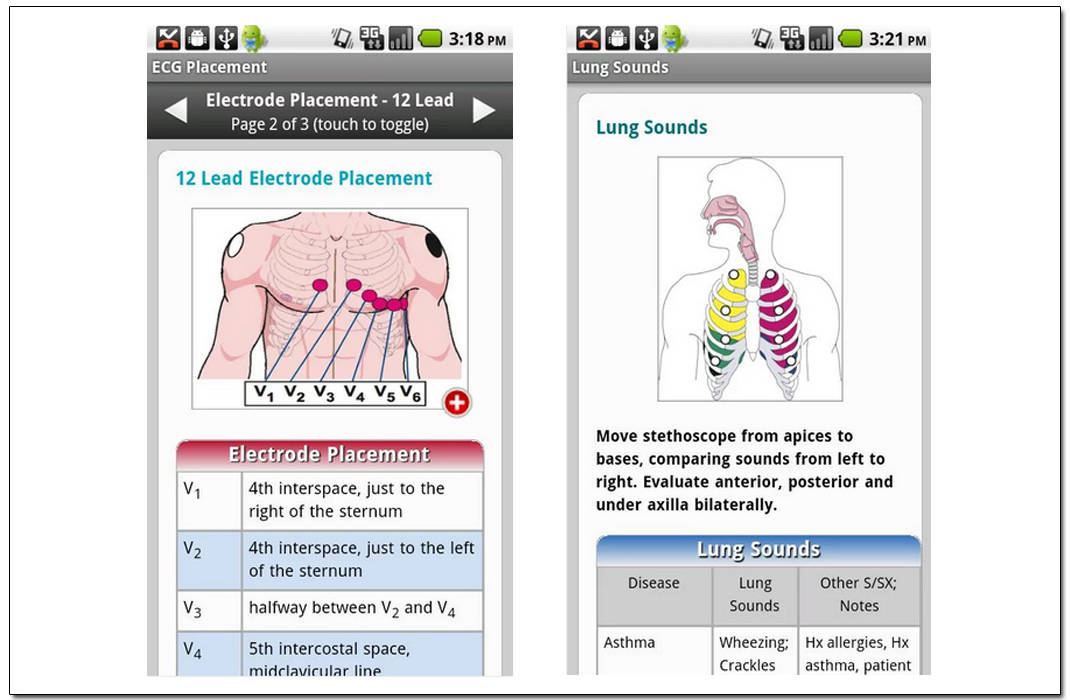 Nursing Essentials for Android and iOS provides instant access to critical nursing information. Nursing Essentials is an easy to use app with rich content, detailed illustrations, and pioneering features. Best of all, you know you can depend on the Nursing Essentials, because it was created by Informed Publishing®—the trusted leader in emergency reference information since 1986. Informed's print and digital guides are carried in the pockets, on mobile devices, and in the emergency vehicles of over one million first responders nationwide.
22. Med Surg II Nursing in a Flash (5.00 USD – Android, iOS)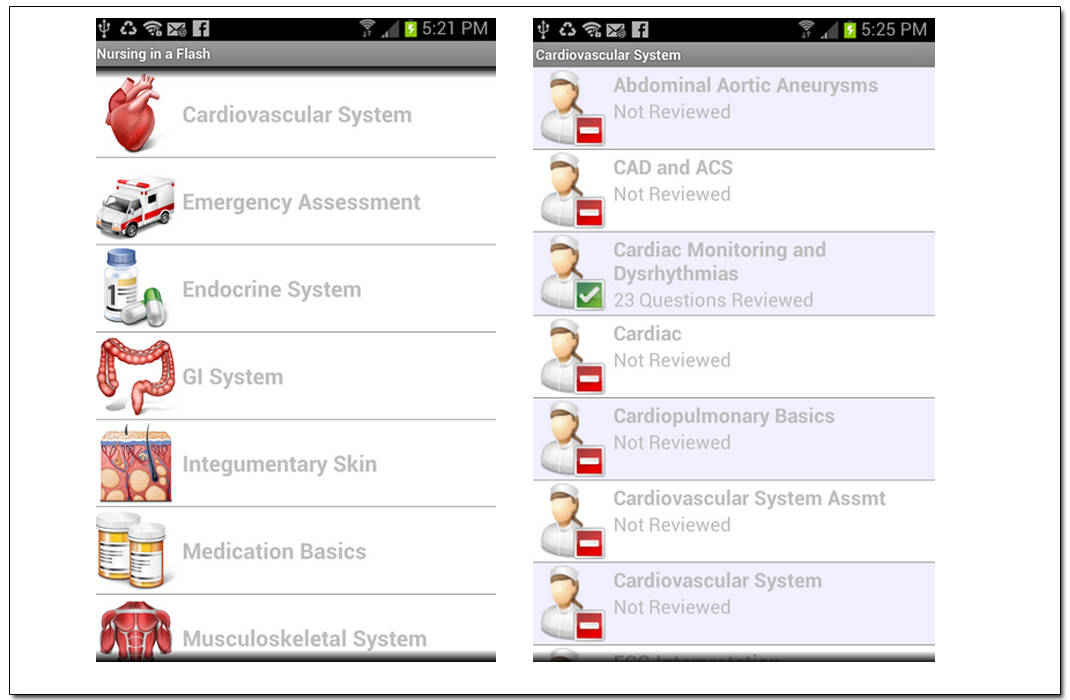 Nursing in a Flash took the same notes you had to take for class and converted them into 4,700 Study Questions. Nursing in a Flash mobile review applications are designed to provide nursing students with an easy, efficient tool to learn vital nursing content on the go. This app contains no multiple choice questions, only question and answer Flashcards for test preparation. Review content is categorized by major body systems and then further broken down into disease states to allow the user to review content pertinent to their education. The questions are geared towards providing the needed information to ace nursing exams and to build a solid knowledge foundation for the future.
23. Pediatric Nursing in a Flash (2.99 USD – Android, iOS)
Same as the framework of "Nursing in a Flash" series, this app includes flashcards about Mental Health Assessment of Children, Psychiatric Disorders, Newborn and Infant Development, Toddler Development, Preschooler Development and more.
24. Psychiatric Nursing in a Flash (2.99 USD – Android, iOS)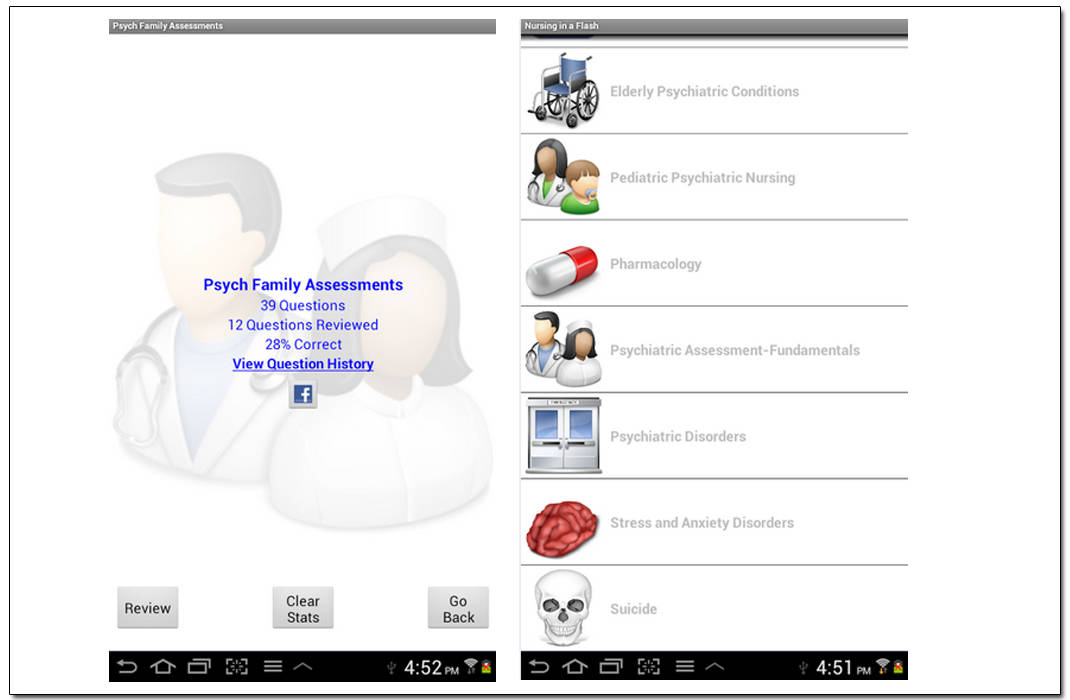 This application contains over 2,000 Psychiatric Nursing Study Questions. Topics reviewed in this module include: Elderly Psychiatric Conditions, Delirium and Dementias, Mental Health Assmt Elderly, Pediatric Psychiatric Nursing, Childhood Psychiatric Disorders and more.
25. Eponyms (Free – Android, iOS)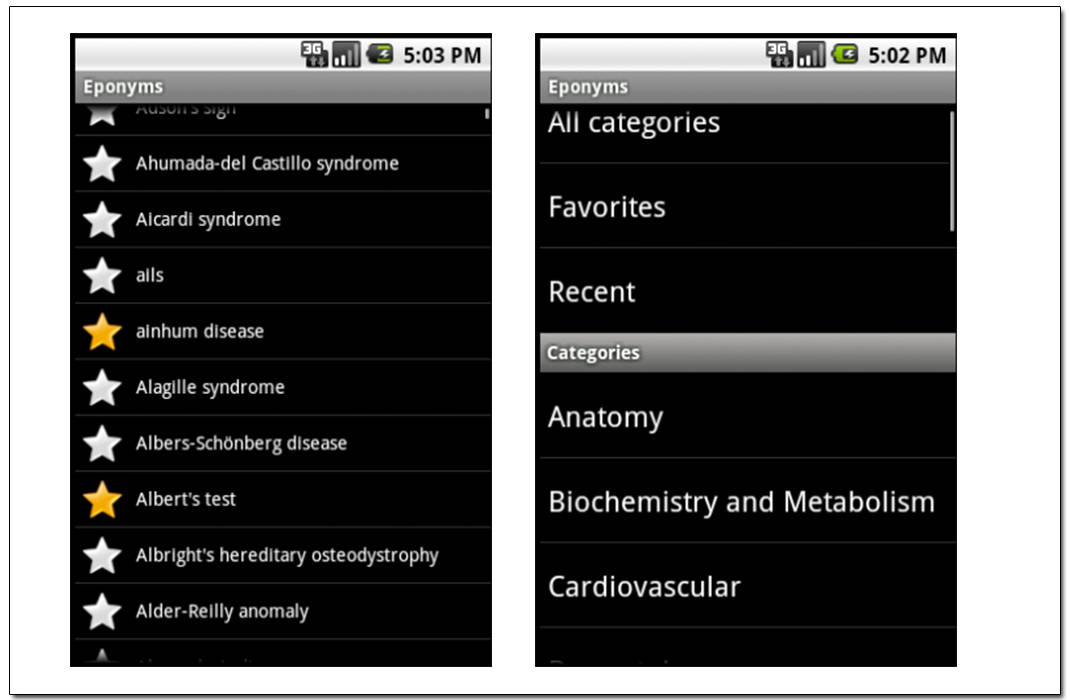 An eponym is a discovery or invention that is named after a person. Eponyms brings a short description of more than 1,700 common medical eponyms to your Android device. A perfect tool to quickly look up the meaning of any eponym.
26. Diseases Dictionary – Medical (Free – Android)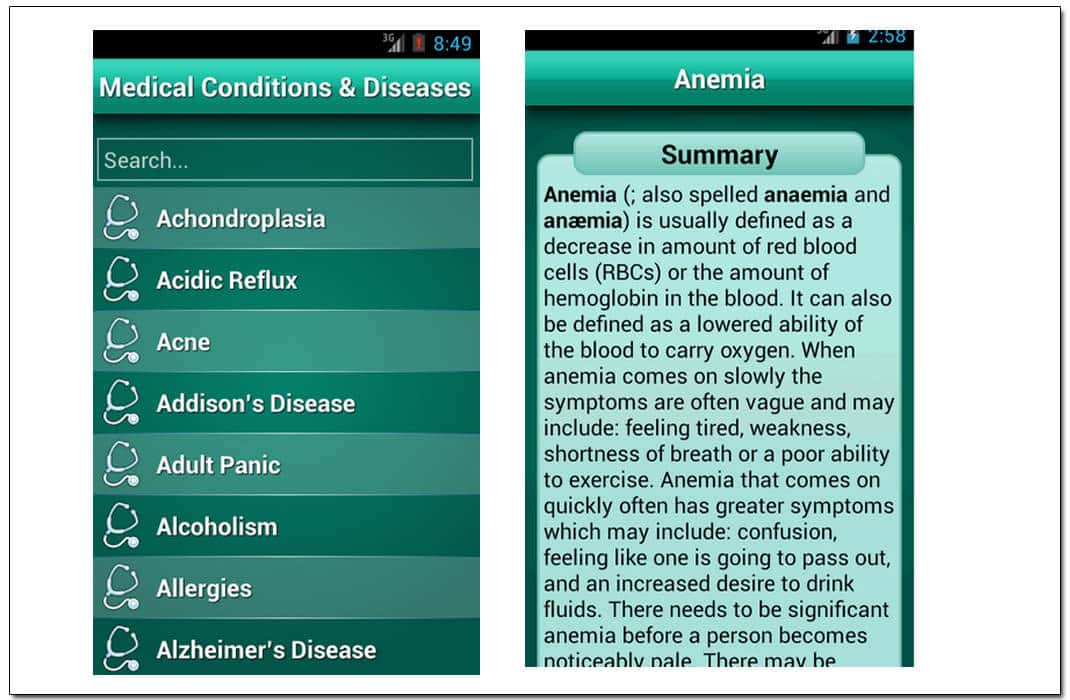 Diseases Dictionary – Medical is a free and offline medical dictionary app that contains medical disorders and diseases with detailed definitions, symptoms, causes, and treatment information.
27. Surgical Instruments Free (Free – Android | Paid – Android)
This is the Free Version of Medical and Surgical Instruments app. It only contains E.N.T and Pediatrics Instruments. For other instruments used in Surgery, Gynecology, Obstetrics and Medicine please purchase the Medical and Surgical Instruments.
Laboratory and Diagnostic Tests References
28. Davis's Lab & Diagnostic Tests (49.99 USD – Android, iOS)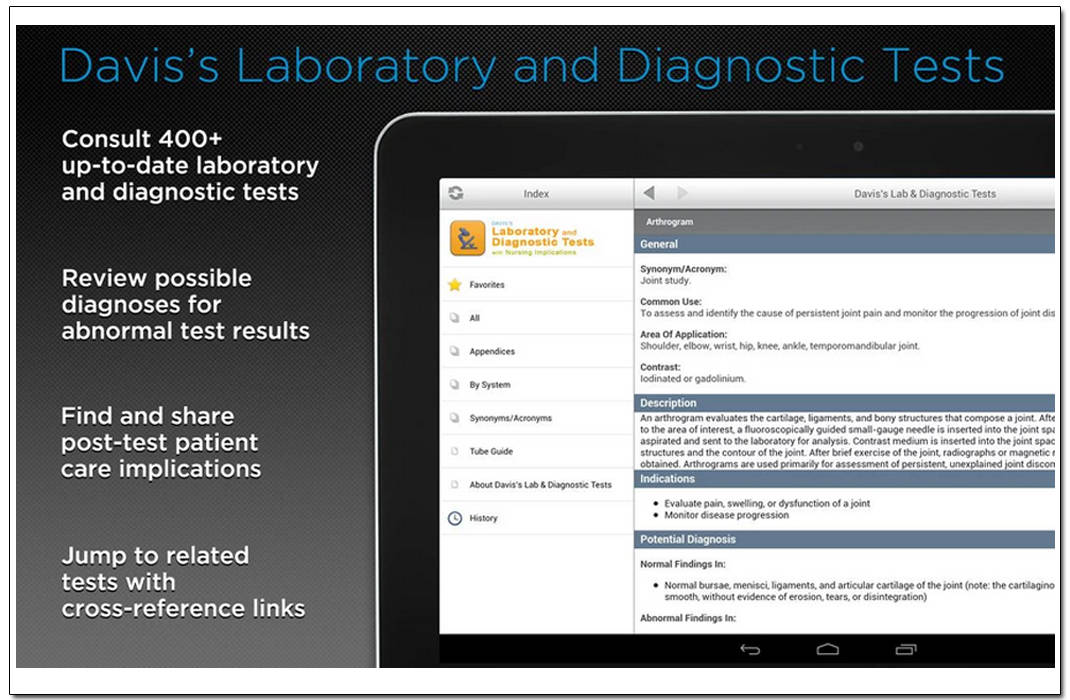 Davis's Laboratory and Diagnostic Tests contains hundreds of diagnostic test descriptions to help understand and implement critical test procedures. Each entry delivers details on how the test works, how to accurately interpret results, and how to prepare and instruct your patients. With recommendations on pretest requirements, intratest procedures, and posttest care, this mobile resource is the perfect companion for practicing nurses, nursing students, and other health care professionals.
29. Pocket Lab Values (2.99 USD – Android, iOS)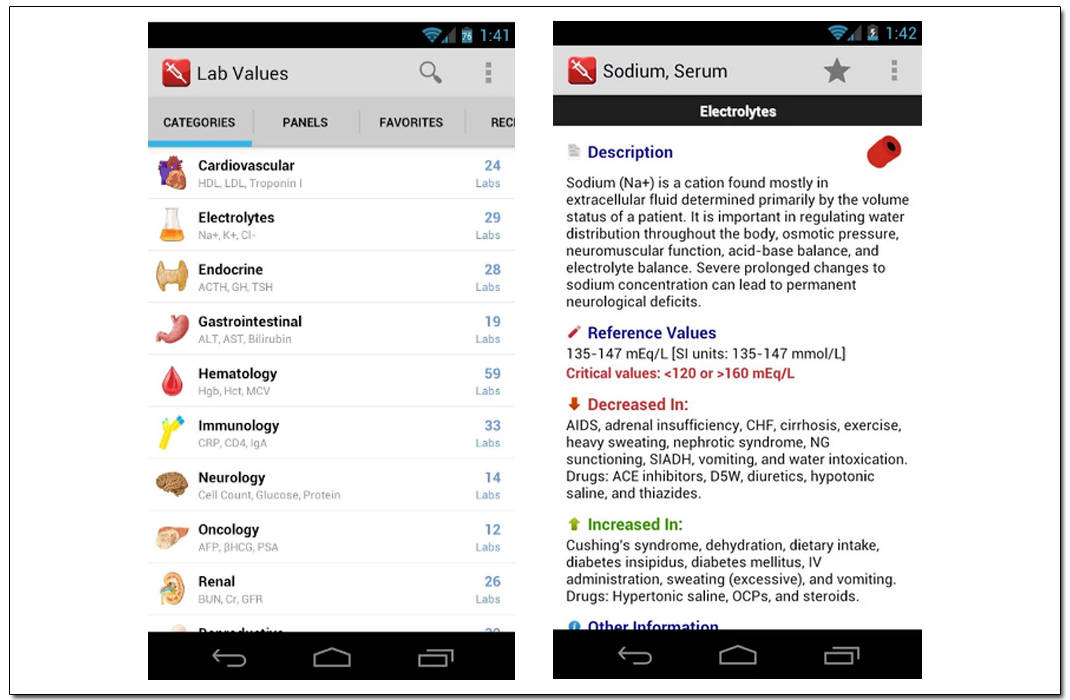 Pocket Lab Values is the perfect companion for medical professionals with access to over 320 common and uncommon lab values. Designed for medical staff in training and in practice, each lab contains important clinical information, critical lab values, differential diagnoses, tube colors, useful websites, and easy access to related lab values needed for work in a hospital or primary practice care setting. You also have the ability to edit the lab values and tube colors to match your current institution as well as write notes about a lab to remember later. All of this in a polished, easy to use interface that quickly lets you search for labs you might have not encountered (by both common name and abbreviations), save favorite labs for easy access, and view the last 20 labs to quickly get back to what you were looking at before.
30. Nurse Up (Free – Android)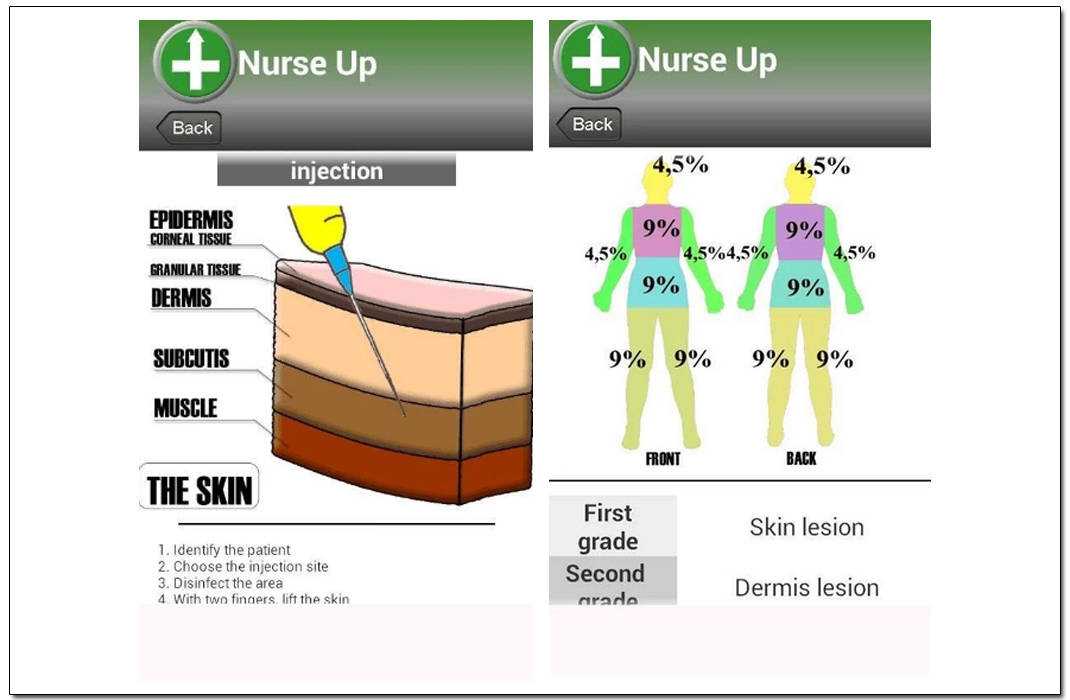 This is the first application of reference for nurses, also useful for students of the health professions in the world. It contains a variety of information and tools with which the nurse works every day.
Nursing Tools
31. ShiftPlanning (Try for Free – Android, iOS)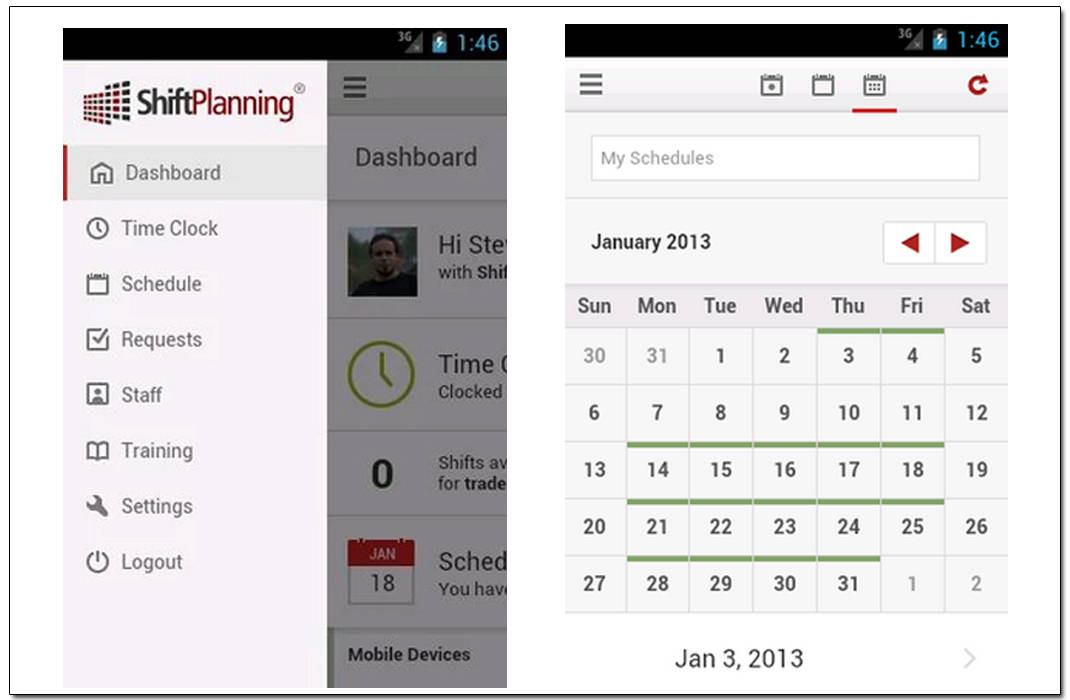 ShiftPlanning provides staff and nurse managers with quick access to their schedules and messages. If you are an employee that works for a business that uses ShiftPlanning to do their employee scheduling, then you can use this application for free to always know when and where you work.
32. Nursing Shift Planner (Free – Android, iOS)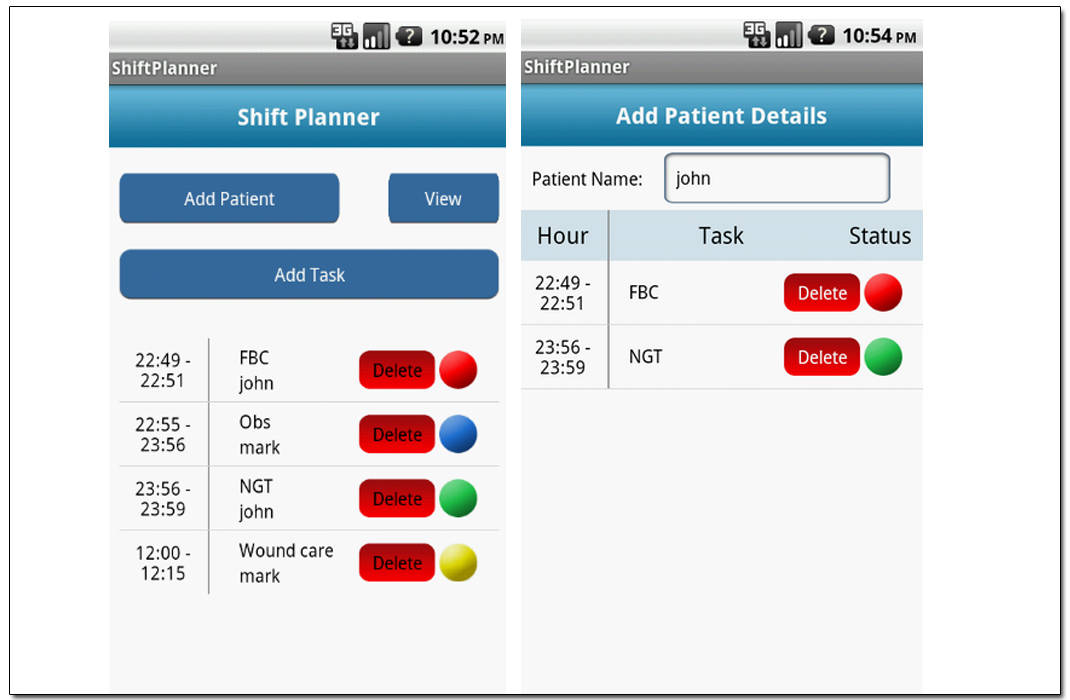 Time management is a skill often neglected in modern nurse training. The Nursing Shift Planner © converts a simple time management algorithm into an app for your smart phone. All of your patients deserve the best care you can deliver whether on the medical/surgical ward or the intensive care unit, looking after 5 patients or one critically ill patient, planning care is essential for a smooth hassle free shift.
33. Nurses Aid (Free and Pro Version – Android)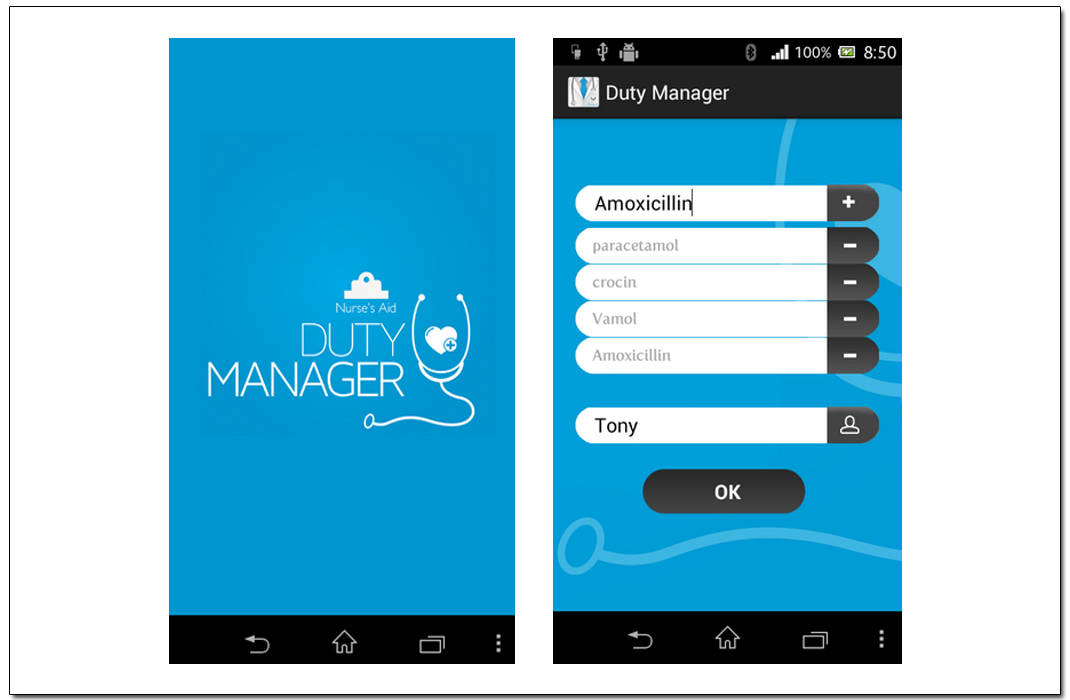 Nurses Aid is like another nurse helping your do your job. This app lists down all your random duties and doctor's orders and even sets reminders for each tasks.
34. Medical Calculators (Free – Android, iOS)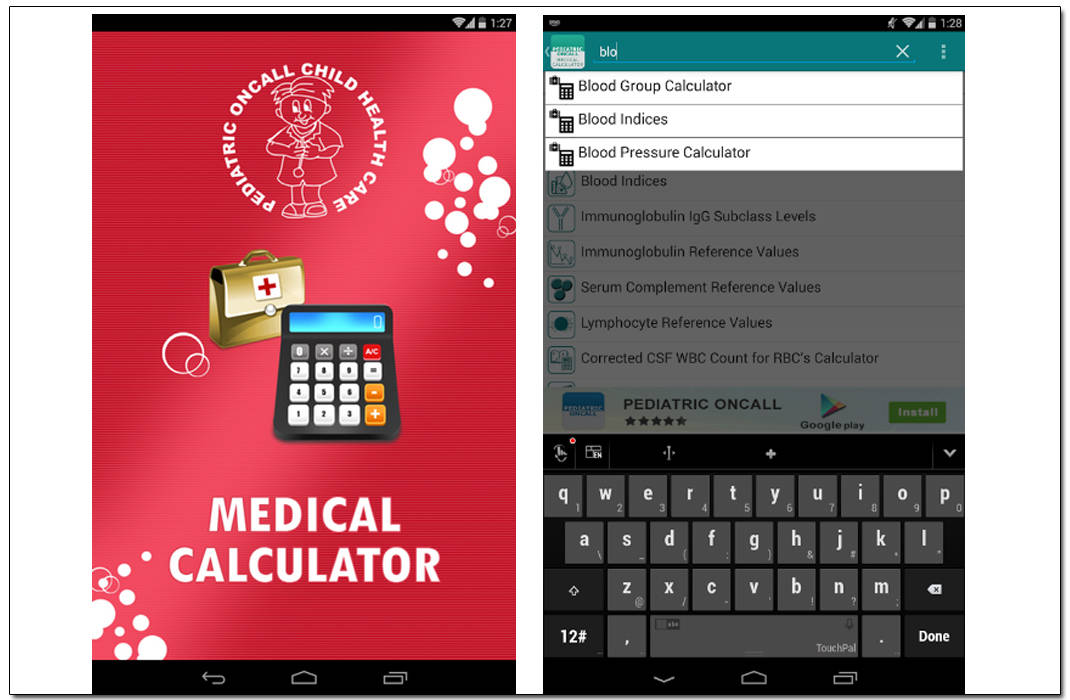 A free application for medical professionals includes the different calculators: Growth Calculators, Conversion Calculators, Renal Conversions, Pregnancy Calculator, and Drug Dose Calculator. It's an all-in-one calculator and a seriously must have!
35. Infusion Rate IV (Free – Android)
Infusion Rate is an application that helps doctors and nurses in the calculation of the velocity of the type of infusion pump therapies. To calculate the speed is sufficient to insert the dilution of the drug, the dose to be administered and the patient's weight. The anesthesiologist can save the configuration of the therapies in the application database.
36. Pediatric IV Dosage (Free – Android, iOS)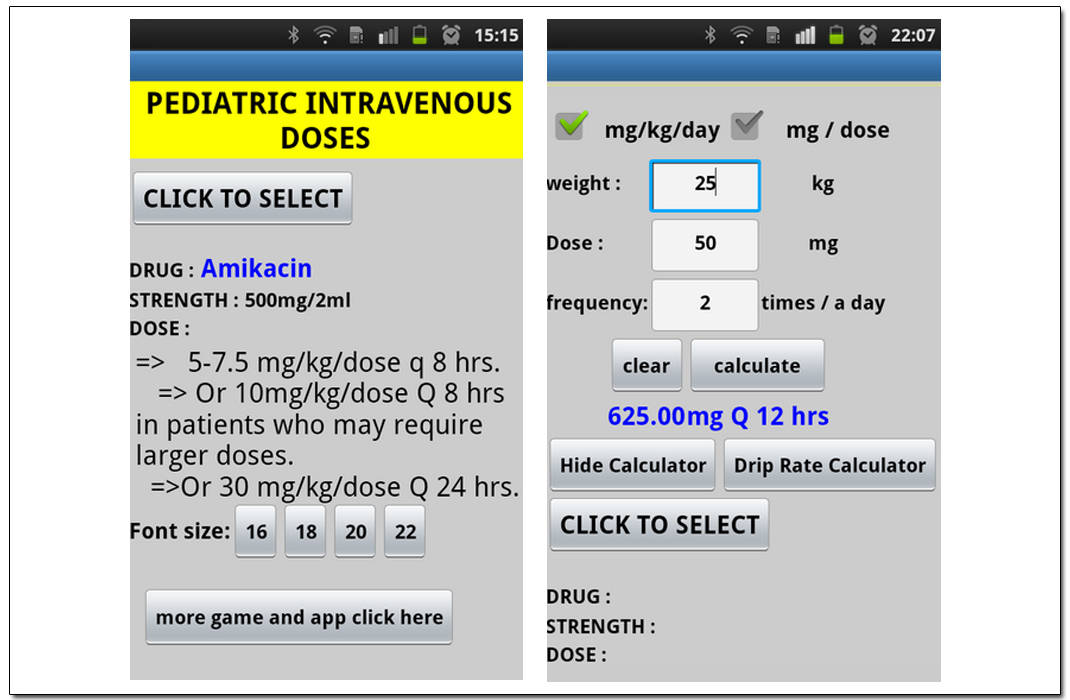 This application contain concise and summarized information about the doses of most commonly used intravenous medication for pediatric available in hospital . which are collected from different reliable drug information source which will help you to quickly get the recommended doses for most IV medication.
37. IV Drip Rate Calculator (Free – Android)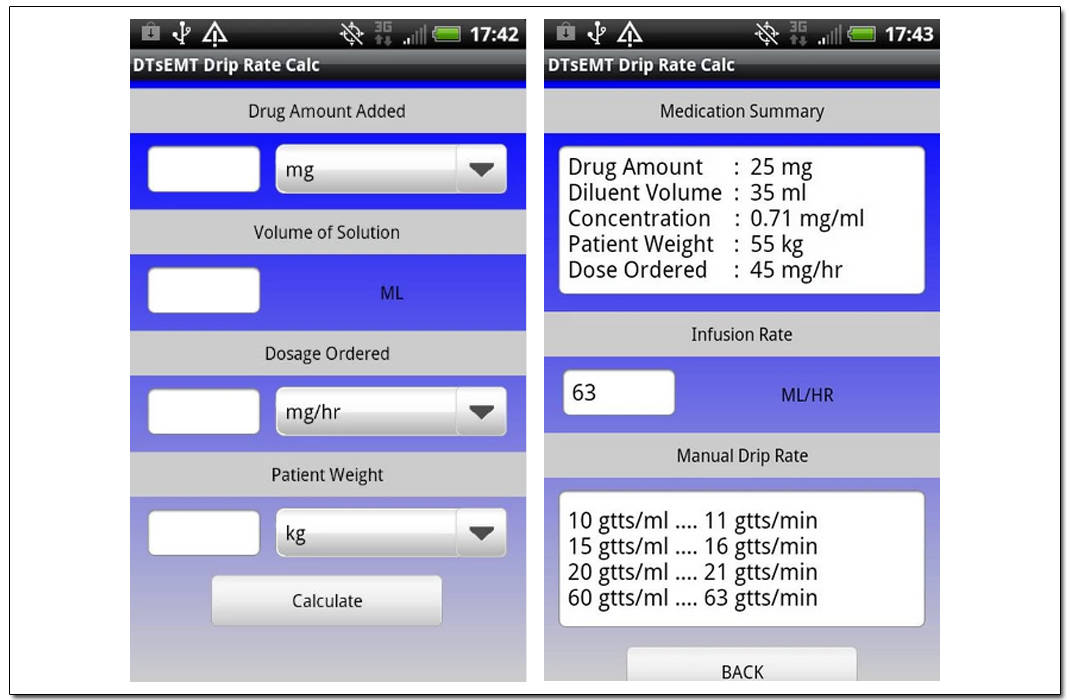 A simple IV drip calculator for paramedics and nurses. Add a drug amount in mg, mcg, grams or units to a volume of fluid, select the dose ordered, and voila! The ml/hour necessary to deliver that dose is displayed. All parameters MUST be verified prior to infusion! However, if you accidentally enter an incorrect parameter, you may back-screen to correct it without having to re-enter each piece of data.
Now, your turn
Do you have an app we may have forgot to add on the list? Tell us in the comments below!