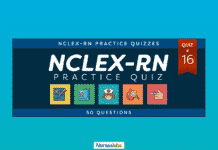 This exam can help you improve, review and challenge your understanding of the topics including Cardiovascular Diseases, Anemia, Cancer, and Tracheostomy.
Nurses across the US as being encouraged to support the two bills for safe nurse staffing currently under consideration at the federal level.
Chickenpox is a very contagious disease caused by the varicella-zoster virus (VZV).
Nursing care planning goals for a pediatric client with scoliosis may include restoration of normal breathing pattern, relief of pain, improved physical mobility, enhanced learning, stop the progression of the curve and prevent deformity.
Congratulations to US nurses who have once again topped all other professions in the annual Gallup poll in which the American public is asked to rate the honesty and ethical standards of different occupations