"April 15 was one of the worst days of my life. I soon wondered why and for what reason this has happened. I now realize why I was involved in the tragedy. It was to meet my best friend, and the love of my life."
– James Costello
It all started from a horrific incident and ended up in a happy ever after. This is the heart-warming story of a nurse whose patient suffered serious injuries in the Boston Marathon bombing that killed three people and injured more than 260 including the latter.
Sixteen months after the attack, James Costello tied the knot with Krista D'Agostino, one of his nurses at Spaulding Rehabilitation Hospital, on Saturday. The happily married couple exchanged vows on the said date at the Hyatt Regency Boston in front of about 160 guests.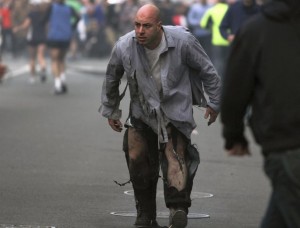 Costello's viral photograph, taken right after the horrifying incident, with his ripped off clothes and visible wounds became one of the most remembered images of the 2013 attack. His injuries and serious burns, which required pig skin grafts on his right arm and right leg, made him stay at Spaulding Rehabilitation Hospital, where he met D'Agostino.
Costello and D'Agostino became close as the former struggled through months of surgery and painful rehabilitation. The nurse, and now his wife, cared for him through grueling skin graft operations and exhaustive physical therapy.
The 31-year-old Costello proposed to D'Agostino, also 31, eight months after meeting her at the said institution, where he was transferred after undergoing multiple surgeries at Massachusetts General Hospital following the attack.
According to Costello, he was glad he got blown up because the resulting agony led him to meeting the love of his life, whom he also considers as his best friend.
"One thing that she hates that I always say is I'm actually glad I got blown up," Costello said on the "Today" show in December. "I wish everyone else didn't have to, but I don't think I would have ever met her if I didn't."
Meanwhile, the couple's wedding planner, Rachael Gross, said she and the other vendors involved in the wedding donated their services.
"They are the most gracious, generous, kind, … loving couple," Gross said. "They believe that they were meant to meet."
The wedding ceremony was held outdoors on the hotel's third-floor terrace, with blue and white hydrangeas all around. The reception was held in the hotel's grand ballroom.
"It was more like a classic Nantucket style, but without a literal nautical theme," Gross said.
According to a press release, the Allure Couture gown worn by the bride will be donated in turn to the Semper Fi Foundation, a group that supports injured post-9/11 members of the U.S. Armed Forces.
The couple continued their celebrations on Tuesday when they headed out to Hawaii for their honeymoon.
The nuptials come a few months after another Boston bombing survivor – Costello's friend Marc Fucarile who lost his right leg – wed his high school sweetheart, and achieved his goal of walking down the aisle.