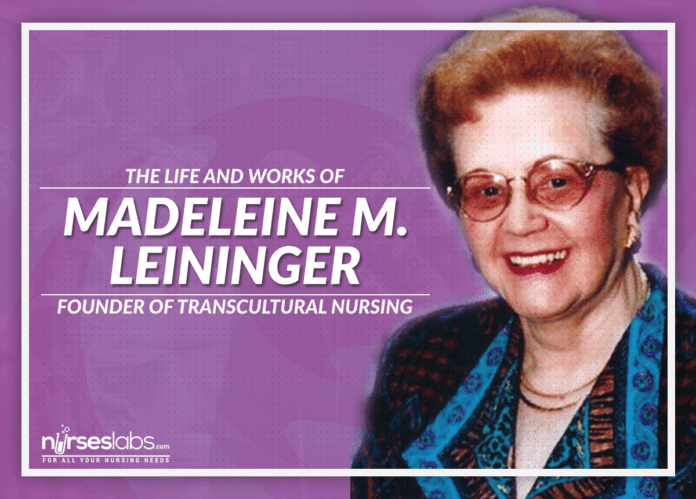 Madeleine Leininger (July 13, 1925 – August 10, 2012) was an internationally known educator, author, theorist, administrator, researcher, consultant, public speaker and the developer of the concept of transcultural nursing that has a great impact on how to deal with patients of different culture and cultural background.
She is a Certified Transcultural Nurse, a Fellow of the Royal College of Nursing in Australia, and a Fellow of the American Academy of Nursing. Her theory is now a nursing discipline that is an integral part of how nurses practice in the healthcare field today.
Early Life
---
Leininger was born on July 13, 1925 in Sutton, Nebraska. She lived in a farm with her four brothers and sisters, and graduated from Sutton High School. After graduation from Sutton High she was in the U.S. Army Nursing Corps while pursuing a basic nursing program. It was due to her aunt who suffered from congenital heart disease that led her to pursue a career in nursing.
Education
---
In 1945, Leininger, together with her sister, entered the Cadet Nurse Corps which is a federally-funded program to increase the numbers of nurses being trained to meet anticipated needs during World War II.
She earned a nursing diploma from St. Anthony's Hospital School of Nursing, followed by undergraduate degrees at Mount St. Scholastica College and Creighton University.
Leininger opened a psychiatric nursing service and educational program at Creighton University in Omaha, Nebraska. She earned the equivalent of a BSN through her studies in biological sciences, nursing administration, teaching and curriculum during 1951-1954.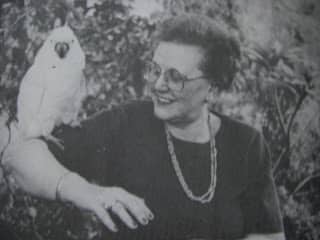 She received a Master of Science in Nursing at Catholic University of America in 1954.
And in 1965, Leininger embarked upon a doctoral program in Cultural and Social Anthropology at the University of Washington in Seattle and became the first professional nurse to earn a PhD in anthropology.
Career and Appointments
---
While working in a child guidance home during the 1950's, Leininger experienced what she describes as a cultural shock when she realized that recurrent behavioral patterns in children appeared to have a cultural basis. She identified a lack of cultural and care knowledge as the missing link to nursing.
In 1954, she moved on to serve as Associate Professor of Nursing and Director of the Graduate Program in Psychiatric Nursing at the University of Cincinnati. She also studied in this university, pursuing further graduate studies in curriculum, social sciences and nursing.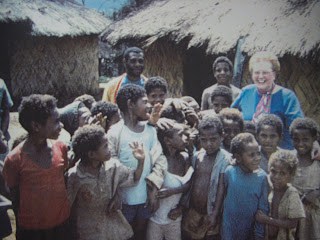 She was the first in the 1960s to coin the concept "culturally congruent care" which was the goal of the Theory of Culture Care, and today the concept is being used globally.
Leininger was appointed Professor of Nursing and Anthropology at the University of Colorado — the first joint appointment of a professor of nursing and a second discipline in the United States.
As for being a pioneer nurse anthropologist, Leininger was appointed Dean of the University of Washington, School of Nursing in 1969, and remained in that position until 1974. In 1973, under her leadership, the University of Washington was recognized as the outstanding public institutional school of nursing in the United States.
Her appointment followed a trip to New Guinea in the 1960's that opened her eyes to the need for nurses to understand their patients' culture and background in order to provide care. She is considered by some to be the "Margaret Mead of nursing" and is recognized worldwide as the founder of transcultural nursing, a program that she created at the School in 1974.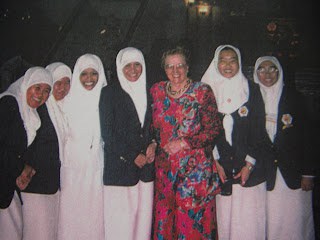 From 1974 to 1980, Leininger served as Dean, Professor of Nursing, Adjunct Professor of Anthropology, and Director of the Center for Nursing Research and of the Doctoral and Transcultural Nursing Programs at the University of Utah College of Nursing.
She was the first full-time President of the American Association of Colleges of Nursing and one of the first members of the American Academy of Nursing in 1975.
Leininger's professional career is recognized as an educator and academic administrator from 1956 to 1995, a writer from 1961 to 1995, a lecturer from 1965 to 1995, a consultant from 1971 to 1992, and a leader in the field of transcultural nursing from 1966 to 1995.
She was Professor Emeritus of Nursing at Wayne State University and an adjunct faculty member at the University of Nebraska Medical Center in Omaha and retired as the former in 1995.
Her official certifications read: LL (Living Legend), PhD (Doctor of Philosophy), LHD (Doctor of Human Sciences), DS (Doctor of Science), CTN (Doctor of Science), RN (Registered Nurse), FAAN (Fellow American Academy of Nursing), and FRCNA (Fellow of the Royal College of Nursing in Australia).
Transcultural Nursing Theory
---
Main Article: Madeleine Leininger's Transcultural Nursing Theory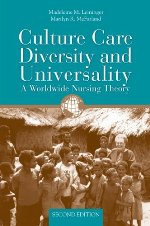 Through her observations while working as a nurse, she identified a lack of cultural and care knowledge as the missing component to a nurse's understanding of the many variations required in patient care to support compliance, healing, and wellness which led her to develop the theory of Transcultural Nursing also known as Culture Care Theory.
This theory attempts to provide culturally congruent nursing care through "cognitively based assistive, supportive, facilitative, or enabling acts or decisions that are mostly tailor-made to fit with individual, group's, or institution's cultural values, beliefs, and lifeways."
The main focus of Leininger's theory is for the nursing care to fit with or have beneficial meaning and health outcomes for people of different or similar cultural backgrounds. With these, she has developed the Sunrise Model in a logical order to demonstrate the interrelationships of the concepts in her theory of Culture Care Diversity and Universality.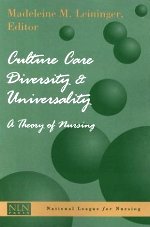 Works
---
Leininger has written and edited 27 books and founded the Journal of Transcultural Nursing to support the research of the Transcultural Nursing Society, which she started in 1974. She published over 200 articles and book chapters, produced numerous audio and video recordings, and developed a software program. She has also given over 850 keynote and public lectures in US and around the world.
She also established the Journal of Transcultural Nursing and served as editor from 1989 to 1995. She also initiated and promoted worldwide certification of transcultural nurses (CTN) for client safety and knowledgeable care for people of diverse cultures.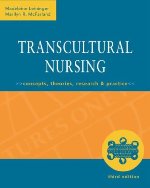 Her web pages now reside on a discussion board. Leininger has provided downloads and answers to many common questions. Board users are encouraged to post questions to her discussion board about transcultural nursing, her theory, and her research. During her time, Leininger enjoys helping students and she responds to questions as her time permits.
Awards and Honors
---
In 1960, Leininger was awarded a National League of Nursing Fellowship for fieldwork in the Eastern Highlands of New Guinea, where she studied the convergence and divergence of human behavior in two Gadsup villages.
While at Wayne State, Leininger won numerous awards, including the prestigious President's Award for Excellence in Teaching, the Board of Governors Distinguished Faculty Award, and the Gershenson's Research Fellowship Award.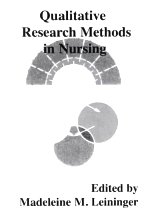 In 1998, she was honored as a Living Legend by the American Academy of Nursing and Distinguished Fellow, Royal College of Nursing in Australia.
The Leininger Transcultural Nursing Award was established in 1983 to recognize outstanding and creative leaders in transcultural nursing. This prestigious award will continue as the Leininger Transcultural Nursing Award under the auspices of the Transcultural Nursing Society in Madeleine Leininger's honor.
Death
---
On August 10th, 2012, Leininger passed away at her home in Omaha, Nebraska. She was buried in Sutton's Calvary Cemetery.
References
---
Transcultural Nursing Society. (n.d.). Transcultural Nursing Society. Retrieved August 1, 2014, from http://www.tcns.org/
Tributes to Dr. Madeleine Leininger. (n.d.). Tributes to Dr. Madeleine Leininger. Retrieved August 1, 2014, from http://www.madeleine-leininger.com/
Further Reading
---
External Links
---
Last updated on