Nurses from all corners of the world are up in arms against State Senator Maureen Walsh for her condescending statement that some nurses probably spend a considerable part of their workday playing cards. There has also been extraordinary support from medical practitioners, the press and members of the public. Sen. Walsh's response has been to explain away her statement by the fact that she was tired.
Walsh made the statement on the Senate floor during a debate on an amendment to the SHB 1155 bill. This bill is aimed at providing for uninterrupted meal breaks for nurses and protecting them against mandatory overtime.
The proposed amendment was to exclude nurses working at small critical access hospitals from the proposed law. Walsh said that compulsory rest breaks would make it difficult for these hospitals, which serve small communities, to stay open. "I would submit to you that those (small hospital) nurses probably do get breaks," Walsh said. "They probably play cards for a considerable amount of the day."
Walsh then added that if nurses were complaining that they're tired, 12-hour shifts should be abolished. This led to another proposed amendment. Both amendments were accepted by the Senate. The House of Representatives had passed the bill without any amendments.
Statement from the WSNA
On April 19 the Washington State Nurses Association (WSNA), which supports the bill, published a statement about the issue on its blog. "Mandatory overtime isn't just an abhorrent employer practice," the statement reads. "It's also a terrible patient care practice. They emphasized the research which shows that when nurses are overworked it leads to burnout, reduced quality of care and errors.
The statement also asked nurses to sign a petition to tell Washington lawmakers to protect nurses and hospital techs. The statement was so widely read that the WSNA website crashed temporarily on the day it was published. The issue also went viral both in the press and across social media with #nursesplaycards and #maureenwalsh.
Social media outrage
In social media, nurses expressed their outrage loud and clear with comments from across the world. While most emphasize the daily challenges faced by nurses, their typical dark humor is also evident in comments and memes. "What's your pain on a scale of 1-10? A 10? I'm sorry I don't have a 10… GO FISH!!" tweeted LLC @repmaureenwalsh.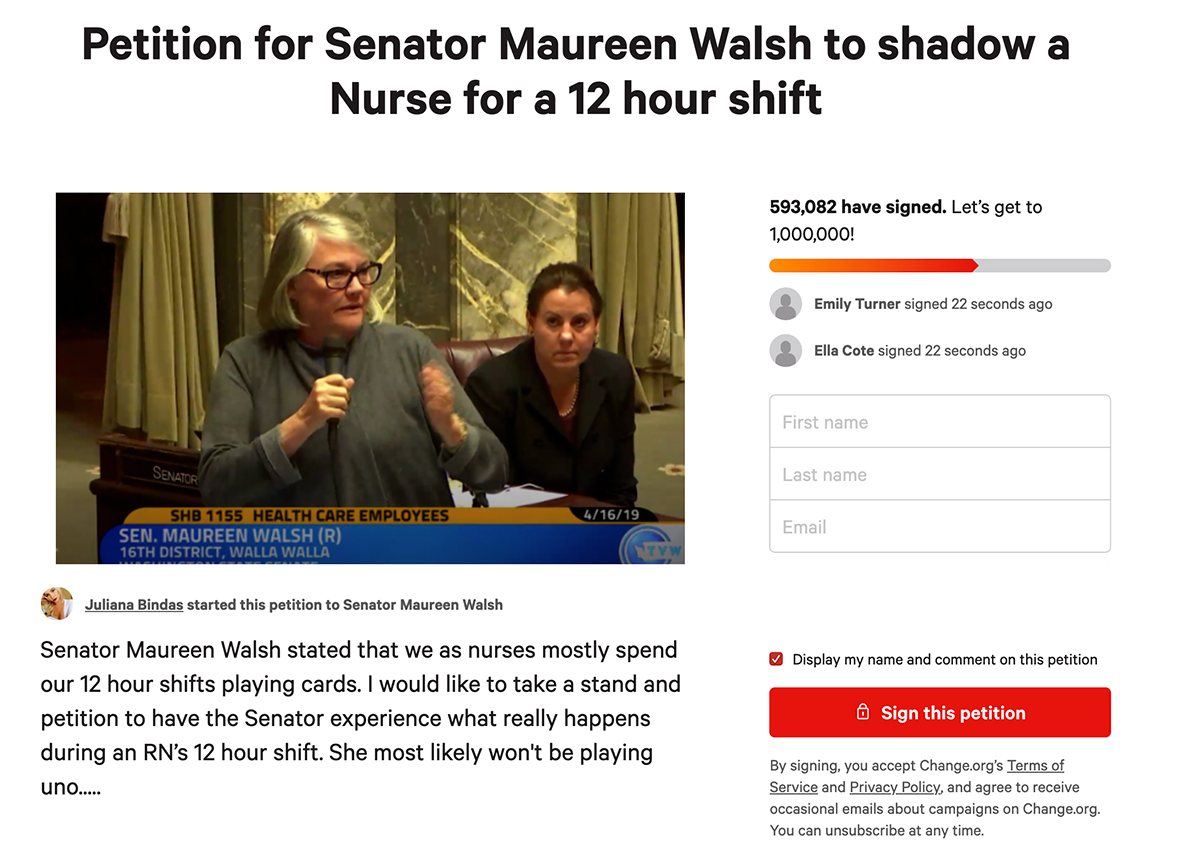 Besides WSNA petition, there is another one on Change.org started by registered nurse Juliana Bindas. It calls for Walsh to shadow a nurse for a 12-hour shift and had received a massive 550,000 signatures within 48 hours. Another petition, aimed at the general public and calling for Walsh to resign, had over 5000 signatures in a day.
The high regard for the nursing profession by members of the general public and medical practitioners has also become very evident during the storm created by Walsh's statement. One of the most inspiring posts is a letter to Maureen Walsh from a Dr. Norton which was shared by Dr. Jalil A Johnson on Facebook. Popular ZDoggMD was on point as usual with the video "Nurse Medimoji vs Sen.Maureen Walsh".
Even the general press is speaking out in support of nurses. "Instead of claiming that nurses are playing cards, legislators should work with health professionals to find ways to fix our broken health care system that is leading to the burn out of many different health professionals." reads the close of an article in Forbes published on April 21. "After all, your health will eventually be dealt a bad hand. When that happens, you don't want your care to depend on the luck of the draw of whether your nurse is burnt out or not."
Not sorry
Sen. Walsh has not yet publicly apologized to nurses for her statement but did say on April 20 that her remark about nurses playing cards was not meant to be malicious. "I was tired," she explained. "I said something I wish I hadn't." Ironically this statement supports how necessary the bill is for nurses and the public – that mistakes happen when you're tired.
The senator stands by her opposition of the Senate house bill.