Nurses stepped up with outrage, advocacy, and rallies after Sen. Walsh's comments about nurses' playing cards. Largely as a result of the profession's advocacy, the bill under debate was passed without the amendments proposed by Walsh and accepted by the Senate.
Sen. Walsh's statements
In the Washington State Senate, Sen. Maureen Walsh proposed that The Nurses Shifts & Breaks Bill (HB 1155) should be amended to exclude small Critical Access Hospitals. During her argument, she said that nurses in these hospitals probably did get breaks and probably played cards for a considerable amount of the day. She went on to say that, if nurses were complaining that they were tired, their shifts should be limited to 8 hours. The Senate then accepted the proposed amendment and, through an unexpected house vote, a further amendment placing a cap of 8 hours on nurses' shifts.
Washington State Nurses Association (WSNA) posted a video of Walsh's comments with a call to action on their website which went viral within hours. Nurses across the US were up in arms and highlighted, as never before, the issues that plague the profession. Issues that also compromise the safety and well-being of their patients. Later, Walsh issued an official apology stating that she realized that she had crossed the line and wished she "could reel the statement back in". Her mother had been a nurse and she was well aware of the long hours and hard work nurses put in.
She explained that, during the heat of the debate, she was only trying to emphasize that the needs of small rural hospitals, with few patients, were different from those of big city hospitals. The bill could add costs which the smaller hospitals would be unable to carry. In response to this Sally Watkins, executive director of WSNA, said that the type of hospital or the number of patients should not make a difference in providing breaks for nurses.
Nurses' activism
As a result of Walsh's comments, nurses' responses, and the various campaigns, nurses, and nursing probably got more coverage in the public press and on social media in a few days than over the past decade.
"This is what can happen when people join together and let politicians of all parties know not to *** off 3.1 million nurses," a nurse commented on Facebook.
A call on social media to send playing cards to Sen. Walsh resulted in her office receiving 1,700 packs of cards. Even Amazon eventually stopped filling further orders. Her office also fielded 10,000 emails and more than 35,000 phone calls in a matter of days. In a statement, Walsh joked about what she should do with all the cards and then went on to explain that was planning to donate them to nursing homes and centers for veterans and seniors.
Walsh however also added that she was disturbed about how her comments were being used to get the support of the bill, calling it stinky politics.
Petition for Walsh to shadow a nurse
Registered Nurse Juliana Bindas from Chicago started a petition on change.org calling for Sen. Walsh to shadow a nurse for a 12-hour shift so that she could experience what really happens. The petition stood on close to 830,000 signatures by May 1.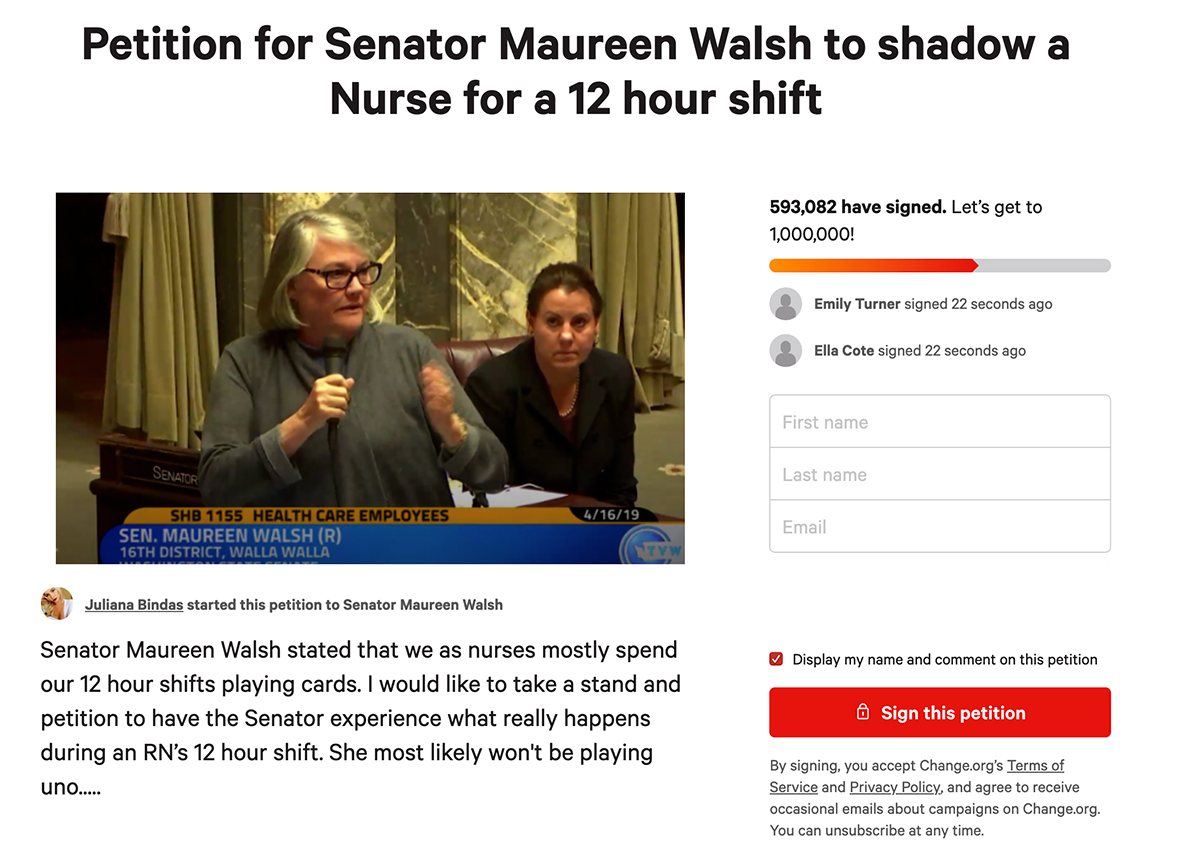 In a recent update, Bindas wrote that she wanted it to reach 1 million signatures before the petition was handed over to the Senator. She also planned to do this during a rally organized in Washington, bringing the other issues in nursing to the attention of legislators at the same time. In the meantime, Walsh said that she had heard about the petition via the media. "I look forward to receiving it and am happy to accept," she wrote in a statement.
Nurses' rally in Washington
Two unions and the WSNA organized the Rally for Patient Safety Legislation for SHB 1155 that took place on the steps of the state capital on April 24 – the day when the bill was to be decided on by the state legislature. The purpose of the rally was to convince legislators to not accept the two amendments proposed by the Senate.
"We need to ALL show up in force at the state Capitol in Olympia and tell lawmakers to pass the bill WITHOUT terrible amendments!" read the event announcement on Facebook. "It is now or never, we have to send a loud message that ALL hospitals deserve patient safety, and ALL nursing and tech staff deserve break and mandatory overtime protections!" Nurses were asked to wear their scrubs and stethoscopes to show everyone who they were.
Outside the state capital, the nurses were addressed by a number of speakers. Nurses who attended commented on the professional and respectful atmosphere. People were "really focused on positive energy and just getting this bill ten years in the making passed," commented Jenna La Face, a registered nurse from Seattle. They were also addressed by Governor Jay Inslee saying, "After so many years of your effort, and our effort, I really look forward to passing the nursing staffing bill this year so that you get the breaks you deserve."
Nurses mentioned to the press that Sen. Walsh's card playing comments actually helped to draw attention to the bill. "If it didn't happen we wouldn't be here today," registered nurse Sara Edwards said. "We wouldn't have this incredible voice coming." During the final debates and voting on the bill, nurses packed out the Senate gallery, making sure that Sen Walsh was well aware of their presence.
Bill passed
After negotiations between the House and the Senate, the bill was passed by large majorities in both the Senate and the House, without the amendment previously proposed the Senate. The bill now only needs to be signed by the Governor. It includes all hospitals but makes provision for a 2-year delay in implementation in the case of critical access and community hospitals.
Walsh stood by her opposition of the bill being applied to small critical care hospitals. This reason might be a matter of following the money – according to statements of Walsh's campaign finances posted on Facebook her largest backers were from the health sector – including pharmaceutical companies, hospitals, and nursing homes,
Keeping up the nurse advocacy momentum going
The WSNA is now inviting nurses to join the Facebook group #Beyondthecards. "When nurses speak, politicians listen – never has this been demonstrated so effusively," wrote the Association in a news report on their website. "Nurses, when we are on the same team, are an unstoppable force. Nurses are power."
They are calling on nurses to continue with the advocacy, even when politicians don't put their feet in their mouths. To talk about different ways of bringing improvements to their working environment, health care facilities and communities.