Learn about histamine-2 antagonists, its uses, and the nursing considerations for patients using them.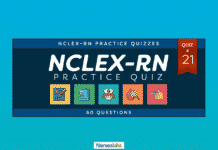 This is a 60-item examination about the concepts of Cardiovascular Nursing which includes Myocardial Infarction, Heart Failure, and Aortic Aneurysm. The challenging questions in this exam can help you in your board exam or NCLEX.
Blood is the "river of life" that surges within us. It transports everything that must be carried from one place to another within the body- nutrients, wastes (headed for elimination from the body) and body heat through blood vessels. Long before modern medicine, blood was viewed as magical, because when it drained from the body, life departed as well.
Simplified study guide for nursing pharmacology which includes antiplatelet drugs, anticoagulants, thrombolytic agents, anticoagulant adjunctive therapy and more.
This is the second part of our practice quiz about cardiovascular drugs. In this 30-item set, we'll cover topics related to nitrates, ACE inhibitors, diuretics and many more. Let's help you ace your NCLEX!
Nurses that are competent in the care of a patient with cardiovascular problems are able to minimize mortality and morbidity rates for these patients. Sounds good right? In this 20-item NCLEX style exam, your knowledge about the different Peripheral Vascular Diseases will be challenged. Take it and soar high on your NCLEX!
NURSING SCHOOL SURVIVAL KIT