Home
Tags
Anxiety disorders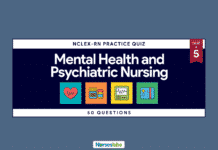 Are you equipped with the right knowledge about Psychiatric Nursing? This 50-item examination includes various questions about Psychiatric Nursing, Personality Disorders, and Alcohol Withdrawal.
Stress and anxiety are universal feelings and are part of our daily lives.
The following are seven (7) nursing care plans for patients with anxiety and panic disorders.
NURSING SCHOOL SURVIVAL KIT