Home
Tags
Cardiac catheterization
Tag: Cardiac catheterization
Cardiac catheterization is an invasive procedure in which a small flexible catheter is inserted through a vein or artery (usually the femoral vein) into the heart for diagnostic and therapeutic purposes.
This 40-item NCLEX practice quiz is the start of an exam series covering different or random topics about nursing.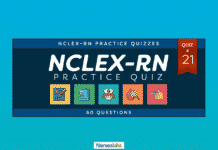 This is a 60-item examination about the concepts of Cardiovascular Nursing which includes Myocardial Infarction, Heart Failure, and Aortic Aneurysm. The challenging questions in this exam can help you in your board exam or NCLEX.
How competent are you to scrub in during cardiovascular surgery? This exam contains 15 NCLEX style questions about Cardiovascular Surgery.
NURSING SCHOOL ESSENTIALS