Home
Tags
Cardiac Tamponade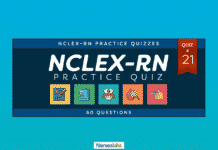 This is a 60-item examination about the concepts of Cardiovascular Nursing which includes Myocardial Infarction, Heart Failure, and Aortic Aneurysm. The challenging questions in this exam can help you in your board exam or NCLEX.
To help you grasp the core concepts of Cardiovascular Care Nursing (or Cardiac Care Nursing), here are our visual nursing mnemonics and tips!
How competent are you to scrub in during cardiovascular surgery? This exam contains 15 NCLEX style questions about Cardiovascular Surgery.
NURSING SCHOOL SURVIVAL KIT