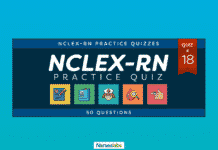 Take time to answer this 50-item exam that will test your knowledge about Medical-Surgical Nursing. Questions are from Cardiovascular Nursing, Coronary Care Unit (CCU), and Tracheostomy Care. If you are taking the board examination or NCLEX, then this practice exam is right for you.
Passing the NCLEX-RN examination is no easy task. Answering practice questions will give you the confidence to ace the exam. This set of items is all about nutrition.
Other than the common hospital diets you could teach, here are five disease-classified meals that would surely keep the patient out of the grasp of certain lifestyle diseases that affect the humanity today.
The following are some of the tricks of the trade; lessons that helped me minimize stress and made me enjoy nursing as it should be.
NURSING SCHOOL SURVIVAL KIT