Home
Tags
Endotracheal Tube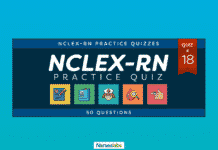 Take time to answer this 50-item exam that will test your knowledge about Medical-Surgical Nursing. Questions are from Cardiovascular Nursing, Coronary Care Unit (CCU), and Tracheostomy Care. If you are taking the board examination or NCLEX, then this practice exam is right for you.
Mechanical ventilation can partially or fully replace spontaneous breathing....
This 15-item practice questions will increase your knowledge on the nursing care and management of different client tubes: chest tubes, tracheostomy tubes, and nasogastric tubes.
NURSING SCHOOL SURVIVAL KIT