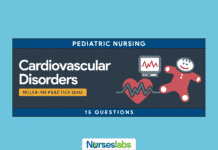 The cardiovascular system, rheumatic fever, heart failure, Kawasaki disease, congenital heart defects, and the anatomy and physiology of the heart are included in this 15-item quiz. Test your knowledge with this challenging nursing exam to ace your NCLEX!
Cardiogenic shock is a condition of diminished cardiac output that severely impairs cardiac perfusion.
The nursing care plan in clients with cardiogenic shock involves careful assess the client...Here are five (5) nursing care plans (NCP) for cardiogenic shock:
The ductus arteriosus is a fetal blood vessel that connects the pulmonary artery to the descending aorta. In patent ductus arteriosus (PDA), the lumen of the ductus remains open after birth.
Sickle cell anemia is a severe hemolytic anemia that results from inheritance of the sickle hemoglobin gene.
Heart failure, also known as congestive heart failure, is recognized as a clinical syndrome characterized by signs and symptoms of fluid overload or of inadequate tissue perfusion.
Let's go inside a time machine and travel back before to see the practices we don't do (hopefully for good) anymore.
To help you grasp the core concepts of Cardiovascular Care Nursing (or Cardiac Care Nursing), here are our visual nursing mnemonics and tips!
A 70-item NCLEX style examination that has challenging questions about Myocardial Infarction (MI) and Heart Failure.
Heart failure is a physiologic state in which he heart cannot pump enough blood to meet the metabolic needs of the body. Here are 16+ nursing care plans (NCP) for patients with Congestive Heart Failure: