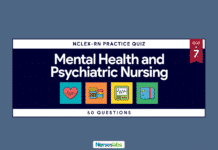 A healthcare nurse must have a vast experience and understanding when it comes to caring for the psychiatric patients. Below is a 50-item examination about Psychiatric Nursing which covers Psychiatric Drugs, Personality Disorders, and various questions about the topic perfect for your review for the NCLEX.
Hypertension is one of the most common lifestyle diseases to date.
As experts in our own field, these hilarious behaviors might make others grin and shake their head in disbelief. In return we can say, "I know, I know… It's because I'm a nurse."
Pregnancy induced hypertension (PIH) is a condition wherein vasospasm occurs during pregnancy in both the small and large arteries in the body.
Nursing pharmacology study guide for antihypertensive agents includes ACE Inhibitors, Angiotensin II Receptor Blockers, Calcium-Channel Blockers, Vasodilators.
Other than the common hospital diets you could teach, here are five disease-classified meals that would surely keep the patient out of the grasp of certain lifestyle diseases that affect the humanity today.
To help you grasp the core concepts of Cardiovascular Care Nursing (or Cardiac Care Nursing), here are our visual nursing mnemonics and tips!
The procedure on how to obtain a reading is almost inbred in every nurse, but how does one obtain an accurate blood pressure?
This is a visual guide to understanding blood pressure and how it works.
This 40-item NCLEX practice quiz is the start of an exam series covering different or random topics about nursing.