It is the goal of these nursing mnemonics to provide an easy quick-guide to simplify the concepts of pharmacology.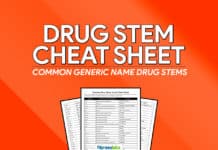 Here's a cheat sheet table of the common generic name drug stems and affixes that you can download and print.
Even though some of us may have the patience of a saint, there are a few things that we would really like our patients and their families to remember.
Now let's test your knowledge about drugs associated with respiratory and gastrointestinal medical therapies. In this 20-item set for the NCLEX, we'll cover topics like Antihistamines, Bronchodilators, Antiemetics, Laxatives, and Antidiarrheal Agents.
NURSING SCHOOL SURVIVAL KIT