Home
Tags
Pediatric nursing
Here are psychiatric disorders in children (autism disorder, ADHD, Rett Syndrome, and more) and how nurses can take care of them:
To give you a clearer idea on what irritates nurses the most, you'll surely want to read this list of pet peeves.
In a video, the Santa Monica expert pediatrician gives detailed instructions about "The Hold" a technique he uses that includes gently shaking the baby's booty.
Let's shine a light to the story of Kimberly Hiatt for a moment whose untimely suicide sparked numerous debates whether the penalty imposed for her after committing a medication error was justifiable or not.
I would enumerate some important tips in determining the kind of nursing area that you might like as dictated by your personality.
This little boy thinks he's big and brave enough before the needle. After? Oh, just watch!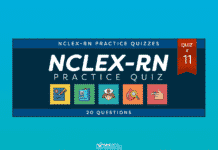 Other than a bulk of questions from pediatric nursing, this 20-item quiz includes also random nursing topics. Carry on with another 20-item NCLEX practice quiz!
Understanding how a person grows can provide hints on what to normally (and not normally) expect during his maturation. Are you knowledgeable about the concepts of growth and development? Take this 20-item NCLEX style exam and find out!
Pediatric nursing revolves around providing care for children from infancy through their late teen years and their families. Let's test your knowledge about pediatric nursing with questions like calculating pediatric dosage, growth and development, common diseases affecting children and more. This comprehensive 50-item quiz will sharpen your critical thinking skills for the NCLEX sample quiz about Pediatric Nursing.
Here's the list of the top nursing specialties.
NURSING SCHOOL SURVIVAL KIT