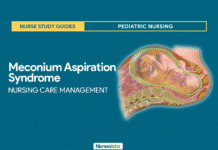 Meconium aspiration syndrome (MAS) is the aspiration of stained amniotic fluid, which can occur before, during, or immediately after birth.
Here's another 20 NCLEX-style questions about Maternal and Child Health Nursing. This third set of questions about the topic will give you the chance to practice applying your knowledge and make learning fun! Do well and goodluck on your NCLEX!
Here are some visual nursing mnemonics and tips about Maternal and Child Health Nursing that can help you understand the concepts behind it more easily.
This is a 50-item NCLEX-style examination that will test your critical thinking regarding the different concepts in nursing.
You're almost halfway in this exam series! This is the 6th part of the NCLEX practice exam covering random nursing concepts (just like how it's in the NCLEX). This exam has 50 items with a hefty chunk of questions about labor and delivery, emergency room nursing, and disaster management.
NURSING SCHOOL SURVIVAL KIT