Home
Tags
Status Epilepticus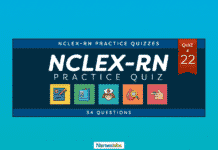 Take this 34-item examination traversing the Disorders of the Neurological System and Spinal Cord Injury. If you are taking the board examination or nurse board examination or even the NCLEX, then this practice exam is for you.
Febrile seizures are seizures or convulsions that occur in young children and are triggered by fever.
This is a 30-item NCLEX exam questionnaire about Degenerative Diseases and some questions about CVA. The items below will present specific patient conditions often seen in the acute care nursing units and/or the intensive care units. Test your knowledge about neurologic disorders and soar high on your NCLEX!
NURSING SCHOOL SURVIVAL KIT