"Soooooo sleepy here in the ICU. Will someone please code and give me something exciting to do? #isthatbad?"
This post turns out to be the biggest regret of a UNM Sandoval nurse who was fired due to her arrogant and vulgar statements on social media.
Amanda Francis, a nurse employee at UNM Sandoval Regional Medical Center, finally bid goodbye to her job in the said institution after her controversial Facebook post dated January 13 circulated online.
The post implies that a patient would need to die in order for Francis to have something to do at work.
A separate post from Francis' Facebook page also surfaced making lewd comments about Native American women.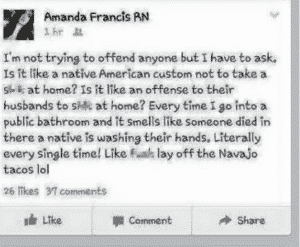 "I'm not trying to offend anyone but I have to ask. Is it like a native American custom not to take a s*** at home? Every time I go into a public bathroom and it smells like someone died in there a native is washing their hands. Literally every single time! Like f*** lay off the Navajo tacos lol," she wrote.
In line with issue, the Sandoval Regional Medical Center released a statement to KOB on Monday:
"Recent comments posted on a social media site by a former employee were totally inappropriate and not consistent with the values of UNM Sandoval Regional Medical Center. As soon as we became aware of the offensive posts, we took immediate corrective action. We greatly respect all of our patients and employees regardless of race or creed. This is very unfortunate and does not in any way reflect the views of SRMC or its employees."
Francis has yet to comment fully on this matter now that her Facebook account has already been deleted.
And just about online conduct and improper use of Facebook in particular, the Nursing and Midwifery Council of United Kingdom has issued 10 tips for responsible social media use for health workers specifically nurses and midwives.
May this be a warning for us health care workers to be extra careful when using social networking sites like Facebook and Twitter.