Home
Authors
Posts by Frieda Paton, M.Cur, RN
Frieda Paton is a registered nurse with a Master's degree in nursing education. Her passion for nursing education, nursing issues and advocacy for the profession were ignited while she worked as an education officer, and later editor, at a national nurses' association. This passion, together with interest in health and wellness education since her student days, stayed with her throughout her further career as a nurse educator and occupational health nurse. Having reached retirement age, she continues to contribute to the profession as a full-time freelance writer. In the news and feature articles she writes for Nurseslabs, she hopes to inspire nursing students and nurses on the job to reflect on the trends and issues that affect their profession and communities - and play their part in advocacy wherever they find themselves.
Nurses in the US are increasingly organizing to form unions in response to the negative impact which the for-profit health care system in the US is having on patient care.
Registered nurse Julie Griffin was fired after she stood up for patient safety and against the breach of official hospital standards in the ICU where she worked.
Nurses at a number of Texas hospitals now have a new assistant in the form of Moxi, the robot. Moxi has reduced nurses' workload by taking over busy-work tasks - and even the patients love it.
The public inquiry into how serial killer, former registered nurse Elizabeth Wettlaufer, got away with her crimes placed the blame on systemic failures. The report includes extensive recommendations to prevent similar tragedies in the future.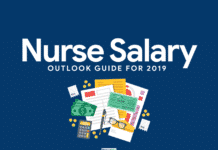 Registered nurse salaries in the US are among the best in the world. But how much do nurses make? Here you'll find the answer to this question and many others that you might have about nurse salaries.
Earlier this year registered nurse Florence "See See" Rigney celebrated her 94th birthday while on shift at the Tacoma General Hospital in Washington.
The theme of the Congress held from June 27 to July 1 was "Beyond Healthcare to Health". It was hosted by the Singapore Nurses Association and attended by more than 5,000 nurses from over 120 countries.
The 2020 Nightingale Challenge calls on employers across the world to invest in developing leadership skills in young nurses.
This video by the Wall Street Journal deals with why prescription medicines in the US cost so much more than in other parts of the world—even in neighboring countries like Canada and Mexico.
Let's take a look at the suicide prevention strategies used at UCSD which consists of three interlinked programs: Code Lavender, a Caregiver Support Team, and the Healer Education Assessment and Referral (HEAR) program.
NURSING SCHOOL SURVIVAL KIT