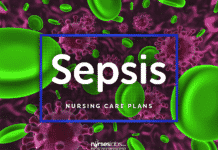 Here are six (6) nursing care plans (NCP) for sepsis and sepsis and septicemia:
Influenza doesn't require hospitalization and patient care usually focuses on the relief of symptoms. Below are the nursing care plans for patients with influenza.
AIDS is a serious secondary immunodeficiency disorder caused by the retrovirus, HIV. In this post, are 13 AIDS/HIV Positive Nursing Care Plans (NCP).