Welcome to our collection of free NCLEX practice questions to help you achieve success on your NCLEX-RN exam! This updated guide for 2023 includes 1,000+ practice questions, a primer on the NCLEX-RN exam, frequently asked questions about the NCLEX, question types, the NCLEX-RN test plan, and test-taking tips and strategies.
NCLEX-RN Practice Questions Test Bank
We have included more than 1,000+ NCLEX practice questions covering different nursing topics for this nursing test bank! We've made a significant effort to provide you with the most challenging questions along with insightful rationales for each question to reinforce learning.
We recommend you do all practice questions before you take the actual exam. Doing so will help reduce your test anxiety and help identify nursing topics you need to review. To make the most of the practice exams, try to minimize mistakes to less than 15 questions and take your time answering the questions, especially when reading the rationales.
Included NCLEX-RN question sets for this nursing test bank are as follows:
NOTICE TO ALL USERS

Please be aware that our test banks are ALWAYS FREE OF CHARGE, and NO REGISTRATION IS REQUIRED. Nurseslabs HAVE NOT and WILL NEVER ASK for your credit card details or any personal information to access our practice questions. Nurseslabs is committed to making this service FREE AND ACCESSIBLE FOR ALL who wants to advance their careers especially students and nurses.
Quiz guidelines:
Comprehend each item. Read and understand each question before choosing the best answer. The exam has no time limit so that you can make sense of each item at your own pace.
Review your answers. Once you're done with all the questions, you'll be redirected to the Quiz Summary table, where you'll be able to review which questions you've answered or may have skipped. Review your answers once more before pressing the Finish Quiz button.
Read the rationales. After you have reviewed your answers, click on the Finish Quiz button to record your answers and show your score. Click on the View Questions button to review the quiz and read through the rationales for each question.
Let us know your feedback! Comment us your thoughts, scores, ratings, and questions about the quiz in the comments section below.
NCLEX-RN Practice Questions | Quiz #1: 75 Questions
This is the first set of 75 questions for your NCLEX-RN practice quiz!
What is NCLEX?
NCLEX stands for National Council Licensing Examination. It is a test to determine if the candidate possesses the minimum level of knowledge necessary to perform safe and effective entry-level nursing care. The NCLEX-RN (for registered nurses) and the NCLEX-PN (for practical/vocational nurses) are examinations prepared by the National Council of State Boards of Nursing (NCSBN), whose mandate is to protect the public from unsafe nursing care. The NCSBN members include nursing regulatory bodies in the 50 states of the US, the District of Columbia, and four US territories.
How to Register for the NCLEX?
So you've finally decided to take the NCLEX, the next step is registration or application for the exam. The following are the steps on how to register for the NCLEX, including some tips:
Application to the Nursing Regulatory Board (NRB).The initial step in the registration process is to submit your application to the state board of nursing in the state in which you intend to obtain licensure. Inquire with your board of nursing regarding the specific registration process as requirements may vary from state to state.
Registration with Pearson VUE.Once you have received the confirmation from the board of nursing that you have met all of their state requirements, proceed, register, and pay the fee to take the NCLEX with Pearson VUE. Follow the registration instructions and complete the forms precisely and accurately.
Authorization to Test.If you were made eligible by the licensure board, you will receive an Authorization to Test (ATT) form from Pearson VUE. You must test within the validity dates (an average of 90 days) on the ATT. There are no extensions or you'll have to register and pay the fee again. Your ATT contains critical information like your test authorization number, validity date, and candidate identification number.
Schedule your Exam Appointment.The next step is to schedule a testing date, time, and location at Pearson VUE. The NCLEX will take place at a testing center, you can make an exam appointment online or by telephone. You will receive a confirmation via email of your appointment with the date and time you choose including the directions to the testing center.
*Changing Your Exam Appointment. You can change your appointment to test via Pearson VUE or by calling the candidate services. Rules for scheduling, rescheduling, and unscheduling are explained further here. Failing to arrive for the examination or failure to cancel your appointment to test without providing notice will forfeit your examination fee and you'll have to register and pay again.
On Exam Day.Arrive at the testing center on your exam appointment date at least 30 minutes before the schedule. You must have your ATT and acceptable identification (driver's license, passport, etc) that is valid, not expired, and contains your photo and signature.
Processing Results.You will receive your official results from the board of nursing after six weeks.
Computer Adaptive Test (CAT)
Like most standardized tests today, the NCLEX is administered by a computer. The NCLEX uses a computer adaptive test (CAT), which reacts to your answers to determine your competence level. The selection of questions is based on the NCLEX-RN test plan and by the level of item difficulty.
Every time you answer a question, the computer reevaluates your ability based on all the previous answers and the difficulty of those test items. Your first question is relatively easy; if you selected a correct answer, the computer supplies you with a more difficult question from its question bank. If you have selected an incorrect answer, the computer gives you an easier question. This process continues throughout the examination until the test plan requirements are met, and the computer can determine your level of competence.
Additionally, there is no option to skip a question, you must answer it, or the test will not move on. You cannot go back and review previous questions and change answers.
NCLEX-RN Test Plan
The NCLEX test plan is a content guideline to determine the distribution of test questions. NCSBN uses the "Client Needs" categories to ensure that the NCLEX covers a full spectrum of nursing activities. It is a summary of the content and scope of the NCLEX to serve as a guide for candidates preparing for the exam and to direct item writers in the development of items.
The content of the NCLEX-RN is organized into four major Client Needs categories: Safe and Effective Care Environment, Health Promotion and Maintenance, Psychosocial Integrity, Physiological Integrity. Some of these categories are divided further into subcategories.
Below is the NCLEX-RN test plan effective as of April 2019 to March 2022:
| | |
| --- | --- |
| I. Safe and Effective Care Environment | |
| Management of Care | 17-23% |
| Safety and Infection Control | 9-15% |
| II. Health Promotion and Maintenance | 6-12% |
| III. Psychosocial Integrity | 6-12% |
| IV. Physiological Integrity | |
| Basic Care and Comfort | 6-12% |
| Pharmacological and Parenteral Therapies | 12-18% |
| Reduction of Risk Potential | 9-15% |
| Physiological Adaptation | 11-17% |
Safe and Effective Care Environment
There are two subcategories under Safe and Effective Care Environment.
Management of Care (17-23%)

category includes content that tests the nurse's knowledge and ability to direct nursing care that enhances the care delivery setting in order to protect clients, significant others, and health care personnel.

Safety and Infection Control (9-15%)

category includes content that tests the nurse's ability required to protect clients, families, and health care personnel from health and environmental hazards.
Health Promotion and Maintenance
Health Promotion and Maintenance (6-12%) category includes content that tests the nurse's ability to provide and direct nursing care of the client that incorporates knowledge of expected growth and development, preventing and early detection of health problems, and strategies to achieve optimal health.
Psychosocial Integrity
The Psychosocial Integrity category (6-12%) is content related to the promotion and support for the emotional, mental, and social well-being of the client experiencing stressful events and clients with acute or chronic mental illness.
Physiological Integrity
In the Physiological Integrity category are items that test the nurse's ability to promote physical health and wellness by providing care and comfort, reducing risk potential, and managing health alterations. There are four subcategories under Physiological Integrity.
Basic Care and Comfort (6-12%)

are content to test the nurse's ability to provide comfort and assistance to the client in the performance of activities of daily living.

Pharmacological and Parenteral Therapies (12-18%)

category includes content to test the nurse's ability to administer medications and parenteral therapies (IV therapy, blood administration, and blood products).

Reduction of Risk Potential (9-15%)

category includes content to tests the nurse's ability to prevent complications or health problems related to the client's condition or prescribed treatments or procedures.

Physiological Adaptation (11-17%)

category includes questions that test the nurse's ability to provide care to clients with acute, chronic, or life-threatening conditions.
Item Writers for NCLEX
Who writes questions for the NCLEX? The NCSBN sets the criteria and selection process for item writers who are registered nurses. Many of them are nursing educators who hold an advanced degree in nursing, so if you've completed an accredited nursing program, you have already taken several tests written by nurses with backgrounds similar to those who write for the NCLEX.
Testing Time
The maximum testing time for the NCLEX-RN is six (6) hours, and there is no time limit for each NCLEX question. The exam time includes all the tutorials and all the breaks. The first break is offered after two (2) hours, and the second break is offered after 3.5 hours of testing. All breaks are optional, and most test-takers may not need the full-time allotment to complete the examination.
How to Pass the NCLEX?
The NCSBN indicates that these three rules govern pass-or-fail decisions: 95% Confidence Interval Rule, Maximum-Length Exam Rule, and Run-Out-Of-Time Rule.
95% Confidence Interval Rule
In this scenario, the computer stops administering test questions when it is 95% certain that your ability is clearly above the passing standard or clearly below the passing standard.
Maximum-Length Exam
When your ability is close to the passing standard, the computer continues to give you items until the maximum number of items is reached. At this point, the computer disregards the 95% confidence rule and decides whether you pass or fail by your final ability estimate. If your final ability estimate is above the passing standard, you pass; if it is below, you fail.
Run-Out-Of-Time (R.O.O.T.) Rule
When you run out of time before reaching the maximum amount of items, the computer has not been able to decide whether you passed or failed with 95% certainty and has to use an alternate rule. You fail if you have not answered the minimum number of required questions. If you have at least answered the minimum amount of items, the computer reviews your last 60 questions. If your ability estimate was consistently above the passing standard on the last 60 questions, you pass. If your ability dropped below the passing standard, even once, during your last 60 questions, you fail.
How many question are on the NCLEX?
For the NCLEX-RN, the minimum number of questions you need to answer is 75, while the maximum number in the test is 265. Regardless of the number of questions you answer, you are given 15 experimental questions (pretest questions). Pretest questions are indistinguishable from other questions on the test, not indicated as such, are being tested for future examination, and not counted against your score.
Question Types in the NCLEX-RN
Although most NCLEX items are multiple-choice, there are other formats as well. You may be administered multiple-choice items and questions written in alternate formats. These formats may include: multiple-response or select all that apply, fill-in-the-blank calculation, ordered response, hotspot, figure, chart or exhibit, graphic, audio, and video.
Multiple-Choice Questions
Many questions on the NCLEX are in multiple-choice format. This traditional text-based question will provide you data about the client's situation, and you can only select one correct answer from the given four options. Multiple-choice questions may vary and include: audio clips, graphics, exhibits, or charts.
Chart or Exhibit Questions
A chart or exhibit is presented along with a problem. You'll be provided with three tabs or buttons that you need to click to obtain the information needed to answer the question. Select the correct choice among four multiple-choice answer options.
Graphic Option
In this format, four multiple-choice answer options are pictures rather than text. Each option is preceded by a circle that you need to click to represent your answer.
Audio
In an audio question format, you'll be required to listen to a sound to answer the question. You'll need to use the headset provided and click on the sound icon for it to play. You'll be able to listen to the sound as many times as necessary. Choose the correct choice from among four multiple-choice answer options.
Video
For the video question format, you must view an animation or a video clip to answer the following question. Select the correct choice among four multiple-choice answer options.
Select All That Apply or Multiple-Response
Multiple-response or select all that apply (SATA) alternate format question requires you to choose all correct answer options that relate to the information asked by the question. There are usually more than four possible answer options. No partial credit is given in scoring these items (i.e., selecting only 3 out of the 5 correct choices), so you must select all correct answers for the item to be counted as correct.
Tips when answering Select All That Apply Questions
You'll know it's a multiple-response or SATA question because you'll explicitly be instructed to "Select all that apply."
Treat each answer choice as a True or False by rewording the question and proceed to answer each option by responding with a "yes" or "no". Go down the list of answer options one by one and ask yourself if it's a correct answer.
Consider each choice as a possible answer separate to other choices. Never group or assume they are linked together.
Fill-in-the-Blank
The fill-in-the-blank question format is usually used for medication calculation, IV flow rate calculation, or determining the intake-output of a client. You'll be asked to perform a calculation in this question format and type in your answer in the blank space provided.
Tips when answering Fill-in-the-Blank
Always follow the specific directions as noted on the screen.
There will be an on-screen calculator on the computer for you to use.
Do not put any words, units of measurements, commas, or spaces with your answer, type only the number. Only the number goes into the box.
Rounding an answer should be done at the end of the calculation or as what the question specified, and if necessary, type in the decimal point.
Ordered-Response
In an ordered-response question format, you'll be asked to use the computer mouse to drag and drop your nursing actions in order or priority. Based on the information presented, determine what you'll do first, second, third, and so forth. Directions are provided with the question.
Tips when answering Ordered-Response questions
Questions are usually about nursing procedures. Imagine yourself performing the procedure to help you answer these questions.
You'll have to place the options in correct order by clicking an option and dragging it on the box on the right. You can rearrange them before you hit submit for your final answer.
Hotspot
A picture or graphic will be presented along with a question. This could contain a chart, a table, or an illustration where you'll be asked to point or click on a specific area. Figures may also appear along with a multiple-choice question. Be as precise as possible when marking the location.
Tips when answering Hotspot questions
Mostly used to evaluate your knowledge of anatomy, physiology, and pathophysiology.
Locate anatomical landmarks to help you select the location needed by the item.
Want a trial run of the NCLEX? We highly recommend you complete the online tutorial by the NCSBN to help you familiarize yourself with the different question types for the NCLEX.
Want more practice questions?
Please visit our Nursing Test Bank page if you're looking to answer more practice questions from different topics and different question formats.
Recommended Resources
Recommended books and resources for your NCLEX success:
Disclosure: Included below are affiliate links from Amazon at no additional cost from you. We may earn a small commission from your purchase. For more information, check out our privacy policy.
Saunders Comprehensive Review for the NCLEX-RN
Saunders Comprehensive Review for the NCLEX-RN Examination is often referred to as the best nursing exam review book ever. More than 5,700 practice questions are available in the text. Detailed test-taking strategies are provided for each question, with hints for analyzing and uncovering the correct answer option.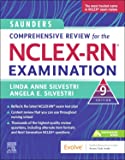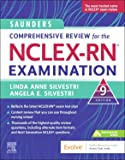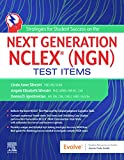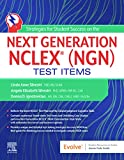 Saunders Q & A Review for the NCLEX-RN® Examination
This edition contains over 6,000 practice questions with each question containing a test-taking strategy and justifications for correct and incorrect answers to enhance review. Questions are organized according to the most recent NCLEX-RN test blueprint Client Needs and Integrated Processes. Questions are written at higher cognitive levels (applying, analyzing, synthesizing, evaluating, and creating) than those on the test itself.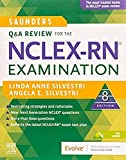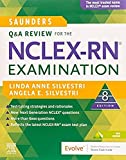 NCLEX-RN Prep Plus by Kaplan
The NCLEX-RN Prep Plus from Kaplan employs expert critical thinking techniques and targeted sample questions. This edition identifies seven types of NGN questions and explains in detail how to approach and answer each type. In addition, it provides 10 critical thinking pathways for analyzing exam questions.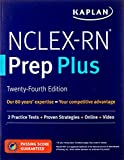 Illustrated Study Guide for the NCLEX-RN® Exam
The 10th edition of the Illustrated Study Guide for the NCLEX-RN Exam, 10th Edition. This study guide gives you a robust, visual, less-intimidating way to remember key facts. 2,500 review questions are now included on the Evolve companion website. 25 additional illustrations and mnemonics make the book more appealing than ever.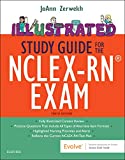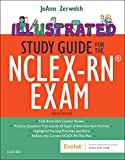 NCLEX RN Examination Prep Flashcards (2023 Edition)
NCLEX RN Exam Review FlashCards Study Guide with Practice Test Questions [Full-Color Cards] from Test Prep Books. These flashcards are ready for use, allowing you to begin studying immediately. Each flash card is color-coded for easy subject identification.