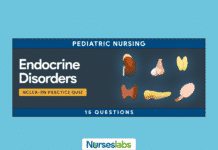 Typical growth and development during infancy into childhood and adolescence entails the action of various hormones, determined by an individual child's genetic make-up and their environment. This 15-item NCLEX style questionnaire will test your understanding regarding the endocrine disorders in Pediatric Nursing.
The skeletal system consists of bones and their associated connective tissues, including cartilage, tendons, and ligaments. It consists of dynamic, living tissues that are capable of growth, detect pain stimuli, adapt to stress, and undergo repair after injury.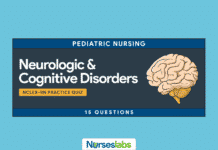 This nursing exam covers the neurologic and cognitive disorders among infants, children, and the main role of pediatric nurses.
The nervous system is involved in some way in nearly every body function. All the sensations, actions, and emotions are made possible by the nervous system, which consists of the brain, spinal cord, nerves, and sensory receptors.
The integumentary system consists of the skin and accessory structures, such as hair, nails, and glands. The integumentary system is recognizable to most people because it covers the outside of the body and is easily observed.