Personality disorders are diagnosed when personality traits become inflexible and maladaptive and significantly interfere with how a person functions in society or cause the person emotional distress.
The current exam items focus more on testing knowledge, rather than clinical judgment – in other words, the application of knowledge through critical thinking and decision making that is required in nursing practice.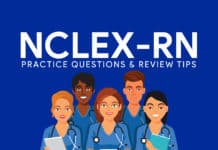 Understand how the NCLEX-RN works in this nursing test bank and review guide. Over 3,500 NCLEX questions for practice for free!
Somatoform disorders are characterized by physical symptoms suggesting medical disease but without demonstrable organic pathology or a known pathophysiological mechanism to account for them.
Burnout in nursing is a growing problem because of ever-increasing stress. In this article, we'll define what is burnout, symptoms of burnout, and what you can do to manage and prevent it.