Nursing care plan for clients with an aortic aneurysm is to modify risk factors, controlling the BP to prevent strain on the aneurysm, recognizing symptoms early, and preventing the occurrence of a rupture.
Learn about the digestive system here.
Here are four (4) nursing care plans (NCP) for pulmonary embolism: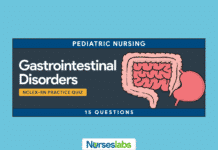 This nursing exam covers the gastrointestinal disorders among infants, children, and the main role of pediatric nurses. Get that perfect score in your NCLEX with this questionnaire.
Before you agree to another demand, here are five tips on how nurses can say no.