Interested on how to become a certified nurse midwife? This nursing career guide provides you with all the information you need about what the nurse midwife does, how to become one, salary of nurse midwives, job outlook, qualifications, and more.
Midwives have assisted women during the natural process of childbirth from the beginning of time. Today, the Certified Nurse-Midwife is an advanced practice registered nurse who has the education and skill to manage, not only the normal birth process, but also the possible complications of pregnancy, labor, and childbirth which had in the past cost the lives of many women and babies.
Table of Contents
What is a Nurse Midwife?
Certified Nurse Midwives (CNM) and Certified Midwives (CM) attend to women and their babies during pregnancy, labor and childbirth, and during the first days after birth. In addition, they provide women's health care throughout the lifespan with special emphasis on reproductive and gynecologic health.
Certified nurse midwives are a type of advanced practice registered nurses (APRN) who have at least a master's degree and specializes in women's reproductive health and childbirth. They are recognized in all the US states as independent practitioners with the authority to prescribe medications. Certified Midwives (CM), recognized in a few states, enter the graduate program with a non-nursing baccalaureate degree.
Both types have to pass the same certification examination of the American Midwifery Certification Board (AMCB). As of February 2019, there were 12,218 CNMs and 102 CMs in the US. The National Center of health statistics in the US reported that CNMs and CMs attended 351,968 births, which represented 9.2% of the 3.8 million births during 2017.
History of Midwife
Prior to the rise of medical science, the assistance women needed during labor and childbirth was seen as women's business, wherein men had no place. Records show that midwifery was a recognized female profession over 3,000 years ago in ancient Egypt. In the Greek civilization, midwives had a status equal to that of physicians. Midwives tended women, from Royalty to the poorest classes, during childbirth until obstetrics became the domain of medical practitioners from the early 1800's. However, in many parts of the world, qualified and registered midwives have remained essential providers of assistance during childbirth, especially in rural areas.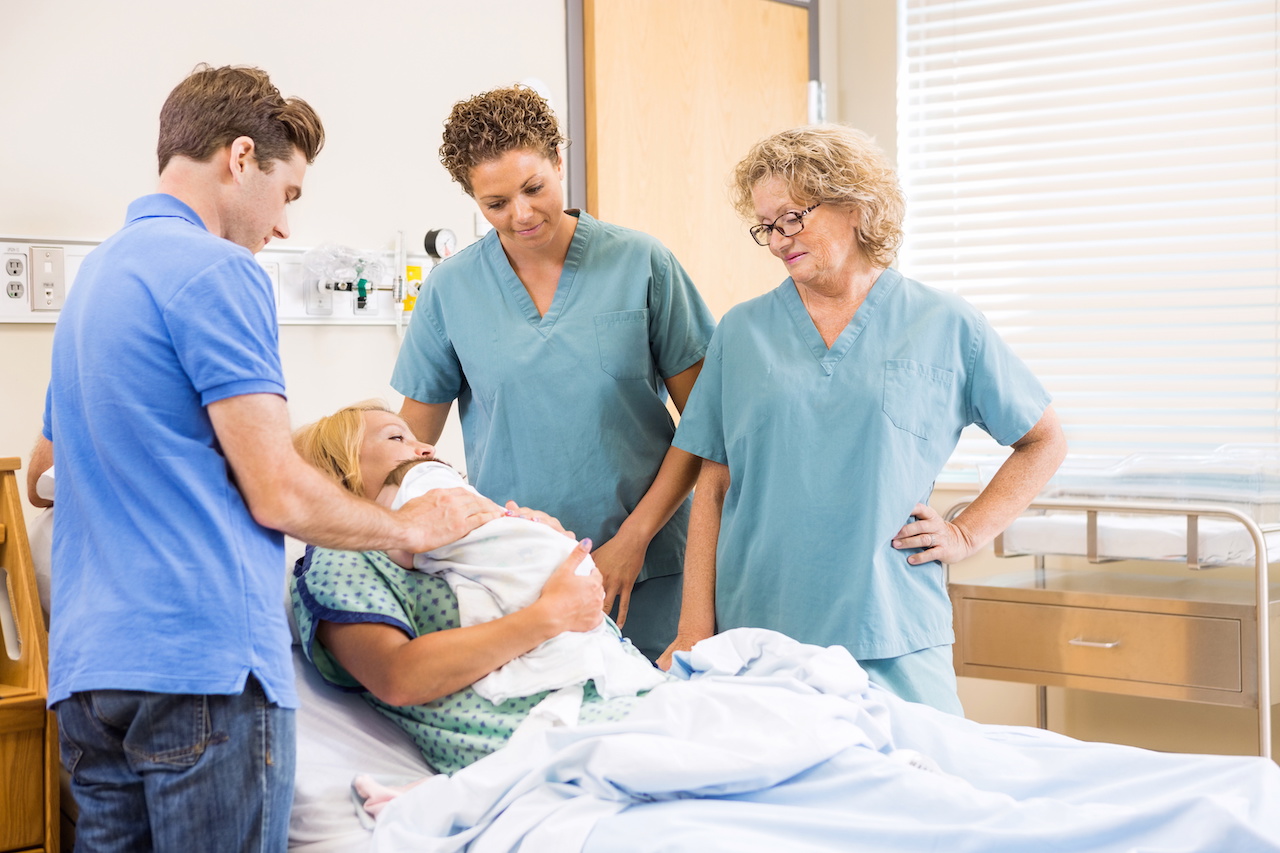 The Pilgrim Fathers brought midwifery practice from Europe to the US. In the rural South, many experienced African-American midwives, who came to the country as slaves, tended to births among both black and white women. In the US, medical practitioners took over obstetrics from very early in the 1900's. By 1935 only 15% of babies were delivered by, mostly untrained, midwives.
An organized nurse-midwifery service was introduced in 1925 and these nurse-midwives attended only home births, mostly in remote areas. For half a century, they were the only practicing nurse-midwives in the US, until obstetricians realized the need for qualified nurse-midwives in hospitals during the baby boom of the 1950's. Nurse-midwives have been certified by examination since 1971, initially by the American College of Midwives.
What does a Nurse-Midwife do?
Certified nurse-midwife is one of the most fulfilling nursing specializations to consider pursuing. If you are someone with a keen enthusiasm for women's gynecological health, prenatal and postnatal care, becoming a nurse midwife is a topmost opportunity. The following are the duties and responsibilities of a nurse-midwife:
Provides professional reproductive and gynecological health care. The main role of the nurse-midwife is to provide professional support and care to women and babies during pregnancy, labor, and childbirth, and for the first weeks after delivery. Their education now also prepares them to attend to women's health, and particularly reproductive and gynecological health, throughout the lifespan.
Works independently or collaboratively with other medical practitioners. Like other certified nurse-practitioners, nurse-midwives work independently or collaboratively with medical practitioners – depending on the laws of the state in which they work.
Promotes the concept of minimal intervention. The majority of births are biologically normal events that only require support. Nurse midwives promote the concept of minimal intervention during the natural process of pregnancy, labor, and childbirth.
Provides health surveillance from pregnancy to breastfeeding. The support which nurse midwives provide includes health surveillance during pregnancy, assistance during labor, and conducting the delivery. They also help to ensure the continued health of both the mother and the baby in the postpartum period. A major part of this is assisting the mother to establish effective breastfeeding.
Promotes wellness through health education. Promoting wellness through health education, not only for the mother but also for family members and the community, is an essential part of the nurse midwife's work through all these phases.
Provides appropriate intervention for any impending health hazard. During each of the above stages, they are also responsible for detecting any possible complications in the mother or the child. Should there be potential complications, or an actual health problem or emergency develops, they provide appropriate intervention.
Diagnose and treat ailments. Nurse midwives are trained to diagnose and treat ailments and are permitted to order and test and evaluate the results. They are able to manage many of the emergency situations that might arise during labor and can repair lacerations.
Consult with or refer their patients to specialists when necessary. Nurse midwives are not permitted to perform surgery, so if a Cesarean section is called for it will be performed by an obstetrician. In this case, the nurse-midwife will usually accompany their patient to theatre and might even provide surgical assistance during surgery.
Provides primary health care services for women throughout their lifespan. Nurse midwives are also trained to provide primary health care services for women throughout their lifespan. This includes pre-conception examinations and fertility advice, contraception, gynecological examinations, pap-smears, diagnosis, and treatment for sexually transmitted diseases – also for the woman's partner, and advice and treatment during menopause.
Fever complications. The American College of Nurse-Midwives reports that one of the benefits of using nurse-midwives for births is a closer relationship with the service provider. With certified nurse midwives in attendance, there are fewer third and fourth-degree perineal tears, inductions of labor, cases requiring regional anesthesia, and cesarean sections. Rates of successful breastfeeding are increased.
Nurse Midwife Salary
How much do certified nurse midwives earn? According to the 2018 estimates released by the Bureau of Labor Statistics (BLS) in 2019, nurse midwife salary is around an average income of $106,910 per year or $52.40 per hour. Bear in mind though that nurses' average incomes vary considerably between States. CNMs working in hospitals and outpatient care centers earned the most at average incomes of between $113,400 and $114,450 respectively.
You should note that the BLS survey only reported on 6,250 nurse-midwives, which represents only about half of the practicing CNMs in the US. Some might have been included by employers under the nurse practitioner category. The income of CNMs who run their own practices is also not included in the above statistics as the BLS does not report on those who are self-employed.
Where do Certified Nurse Midwives Work?
Certified nurse midwives can work in any of the settings where care during pregnancy, labor, and delivery is provided, or in primary health care services for women. In 2017, more than half of nurse midwives reported that they were employed in doctor's practices, hospitals, or clinics. Most of the nurse midwives who work in clinics or at doctor's practices have hospital admission privileges. This means that when they've cared for the woman during the prenatal period they can conduct the delivery in the hospital setting.
Many certified nurse midwives also work at specialized birth centers. Some have their own practices specializing in conducting home births which are becoming increasingly more popular. They might also provide family aftercare following a hospital delivery, or work as consultants for women's health. Of all the deliveries attended by certified nurse midwives and certified midwives in 2017, 94% were in hospitals, 3.2% in birth centers and 2.6% in homes.
How to Become a Nurse Midwife?
The scheme of becoming a certified nurse midwive can unquestionably appear to be overwhelming and you'll need to meet certain requirements and qualifications before becoming one. The following are the qualifications to become a certified nurse-midwife:
Bachelor of Science in Nursing (BSN) degree
You need a BSN to enter a master's or doctoral program to qualify as a certified nurse midwife. The courses are offered at universities accredited by the Accreditation Commission for Midwifery Education (ACME). The commission is officially recognized as an accrediting agency by the US Department of Education. At the moment, there are 38 accredited midwifery education programs across the US. A small number of these universities accept students into a course to qualify as a CM if they have a degree in a health-related field other than nursing.
Licensed as a Registered Nurse
To continue the path toward becoming a certified nurse midwife, you will need to first become a licensed registered nurse, which means that you will need to sit for the National Council Licensure Examination. Prior to taking the certification exam, you will need to complete an Authorization to Test External and apply to your nursing regulatory body. You will want to begin the process with enough lead time before your ideal exam date. Applicants who do not pass the NCLEX are required to wait a 45-day study period before registering to take the exam again. More details about the NCLEX application process here.
RN Work Experience
A further entry requirement to most of the programs is at least one year of experience working as a registered nurse, particularly in the field of labor and delivery. This experience allows them to refine their skills, knowledge, and attitude providing them a level of authority and expertise they need for advanced practice roles.
MSN or DNP degree
A graduate degree has been required for practice as a midwife in the US since 2010. About 82% of certified nurse midwives now have Master's Degrees. The 4.8% of CNMs who have doctoral degrees represent the highest proportion of this level of qualification of all the different advanced nursing practice specialties. A number of the programs are online, or flexible, to enable students to work and study at the same time. The admission requirements and course content vary considerably between universities. So you are advised to research the different programs if you're interested in pursuing a career as a CNM. As mentioned, a BSN is a requirement but some universities also require a minimum score in the subjects completed during the BSN. However, some universities do offer an ADN to MSN bridging program.
Certified Nurse Midwife State Licensure
All the graduate nurse-midwife programs were ranked by the US News and World Report in 2016. The University of California – San Francisco, University of Michigan, and Vanderbilt University tied in the top spot. Once a nurse has completed the graduate study to qualify as a nurse-midwife, they have to pass the ACME national certification examination in order to use the professional Certified Nurse-Midwife title. They also have to participate in a certificate maintenance program of continuing education and recertify every five years.
Nurse Midwife Pros and Cons
What are the pros and cons of being a certified nurse midwife? It can be intricate to say what the advantages of any profession are since everyone is entitled to an opinion and being free to state their opinion. What one individual views as a disadvantage may be a benefit for someone else.
Pros
Here are some of the advantages of being a Certified Nurse-Midwife:
Make a difference in women's' lives. Nurse-midwives say that they never tire of sharing in the miracle of childbirth. "I love the rich history of midwives empowering women and helping them through the most difficult—and the most beautiful—times in their lives," said CNM Addie Graham.
Create strong bonds. Furthermore, it's a field in which you form close bonds with your patients and their families. You care for them from the first weeks of pregnancy until the few weeks after delivery. "Birth still amazes me, and the strength that I see in every woman who goes through this transformative process is so inspiring." Graham works for a group at a community clinic, a family and women's health center, and has privileges to attend births at a local hospital.
Good job opportunities. Job prospects for CNMs are good. Although CNMs currently only manage about 10% of deliveries in the US the trend for natural and home deliveries is growing. The career was projected to grow 25% between 2014 and 2024. Being a qualified CNM also provides the opportunity of setting up your own practice and working in any part of the world.
Cons
There are certain things to consider for anyone thinking about being a certified nurse-midwife. Below are some of the disadvantages of being a Certified Nurse-Midwife:
Work unpredictable hours. As with most health care providers, you should be prepared to work non-traditional hours and be on call when your patients go into labor. Also to sometimes work very long hours at a stretch. You should have "The ability to stay awake for 2 days at a time (this takes experience and is still hard)" explains Alison Young, a certified nurse midwife at a Women's Health and Birth Center. Working hours are largely determined by the setting in which you work. "My schedule varies each week as I work a mixture of day and night shifts, as well as clinic days," reported Graham. "My hospital shifts are mostly 12-hour call shifts with an occasional 24-hour call shift thrown in."
Deal with high-stress situations. When conducting deliveries outside of the hospital setting, as in birth centers or as an independent nurse-midwife, there aren't other nurses on staff to help out with patient care. This means that the CNM provides all the hands-on care throughout the delivery. CNMs also need to be able to deal with the stress of being responsible for two lives when complications set in – but fortunately, most births are normal.
People's expectations. Young explains that people's expectations are probably the hardest part of the job. "On the one hand, some people do not know the full capability of a midwife and think we have less training than other providers, but others think midwives will be available to them at all hours and expect a lot from us, sometimes more than we can give." She believes that all nurse-midwives need excellent communication skills.
Nurse Midwife Organizations & Resources
To explore more about the certified nurse midwife profession, here are some of the significant organizations, societies, and agencies associated with the job.
Is This Career for You?
This nursing specialty could be the right choice for you if love the idea of sharing in the wonder of childbirth on a daily basis. And also if you're passionate about health education, and promoting health and wellness.
If you're still unsure whether this is the right choice for you for it might be an idea to shadow a nurse-midwife for a while. Even to do the course of a few days to qualify as a doula – a woman who provides the mother with basic physical and emotional support during childbirth. The interest you show in the field by doing this could also count in your favor when applying for admission to the graduate study to qualify as a certified nurse midwife.