Do you want to start a career as a registered nurse? Is being an RN an excellent choice for you? In this career guide, let's define the work of a registered nurse, what they do, where they work, the salaries of registered nurses, and how to become a registered nurse.
Table of Contents
What is a Registered Nurse (RN)?
A registered nurse (RN) is a licensed healthcare professional with at least an associate degree or a baccalaureate degree who provides skilled patient care. Registered nurses have earned a degree through an accredited nursing school and have successfully passed the NCLEX-RN. Registered nurses are employed in many different settings ranging from acute emergency care, operating rooms, private clinics, or community health services.
Nurses are respected professionals and members of the healthcare team. In fact, nurses are consistently voted as the most trusted and ethical profession every year in the annual Gallup Poll. The registered nurse (RN) also came in as the 19th best job in the most recent US News list of best 100 Jobs in the US while two nursing specialties made the top 10.

How Much Do Registered Nurses Make?
The nurse salary for registered nurses in the United States is $80,010 or $38.47 per hour. Level of education, experience, position, employer, and geographical location are factors on how much salary RNs can make. A newly qualified registered nurse can expect to earn between $45,000 to $60,000 a year.
There is a great variance in the average nurses' salary between states with the highest average in California at $120,560 and the lowest Puerto Rico at $35,600. Keep in mind, however, that salaries are also influenced by the cost of living in different states, and between urban and rural areas.
SEE ALSO: Nurse Salary: How Much Do Registered Nurses Make?
How Long Does it Take To Become a Registered Nurse?
If you are wondering how long does it take to become a nurse or how long is a typical nursing program you need to understand that there are different paths to earn a nursing degree which will make you eligible for licensure. It may take students 1 year to 4 years to earn a degree in nursing depending on the educational path. They are discussed further below.

How To Become a Registered Nurse (RN)?
So, what education is needed to become a registered nurse? To become a registered nurse, you need the complete a nursing program at an accredited nursing school and pass the National Council Licensure Examination (NCLEX-RN) to obtain your licensure (legal authority to practice as a nursing professional).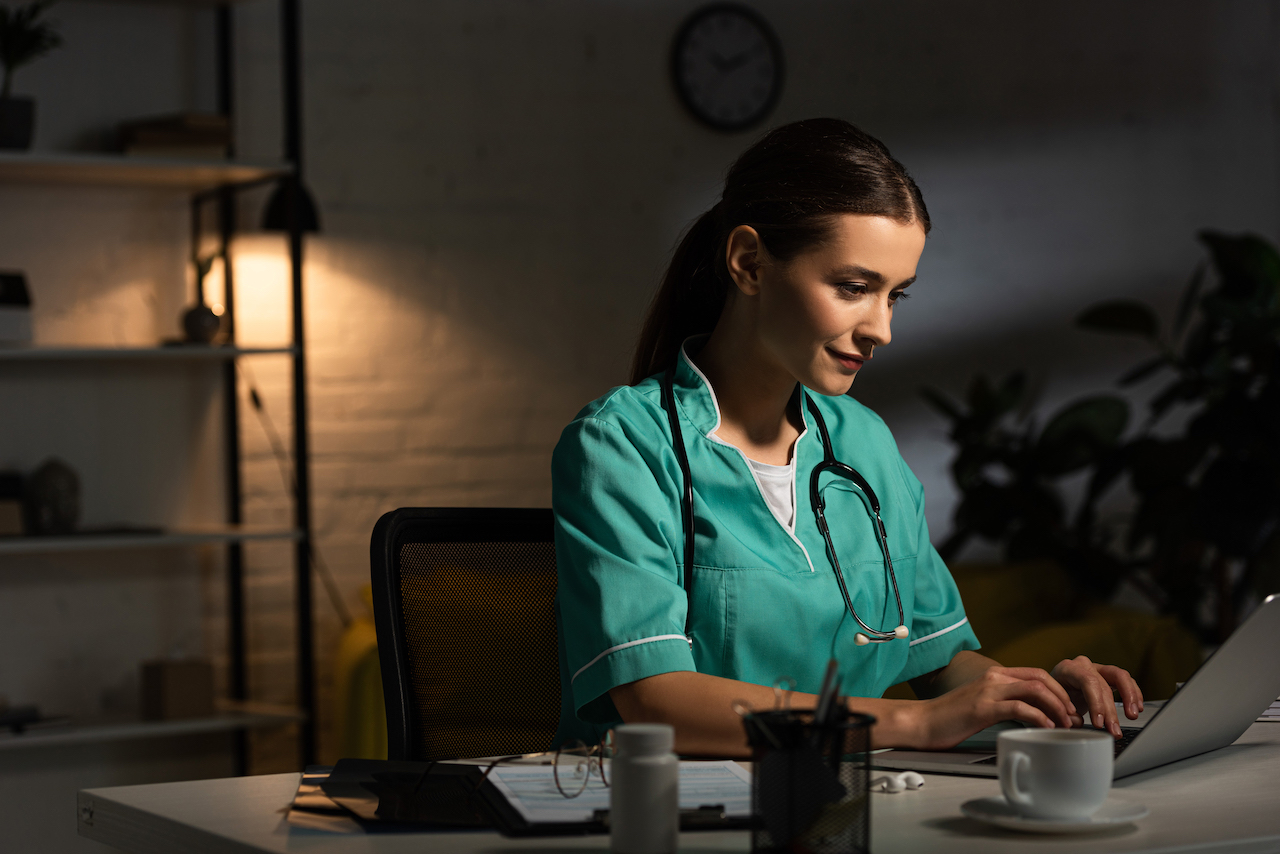 Currently, there are three ways to be eligible for RN licensure: diploma, associate degree, or baccalaureate program.

Diploma Program
Diploma programs in nursing are hospital-based educational programs and usually take one to three years to complete depending on the curriculum. The first schools of nursing established to educated nurses were diploma programs and many nurses practicing today have received their basic nursing education through these programs. The number of diploma nursing programs steadily decreased in recent years as many institutions required at least a two-year ADN.

Associate Degree Programs
Currently, an associate degree in nursing (ADN) is still the most common route for nurses to become qualified. An associate degree in nursing usually takes two years to complete. Coursework includes basic sciences, social sciences, nursing theory, and nursing practice.

Baccalaureate Degree Programs
The nursing profession set a target in 2010 to have 80% of practicing RNs qualified with a bachelor's of science in nursing (BSN) or higher by 2020. The "Future of Nursing" report by the Institute of Medicine states that nurses should achieve higher levels of education in the face of developments in the healthcare system. Recommendations by various nursing organizations that entry-level for professional practice at the baccalaureate level have resulted in an increase in number BSN programs and some employers have higher salary scales for nurses with a BSN degree than those with ADN or diploma. BSN qualification provides you with greater opportunity for promotion including posts in the nursing management and administration. A BSN degree is also required as an initial basic certification if you want to pursue a nursing specialization or if you want to study for a Master's or Doctoral degree in nursing.
There are three ways on how you can earn your bachelor's of science in nursing (BSN): traditional baccalaureate programs, accelerated BSN programs, and RN to BSN completion programs.
Traditional Baccalaureate Programs
Baccalaureate programs are generally four years in length and are located in senior colleges and universities. Coursework is more in-depth and includes liberal arts, sciences, humanities, nursing research, nursing theory, and nursing practice.
Accelerated BSN Programs
If you've already obtained another degree before you decide to become a nurse, you can enter an accelerated BSN program which can usually be completed in about two years. Accelerated BSN programs (also known as "second degree" or "fast track" BSN) were offered by some nursing schools to address the significant shortage of registered nurses. Accelerated nursing programs are rigorous and have a modified curriculum designed to shorten the length of time required to gain clinical experience. It usually includes summer coursework, so no breaks in between semesters.

RN to BSN Completion Programs
If you are a licensed registered nurse with a diploma or associate degree and want to further your education to a BSN, there are BSN completion programs you can take. If you're not able to study full-time for four years, many nurses still qualify with a diploma or an ADN and then go on to complete an RN to BSN program while they're employed as nurses. RN to BSN programs are available part-time, including online, and some employers have assistance programs for nurses to obtain a BSN in this way. RN to BSN programs usually take two years to complete.
Nurse Licensure
Once you've completed your nursing course and earned your degree, you still need to apply for licensure to the state board of nursing where you want to work. Nurses have to pass the National Council Licensure Examination for Registered Nurses (NCLEX-RN) administered by the National Council of State Boards of Nursing (NCSBN) to obtain a license and practice as a registered nurse. The NCLEX-RN is a computerized adaptive test that keeps giving questions until the computer is confident you can deliver safe and effective nursing care.
SEE ALSO: NCLEX-RN Application Guide and Test Bank for Nurses
Each state board of nursing has its own requirements that you'll need to check. All make sure that the necessary coursework has been completed at an accredited institution and consider the applicant's background. This might include a criminal history check.
What Does a Registered Nurse Do?
Registered nurses in hospitals or other in-patient settings care for their patients 24 hours a day. In comparison, other health care workers consult with or treat their patients only for limited periods. RNs have different degrees of autonomy and responsibilities in various settings, they provide direct care, teach clients and their support persons, serve as advocates and help craft policies affecting health in communities or hospitals.
In community health care settings, registered nurses are usually the first point of contact with the patient. Here, nurses may either provide healthcare themselves or when necessary, refer the patient to another healthcare provider.
The functions described below apply wherever an RN might be working. A nurse's specific duties, however, will vary between different jobs and different health care settings.
Meeting the patient's needs. Nursing is all about meeting their patient's health care needs – physical, mental, and emotional – and sometimes those of their families as well. Nursing is a highly complex task executed at many different levels from making sure that the patient takes in enough fluids right through to end of life support.
Assessment and evaluation of health. Duties by the registered nurse include assessment of their patient's needs – including the basic needs and those related to their particular health problem. The registered nurse continuously monitors and evaluates the patient's condition. In critical care settings, they might be assisted in this task by electronic monitoring systems. Any changes in the patient's health status – whether for better or worse – is assessed and then, through critical thinking and problem solving, the nurse plans the next actions.
Providing nursing interventions. RNs are also responsible for various interventions such as administering prescribed medication, wound care, patient education, discharge planning, health teachings, and much more.
Coordinators of care. Registered nurses also act as coordinators of patient care. This might entail accompanying doctors on their rounds and giving feedback on the patients' progress, or calling on them when a patient's condition deteriorates. Nurses also communicate and arrange a plan with other health care providers about the tests and treatments their patients need. Other health care providers, a nurse may collaborate with includes physiotherapists, radiographers, lab technicians, psychologists, specialist nurse practitioners, and many more.
Documents care. Everything the registered nurse does must be recorded. This record of care serves as a legal document and proof that the nurse has executed her tasks responsibly and ethically.
Where Do Registered Nurses Work?
One of the advantages of becoming a registered nurse is that there is a wide variety of settings you can choose to work from. Though the bulk of registered nurses are working in a hospital setting, nurses don't always work in hospitals.
As a registered nurse, you can choose to work as a hospital nurse, school nurse, long-term care nurse, nurse educator, flight nurse, travel nurse, or a home health nurse even as a cruise ship nurse! Every nurse has the opportunity to develop their career in line with their interests, personality, and strengths. Changes in career direction can also be made according to the changing demands of personal and family life. School nurses and occupational health registered are among the nurses who work for non-healthcare employers. Then there are the nurses who work as nurse educators at colleges and universities and as consultants for the government at federal or other levels.
Some of the lesser-known and exciting areas in which nurses are also employed include:
Nursing Specializations
There are many career advancement options and if you want to specialize in nursing. Registered nurses can specialize in a specific area of care. Some of the types of RNs are:
Trauma and critical care
Pediatric nursing (caring for children)
Gerontological nursing (care for the aged)
Midwifery
Psychiatric nursing
Neonatal nursing
Family nursing
You can also further your education and become an advanced practice registered nurse (APRN) and work on your certification. APRNs hold at least a master's degree in nursing. Some examples of APRNs are:
Nurse practitioners. Depending on their specialization, nurse practitioners provide primary, acute and specialty health services to a variety of populations and in many different settings. NPs can diagnose and treat health conditions and have prescription rights.
Nurse-midwives. They provide prenatal and postnatal care and managers deliveries in normal pregnancies.
Certified registered nurse anesthetists (CRNA). Graduates of an accredited program in anesthesiology. CRNAs do preoperative visits and assessments, administer general anesthetics for surgery, and assess the postoperative status of clients.
Clinical nurse specialists (CNS). Advanced practice RNs that provide direct care, educates clients, conducts research, and manages care. They are experts in a specialized area of practice (e.g., adult health, pediatrics, geriatrics, psychiatric, women's health)
Pros and Cons of Working as A Nurse
Let's take a look at the advantages and disadvantages of working as a nurse so you can have an informed decision if you want to pursue a career in nursing.
Pros of Working as a Nurse
Caring for Others. Nursing is among the few professions where you can directly impact a person's life. Your care, training, words you speak, your skills, and simply your presence becomes an agent for change for improving or saving someone's life! There will also be people who really appreciate what you are doing for them which makes everything worthwhile. There are few things as rewarding as helping others, even saving lives.
Job Security. Registered nurses can generally be assured of being able to get a job because there is a shortage of qualified nurses worldwide. Nursing also has one of the lowest rates of unemployment.
Job Outlook. The demand for nurses is increasing all the time thus the job outlook for a career in nursing is great. The Bureau of Labor Statistics (BLS) predicted that between 2016 and 2026, the number of nursing jobs would grow by 15% which is much faster as compared to other occupations. This growth represents nearly half-a-million new jobs.
Flexibility of Schedules. Being a nurse gives you flexibility in your schedule. Registered nurses can choose to work on a full-time, part-time, or on-call basis. Most nurses work 12-hour shifts for three days giving you long weekends if you want to travel or spend time with your family during your days off.
Career Advancement Options. There are a lot of options when you want to advance your career in nursing. Most nurses choose to specialize in an area of healthcare that interests them, and usually one that suits their personality and unique skills. The range of options open to nurses of where and in what field of nursing they want to work.
Scrubs and Comfy Shoes. You get to wear comfortable work clothes and never have to worry about what you wear to work. You'll love wearing scrubs!
Variety in work. Working as a nurse means no day is the same and there is no dull moment! You'll be meeting and caring for different people with different personalities.
Cons of Working as a Nurse
Long 12-hour shifts. You do, however, have to consider that nurses have to care for their patients for 24 hours a day, every day of the year. And yes, you will probably have to work long 12-hour shifts as well as night duty, weekends and public holidays. There's also overtime – which can sometimes be unpredictable – especially in the event of an emergency. This can be hard on you and your family, but you do adapt and get used to it.
Body Fluids. While deciding on becoming a nurse, you also need to consider whether you're prepared to deal with the darker side of humanity. You will be confronted with blood and body fluids, pain, suffering, and death.
Workplace Violence. Nurses are at higher risk for workplace violence as compared to those in other professions. You are going to experience handling a difficult patient, their relatives, your co-workers, or superiors and these situations may surprise you as handling workplace violence may or may not be a part of your training. Workplace violence is seen as the most significant occupational hazard faced by nurses, according to the American Nurses Association. The US Department of Labor showed that 45% of workplace assaults leading to loss of workdays were against nurses.
Physically and Emotionally Demanding. Being a nurse means you'll have to lift and move patients on a regular basis. You'll also spend most of your shift on your feet moving from one patient to another. Add that to the stress you may experience during a busy shift and the pressure of making critical decisions that may save someone's life. Good thing you're part of a team and handling these situations during your clinicals.
Compassion Fatigue. Yes, it's a thing. Nurses, being empathic, are exposed to endless suffering going around the medical field and can feel the patient's fears and suffering. The secondary effects of the trauma that the nurses have to meet each day are converted to unseen stressors readily absorbed by the nurse, causing them to feel tired and drained all the time.
Ready to Become a Registered Nurse?
While registered nurses today require a very high level of knowledge and skill, it is still a calling! Nursing is an art as well as science. There will be challenging days both in nursing school and as a nurse but it's all worth it! You see people at their lowest and the capacity to help lift them up. And despite the challenges, most nurses report high levels of job satisfaction and wouldn't change their career for anything. If you feel that nursing is for you, take the next step and apply for admission to a nursing school – may be at one of the top 100 university colleges for nursing in the US.