In pediatric gastroesophageal reflux, immaturity of lower esophageal sphincter (LES) function is manifested by frequent transient lower esophageal relaxations (tLESRs), which result in the retrograde flow of gastric contents into the esophagus.
Here's a list of the common patient positioning for different conditions, diseases, and nursing procedures.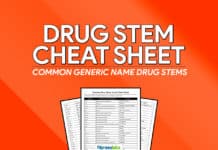 Here's a cheat sheet table of the common generic name drug stems and affixes that you can download and print.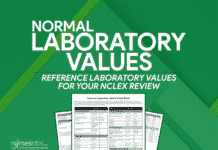 To assist nurses, here are the common laboratory values listed in an organized and easy-to-understand cheat sheet table.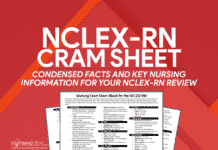 Condensed facts and key nursing information for the NCLEX-RN
Extend and further strengthen your knowledge about the concepts of Pediatric Nursing with these 40 Nursing Bullets. These Nursing Bullets are bite-sized information that are easy to absorb and best read during your reviews for NCLEX or the board exams.
What does HOB or ROM means? Do you know the different medical and nursing terms from the healthcare industry? We in the fields of nursing and medicine have our unique set of vocabulary. These terminologies are important for us to have a more understandable and efficient communication.
Nursing assessment is important in the whole nursing process. This can be called the "base or foundation" of the nursing process.
Listed below is a table which may serve as your quick reference guide on the different intravenous solutions. Download it for free!
Medical abbreviations were made to quickly but accurately document. Here's a list of medical terminologies that you should know.