Herpes zoster, also called shingles, is an infectious condition caused by varicella zoster virus (VZV), the same virus that causes varicella zoster (chickenpox). After a case of chickenpox run its course, the virus lies dormant in the ganglia of the spinal nerve tracts. Then the virus reactivates and travels along the peripheral nerves to the skin, where the viruses multiply and produce painful vesicular eruptions. It is most common in older adults and people who have weak immune systems.
Although VZV typically affects the trunk of the body, the virus may also be noted on the buttocks or face. If an ophthalmic nerve is involved, the client may potentially experience keratitis, ulceration and possibly blindness. Secondary infection resulting from scratching the lesions is common.
An individual with an outbreak of VZV is infectious for the first 2 to 3 days after the eruption. The incubation period ranges from 7 to 21 days. The total course of the disease is 10 days to 5 weeks from onset to full recovery. Some individuals may develop painful postherpetic neuralgia long after the lesions heal.
Shingles is characterized initially by a burning, tingling, numbness or itchiness of the skin in the affected area. VZV infection can lead to central nervous system (CNS) involvement; pneumonia develops in about 15% of cases. Approximately 20% of people who have had chickenpox will develop herpes zoster.
Nursing Care Plans
Major nursing goals for a client with shingles may include increased understanding of the disease condition and treatment regimen, relief of discomfort from the lesions, emphasis on strict contact isolation, development of self-acceptance, and absence of complications.
Here are four (4) nursing care plans (NCP) and nursing diagnosis (NDx) for patients with herpes zoster (shingles):
Acute/Chronic Pain
Nursing Diagnosis
May be related to
Nerve pain (most commonly cervical, lumbar, sacral, thoracic, or ophthalmic division of trigeminal nerve)
Possibly evidenced by
Alteration in muscle tone
Facial mask of pain
Reports of burning, dull, or sharp pain
Reports of pain localized to affected nerve
Desired Outcomes
Client will be comfortable as evidenced by the ability to rest.
Client will report satisfactory pain control at levels less than 3 to 4 on a scale of 0 to 10.
Nursing Interventions
Rationale
Assess the client's description of pain or discomfort: severity, location, quality, duration, precipitating or relieving factors.
The client may describe the pain as a tingling sensation, a burning pain, or extreme hyperesthesia in one area of the skin. These sensations usually precede the development of skin lesions by several days. Postherpetic neuralgia is a chronic pain syndrome that may continue after the skin lesions have healed. The client may have constant pain or intermittent episodes of pain.
Assess for nonverbal signs of pain or discomfort.
Each individual has his or her own pain threshold and ways to express pain or discomfort. Some individuals may deny the experience of pain when it is present. Attention to associated signs may help the nurse evaluate the pain.
Educate the client about the following measures:

Wear loose, nonrestrictive clothing made of cotton.

Constrictive, nonbreathing garments may rub lesions and aggravate skin irritation. Cotton clothing allows evaporation of moisture.

Apply cool, moist dressings to pruritic lesions with or without Burrow's solution several times a day. Discontinue once the lesions have dried.

This provides relief and reduces the risk for secondary infection.

Avoid temperature extremes, in both the air and bathwater.

Tepid water causes the least itching and burning.

Avoid rubbing or scratching the skin or lesion.

Scratching stimulates the skin, which in turn increases itchiness. It can also increase the possibility of secondary infection.

Use topical steroids (anti-inflammatory effect), anti-histamines (anti-itching effect, particularly useful at bedtime), and analgesics.

A variety of medications may be required to provide relief.
Administer medications as indicated.
Oral opioid analgesics (codeine, hydrocodone) are typically prescribed during the acute phase. Analgesics, antidepressants, and antiepileptic may be used in the management of postherpetic neuralgia. Topical preparations of postherpetic neuralgia include capsaicin cream (Zostrix) and lidocaine-prilocaine cream (EMLA).
Recommended Resources
Recommended nursing diagnosis and nursing care plan books and resources.
Disclosure: Included below are affiliate links from Amazon at no additional cost from you. We may earn a small commission from your purchase. For more information, check out our privacy policy.
NANDA International Nursing Diagnoses: Definitions & Classification, 2021-2023
The definitive guide to nursing diagnoses as reviewed and approved by the NANDA International. In this new version of a pioneering text, all introductory chapters have been rewritten to provide nurses with the essential information they need to comprehend assessment, its relationship to diagnosis and clinical reasoning, and the purpose and application of taxonomic organization at the bedside. A total of 46 new nursing diagnoses and 67 amended nursing diagnostics are presented.
Ackley and Ladwig's Nursing Diagnosis Handbook: An Evidence-Based Guide to Planning Care
We love this book because of it's evidence-based approach to nursing interventions. This care plan handbook uses an easy, three-step system to guide you through client assessment, nursing diagnosis, and care planning. Includes step-by-step instructions show how to implement care and evaluate outcomes, and help you build skills in diagnostic reasoning and critical thinking.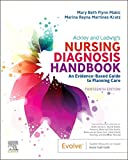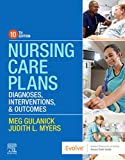 Nurse's Pocket Guide: Diagnoses, Prioritized Interventions, and Rationales
Quick-reference tool includes all you need to identify the correct diagnoses for efficient patient care planning. The sixteenth edition includes the most recent nursing diagnoses and interventions from NANDA-I 2021-2023 and an alphabetized listing of nursing diagnoses covering more than 400 disorders.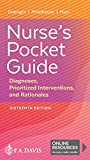 Nursing Diagnosis Manual: Planning, Individualizing, and Documenting Client Care
Identify interventions to plan, individualize, and document care for more than 800 diseases and disorders. Only in the Nursing Diagnosis Manual will you find for each diagnosis…. subjectively and objectively – sample clinical applications, prioritized action/interventions with rationales – a documentation section, and much more!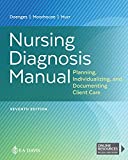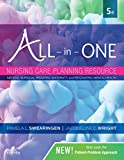 See also
Other recommended site resources for this nursing care plan:
Other nursing care plans affecting the integumentary system: