The National Council of State Boards of Nursing (NCSBN) has been working on possible changes to the NCLEX Exams since 2014. The Council officially confirmed earlier this year that the Next Generation NCLEX (NGN) will be launched, but not before 2023. 
"Currently, the NCLEX utilizes mainly multiple-choice or multiple-response type items. These items have a common universal layout and well-known methods for obtaining responses from candidates using radio buttons or checkboxes. However, the newer next generation items measuring clinical judgment employ a wider range of response options and item design features. In addition, NGN prototypes have authentic case study type scenarios where a number of questions became a set of interrelated items representing a scenario, whereas today all items on the NCLEX are unique to themselves." says NCSBN
The current exam items focus more on testing knowledge, rather than clinical judgment – in other words, the application of knowledge through critical thinking and decision making that is required in nursing practice.
Testing clinical judgment
Clinical judgment is linked to around 46% of nursing tasks. Research by the NCSBN found that 65% of nursing errors were the result of poor clinical judgment and that only 20% of employers were satisfied with the clinical judgment skills of newly qualified nurses.  
Furthermore, a recent study found that fewer than 1 in 4 new nursing graduates, who had all passed the NCLEX-RN examination, were able to think at the level expected of entry-level nurses. 
The NCSBN embarked on a project in 2014 to establish whether the NCLEX examinations could be changed to more effectively test clinical judgment and decision making. The goal of the Next Generation NCLEX examination is to better measure whether students were ready for real-life nursing.
New Generation NCLEX research and development
After considerable research and development, selected NCLEX candidates were asked, from July 2017, to voluntarily answer questions in a special research section after completing the regular exam. Answers in this section did not form part of their final score but were used for further analysis.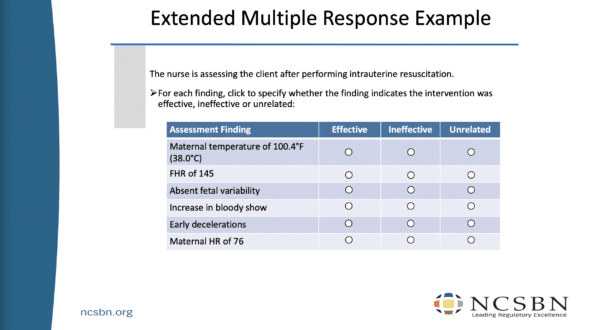 Current item types being piloted in the research section of the NCLEX are: 
Extended multiple response;
extended drag and drop;
CLOZE (fill-in-the-blanks); 
Enhanced hot spot;
Dynamic exhibit; and
Constructed response.
For the next few years, the NCSBN will continue analyzing different question formats and will be building the complex technology required for the new item types. This will be followed by extensive further testing before the new examination format is launched. 
Completely different NCLEX test items
The nature and scoring of the new test items are completely different from the familiar multiple-choice type questions in the NCLEX. Commenting on a presentation by a representative of the NCSBN, nurse educator Linda Caputi said that the most important change was in the types of questions asked.
"What I saw were not only new item types but items that measured clinical judgment at a very different level and in a very different way than is currently the case," explained Caputi. "The intent of these new item types is to provide higher fidelity, or realism, to the way nurses actually think in clinical practice than current test items provide."
Nursing schools now face the challenge of redesigning their curricula with a greater focus on clinical judgment in both classroom teaching and clinical experiences in order to close the existing education-practice gap.