In this nursing care plan guide are 8 nursing diagnosis for patients on prolonged bed rest. Learn about the assessment, care plan goals, and nursing interventions in this post.
In this nursing care plan guide are ten (10) nursing diagnosis for the care of the elderly or geriatric nursing. Learn about the assessment, care plan goals, and nursing interventions for gerontology nursing in this post. 
Congenital hip dysplasia (also known as developmental hip dysplasia) is related to abnormal hip development that may arise during the fetal life. The abnormalities include hip instability, preluxation, subluxation, and dislocation.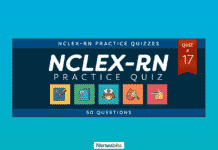 Accomplish this 50-item nursing examination covering a wide range of topics about Medical-Surgical Nursing. If you are taking the board examination or nurse board examination or even the NCLEX, then this practice exam is for you.
Nursing goals for a client with cerebral palsy include optimize mobility and prevent deformity, improve nutritional status, strengthen family support, foster self-care, enhanced communication and provide quality of life.
Constipation: Decrease in normal frequency of defecation accompanied by difficult or incomplete passage of stool and/or passage of excessively hard, dry stool.
The journey of pregnancy is a tough one but is meaningful and wonderful. The discomforts a woman would undergo are just bumps along the road of fulfillment once she has delivered her child.
Nursing management of hemorrhoids depends on the type and severity of the hemorrhoid and on the patient's overall condition. Treatment includes measures to ease pain, combat swelling and congestion, and regulation of the patient's bowel habits. Patient care includes preoperative and postoperative support.
Motor vehicle accidents, acts of violence, and sporting injuries are the common causes of spinal cord injury (SCI).
Laminectomy is the excision of a vertebral posterior arch and is commonly performed for injury to the spinal column or to relieve pressure/pain in the presence of a herniated disc. The procedure may be done with or without fusion of vertebrae.
NURSING SCHOOL SURVIVAL KIT