This comprehensive nursing care plan guide to nursing diagnosis for cerebral palsy provides insight into common complications associated with this condition. Discover the latest assessment and nursing interventions, and nursing management strategies for cerebral palsy.
What is Cerebral Palsy?
Cerebral Palsy refers to a group of neurological disorders that affect body movement, balance, and posture. In many cases, speech, vision difficulties, seizures, or cognitive problems are also affected. It is caused by abnormal development or damage to a part of the brain that controls movement. It usually appears early in life, usually in infancy or early childhood.
Symptoms of a child with cerebral palsy vary from one person to person and may include: delays in reaching developmental milestones, weakness in one or more arms or legs, lack of muscle coordination when performing voluntary movements (ataxia), muscle spasms, muscle tone that either are too stiff or too floppy, fidgety, jerky or clumsy movements, walking on tip-toes, or excessive drooling or difficulties swallowing or speaking.
There is no known cure for the condition, but supportive treatments, therapy, medications, and surgery are facilitated to improve the life of the child.
Nursing Care Plans
Nursing care planning goals for a patient with cerebral palsy may include improving mobility and independence, optimizing nutrition and growth, promoting effective communication, preventing complications and injuries, and providing support and education to the patient and their caregivers. Other goals may include facilitating developmental progress and addressing any psychosocial and emotional needs related to the patient's condition.
Here are seven (7) nursing care plans and nursing diagnosis for cerebral palsy:
Impaired Physical Mobility
Impaired physical mobility in cerebral palsy patients is due to damage to the areas of the brain responsible for controlling motor function, muscle tone, and coordination. This damage results in difficulty with voluntary movements and can cause stiffness or spasticity in the muscles, making it challenging to move around.
Nursing Diagnosis
Impaired Physical Mobility
May be related to
Disease condition (Cerebral Palsy)
Decrease muscle control
Neuromuscular impairment
Possibly evidenced by
Inability to control lower extremities
Limited range of motion (ROM)
Muscle spasm
Desired Outcomes
The child/infant will achieve maximum movement ability and absence of contractures.
Nursing Assessment and Rationales
1. Assess the type of auditory, visual, motor, or intellectual deficit.
Knowing the type of deficit will aid in planning interventions appropriate for the child.
2. Do a developmental assessment and note the development of milestones (such as standing with help, or walking when led).
A client with cerebral palsy usually has delayed developmental milestones.
If one skill is attained, interventions are changed in order to achieve
the succeeding one.
Nursing Interventions and Rationales
1. Facilitate activities in using fine and gross motor skills (such as giving a ball on hand to encourage throwing, or holding a spoon)
Most of the activities of daily living and
play exercises hasten physical
development.
2. Allow the child to perform activities or care routines at his or her own pace.
A child may have difficulty completing tasks in time compared to normal children.
3. Encourage the child to rest between activities that are tiring.
Given the limitations of the child's ability, rest periods are given to maintain energy.
4. Perform range-of-motion exercises every 4 hours for the child unable to move body parts.
Children with cerebral palsy have a decreased range of motion (ROM) due to limited mobility and the presence of spasticity. ROM exercises promote movement and minimize the risk of contractures.
5. Educate the family on how to use an orthotic device as indicated.
Orthotic devices help build stability while increasing strength, balance, comfort, and independence.
6. Administer medications as prescribed:
6.1. Anticholinergics (e.g., Benztropine mesylate)
These medications are used to treat uncontrolled body movements such as tremors, muscle stiffness, and spasms.
6.2. Muscle relaxants (e.g., Baclofen [Lioresal])
These medications are used to relax contracted, overactive, or stiff muscles.
6.3. Anticonvulsants (e.g., Gabapentin [Neurontin])
These medications are given to reduce or prevent seizure activity.
7. Assist the parents in referring the child to a rehabilitation therapist as appropriate.
A rehabilitation therapist can provide specialized services in promoting effective mobility.
Recommended Resources
Recommended nursing diagnosis and nursing care plan books and resources.
Disclosure: Included below are affiliate links from Amazon at no additional cost from you. We may earn a small commission from your purchase. For more information, check out our privacy policy.
Ackley and Ladwig's Nursing Diagnosis Handbook: An Evidence-Based Guide to Planning Care
We love this book because of its evidence-based approach to nursing interventions. This care plan handbook uses an easy, three-step system to guide you through client assessment, nursing diagnosis, and care planning. Includes step-by-step instructions showing how to implement care and evaluate outcomes, and help you build skills in diagnostic reasoning and critical thinking.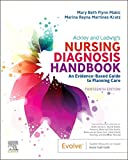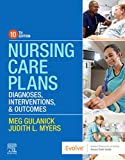 NANDA International Nursing Diagnoses: Definitions & Classification, 2021-2023
The definitive guide to nursing diagnoses is reviewed and approved by the NANDA International. In this new version of a pioneering text, all introductory chapters have been rewritten to provide nurses with the essential information they need to comprehend assessment, its relationship to diagnosis and clinical reasoning, and the purpose and application of taxonomic organization at the bedside. A total of 46 new nursing diagnoses and 67 amended nursing diagnostics are presented.
Nurse's Pocket Guide: Diagnoses, Prioritized Interventions, and Rationales
Quick-reference tool includes all you need to identify the correct diagnoses for efficient patient care planning. The sixteenth edition includes the most recent nursing diagnoses and interventions from NANDA-I 2021-2023 and an alphabetized listing of nursing diagnoses covering more than 400 disorders.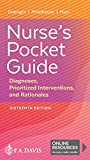 Nursing Diagnosis Manual: Planning, Individualizing, and Documenting Client Care
Identify interventions to plan, individualize, and document care for more than 800 diseases and disorders. Only in the Nursing Diagnosis Manual will you find for each diagnosis…. subjectively and objectively – sample clinical applications, prioritized action/interventions with rationales – a documentation section, and much more!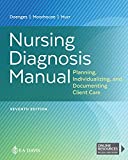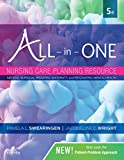 See also
Other recommended site resources for this nursing care plan:
Other nursing care plans related to neurological disorders: