Menopause is the cessation of menstruation. It results from a complex syndrome of physiologic changes caused by declining ovarian function. It occurs when the loss of ovarian function results in the permanent termination of menstrual periods. The transitional period leading up to this irreversible event is called the climacteric and is characterized by the decline in the number of ovarian follicles, which also becomes less responsive to gonadotropic hormonal stimulation, and by the decrease of estrogen production by the ovaries until there is not enough to cause the endometrium to grow and shed.
Nursing Care Plans
Nursing management of menopause is symptomatic. Estrogen replacement therapy is the most advantageous treatment for symptoms, but it's not suitable for all patients as it has some adverse effects and risks.
Here are six (6) nursing care plans (NCP) and nursing diagnosis for patients with menopause:
Disturbed Sleep Pattern
Disturbed sleep patterns are common for women experiencing menopause due to hormonal changes and other associated symptoms, such as hot flashes, night sweats, and mood disturbances. These factors can disrupt the normal sleep-wake cycle and lead to difficulty falling and staying asleep. Nursing care plans for menopausal women may involve addressing underlying causes of sleep disturbance, providing education on sleep hygiene and relaxation techniques, and considering pharmacological interventions as appropriate.
Nursing Diagnosis
May be related to
Symptoms of menopause
Psychological stress
Stress
Headache
Possibly evidenced by
Hot flashes
Interrupted sleep
Insomnia
Nervousness
Emotional mood swings
Decreased REM sleep
Desired Outcomes
The patient will be able to sleep without interruption and will express feelings of being rested.
The patient will be able to perform techniques to promote sleep.
The patient will identify factors that prevent restful sleep or disrupt sleep.
The patient will be able to achieve and maintain an adequate amount of sleep to facilitate maximal functioning.
The patient will be able to establish a sound sleep pattern.
Nursing Assessment and Rationale
1. Assess patient's sleep pattern and changes, naps, amount of activity, awakenings and frequency, and patient's complaints of lack of rest.
Provides information to alleviate sleep deprivation in relation to age-related changes and identifies and establishes plan of care.
2. Monitor for complaints of pain or discomfort.
Identification of causative factors of frequent awakenings helps facilitate changes in sleep patterns.
Nursing Interventions and Rationales
1. Provide calm, quiet environment, closing curtains, adjusting lighting, and so forth.
Helps to promote conducive atmosphere for restful sleep. External stimuli may interfere with going to sleep and increase awakenings in elderly patients because sleep is usually of less intensity.
2. Administer medications to promote normal sleep patterns as ordered.
Medications may be required to achieve rest during hospitalization. Hypnotics induce sleep, while tranquilizers reduce anxiety.
3. Instruct the patient to practice slow deep breathing whenever a hot flash starts; instruct also on other relaxation techniques.
Relaxation and deep breathing may help alleviate the discomfort caused by a hot flash.
4. Provide warm drinks, extra cover, warm bath prior to bedtime, and so forth.
Ritualistic procedures may prevent breaks in established routines and promote comfort and relaxation prior to sleep.
5. Instruct patient to avoid stimulants like caffeinated drinks, stressful activity, and so forth prior to sleep.
Overstimulation prevents patient from falling asleep.
6. Help patient with relaxation techniques, guided imagery, muscle relaxation, meditation, and so forth.
Relaxation techniques frequently help promote sleep.
7. Instruct patient to avoid alcohol prior to bedtime.
Although alcohol may cause sleepiness, it interrupts sleep later in the night.
Recommended Resources
Recommended nursing diagnosis and nursing care plan books and resources.
Disclosure: Included below are affiliate links from Amazon at no additional cost from you. We may earn a small commission from your purchase. For more information, check out our privacy policy.
Ackley and Ladwig's Nursing Diagnosis Handbook: An Evidence-Based Guide to Planning Care
We love this book because of its evidence-based approach to nursing interventions. This care plan handbook uses an easy, three-step system to guide you through client assessment, nursing diagnosis, and care planning. Includes step-by-step instructions showing how to implement care and evaluate outcomes, and help you build skills in diagnostic reasoning and critical thinking.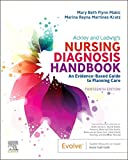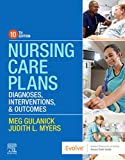 NANDA International Nursing Diagnoses: Definitions & Classification, 2021-2023
The definitive guide to nursing diagnoses is reviewed and approved by the NANDA International. In this new version of a pioneering text, all introductory chapters have been rewritten to provide nurses with the essential information they need to comprehend assessment, its relationship to diagnosis and clinical reasoning, and the purpose and application of taxonomic organization at the bedside. A total of 46 new nursing diagnoses and 67 amended nursing diagnostics are presented.
Nurse's Pocket Guide: Diagnoses, Prioritized Interventions, and Rationales
Quick-reference tool includes all you need to identify the correct diagnoses for efficient patient care planning. The sixteenth edition includes the most recent nursing diagnoses and interventions from NANDA-I 2021-2023 and an alphabetized listing of nursing diagnoses covering more than 400 disorders.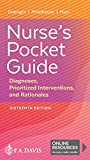 Nursing Diagnosis Manual: Planning, Individualizing, and Documenting Client Care
Identify interventions to plan, individualize, and document care for more than 800 diseases and disorders. Only in the Nursing Diagnosis Manual will you find for each diagnosis…. subjectively and objectively – sample clinical applications, prioritized action/interventions with rationales – a documentation section, and much more!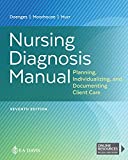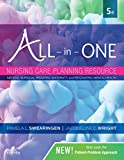 See also
Other recommended site resources for this nursing care plan:
Other care plans and nursing diagnoses related to reproductive and urinary system disorders: