Nursing care plans are essential for patients undergoing surgery, as they help ensure that the patient receives comprehensive and effective care throughout their perioperative journey. In this article, we will outline the 13 most important nursing care plans for patients undergoing surgery, with a focus on perioperative client care.
Surgical intervention may be needed to diagnose or cure a specific disease process, correct a deformity, restore a functional process, or reduce the level of dysfunction. Although surgery is generally elective or pre-planned, potentially life-threatening conditions can arise, requiring emergency intervention.
Nursing Care Plans
Nurses have a variety of roles and functions associated with the patient's surgical management. Nurses provide care of a client before, during, and after a surgical operation, this is collectively called Perioperative Nursing. It is a specialized nursing area wherein a registered nurse works as a team member with other surgical health care professionals. The absence or limitation of preoperative preparation and teaching increases the need for postoperative support in addition to managing underlying medical conditions.
Here are thirteen (13) nursing diagnoses for a client undergoing surgery or perioperative nursing care plans (NCP):
Deficient Knowledge
Deficient knowledge among patients undergoing surgery can arise from a variety of factors, including a lack of education, difficulty in understanding complex medical information, fear and anxiety about the surgery, and language barriers. Patients may also have limited access to reliable health resources or be unable to recall important information due to stress or preoperative medications. As a result, they may not be fully informed about the surgical process, potential risks, and postoperative care. This lack of knowledge can lead to confusion, misunderstandings, and decreased patient satisfaction with the care received. To address this issue, it is important for the registered nurse to proactively educate and communicate with patients, using clear and concise language, and providing access to trustworthy health resources.
Nursing Diagnosis
May be related to
Lack of exposure/recall, information misinterpretation
Unfamiliarity with information resources
Possibly evidenced by
Statement of the problem/concerns, misconceptions
Request for information
Inappropriate, exaggerated behaviors (e.g., agitated, apathetic, hostile)
Inaccurate follow-through of instructions/development of preventable complications
Desired Outcomes
The client will verbalize understanding of disease process/perioperative process and postoperative expectations.
The client will correctly perform the necessary procedures and explain the reasons for the actions.
The client will initiate necessary lifestyle changes and participate in the treatment regimen.
Nursing Assessment and Rationales
1. Assess the patient's level of understanding.
Facilitates planning of preoperative teaching program, and identifies content needs.
2. Review specific pathology and anticipated surgical procedure. Verify that appropriate consent has been signed.
Provides a knowledge base from which patients can make informed therapy choices and consent for the procedure, and presents an opportunity to clarify misconceptions.
Nursing Interventions and Rationales
1. Use resource teaching materials, and audiovisuals as available.
Specifically designed materials can facilitate the patient's learning.
2. Implement an individualized preoperative teaching program:
2.1. Preoperative or postoperative procedures and expectations, urinary and bowel changes, dietary considerations, activity levels/ transfers, respiratory/ cardiovascular exercises; anticipated IV lines and tubes (nasogastric [NG] tubes, drains, and catheters).
Enhances the patient's understanding or control and can relieve stress related to the unknown or unexpected.

2.2. Preoperative instructions: NPO time, shower or skin preparation, which routine medications to take and hold, prophylactic antibiotics, or anticoagulants, anesthesia premedication.
Helps reduce the possibility of postoperative complications and promotes a rapid return to normal body function. Note: In some instances, liquids and medications are allowed up to 2 hr before a scheduled procedure.

2.3. Intraoperative patient safety: not crossing legs during procedures performed under local or light anesthesia.
Reduced risk of complications or untoward outcomes, such as injury to the peroneal and tibial nerves with postoperative pain in the calves and feet.
3. Expected or transient reactions (low backache, localized numbness, and reddening or skin indentations).
Minor effects of immobilization and positioning should resolve in 24 hr. If they persist, a medical evaluation is required.
4. Inform the patient or SO about itinerary, and physician/SO communications.
Logistical information about operating room (OR) schedule and locations (recovery room, postoperative room assignment), as well as where and when the surgeon will communicate with SO relieves stress and miscommunications, preventing confusion and doubt over the patient's well-being.
5. Discuss individual postoperative pain management plans. Identify misconceptions patients may have and provide appropriate information.
Increases the likelihood of successful pain management. Some patients may expect to be pain-free or fear becoming addicted to narcotic agents.
6. Provide opportunities to practice coughing, deep breathing, and muscular exercises.
Enhances learning and continuation of activity postoperatively.
Recommended Resources
Recommended nursing diagnosis and nursing care plan books and resources.
Disclosure: Included below are affiliate links from Amazon at no additional cost from you. We may earn a small commission from your purchase. For more information, check out our privacy policy.
Ackley and Ladwig's Nursing Diagnosis Handbook: An Evidence-Based Guide to Planning Care
We love this book because of its evidence-based approach to nursing interventions. This care plan handbook uses an easy, three-step system to guide you through client assessment, nursing diagnosis, and care planning. Includes step-by-step instructions showing how to implement care and evaluate outcomes, and help you build skills in diagnostic reasoning and critical thinking.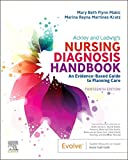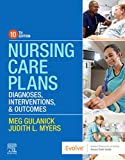 NANDA International Nursing Diagnoses: Definitions & Classification, 2021-2023
The definitive guide to nursing diagnoses is reviewed and approved by the NANDA International. In this new version of a pioneering text, all introductory chapters have been rewritten to provide nurses with the essential information they need to comprehend assessment, its relationship to diagnosis and clinical reasoning, and the purpose and application of taxonomic organization at the bedside. A total of 46 new nursing diagnoses and 67 amended nursing diagnostics are presented.
Nurse's Pocket Guide: Diagnoses, Prioritized Interventions, and Rationales
Quick-reference tool includes all you need to identify the correct diagnoses for efficient patient care planning. The sixteenth edition includes the most recent nursing diagnoses and interventions from NANDA-I 2021-2023 and an alphabetized listing of nursing diagnoses covering more than 400 disorders.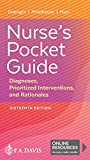 Nursing Diagnosis Manual: Planning, Individualizing, and Documenting Client Care
Identify interventions to plan, individualize, and document care for more than 800 diseases and disorders. Only in the Nursing Diagnosis Manual will you find for each diagnosis…. subjectively and objectively – sample clinical applications, prioritized action/interventions with rationales – a documentation section, and much more!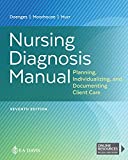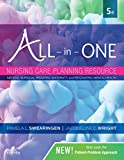 See also
Other recommended site resources for this nursing care plan:
More care plans related to basic nursing concepts: