Home
Authors
Posts by Gil Wayne, RN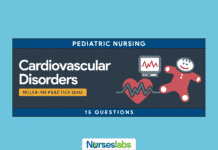 The cardiovascular system, rheumatic fever, heart failure, Kawasaki disease, congenital heart defects, and the anatomy and physiology of the heart are included in this 15-item quiz. Test your knowledge with this challenging nursing exam to ace your NCLEX!
Caregiver Role Strain: Difficulty in performing family caregiver role.
Acute Confusion: Abrupt onset of a cluster of global, transient changes and disturbances in attention, cognition, psychomotor activity, level of consciousness, or the sleep/wake cycle.
Impaired Oral Mucous Membrane: Disruption of the lips and/or soft tissue of the oral cavity.
Impaired Verbal Communication: Decreased, reduced, delayed, or absent ability to receive, process, transmit, and use a system of symbols.
Chronic Pain: Unpleasant sensory and emotional experience arising from actual or potential tissue damage or described in terms of such damage...a duration of greater than 6 months.
Urge Urinary Incontinence: Involuntary passage of urine occurring soon after a strong sense of urgency to void.
Functional Urinary Incontinence: Inability of usually continent person to reach toilet in time to avoid unintentional loss of urine.
Stress Urinary Incontinence: Sudden leakage of urine with activities that increase intraabdominal pressure.
Reflex Urinary Incontinence: Involuntary loss of urine at somewhat predictable intervals when a specific bladder volume is reached.