Under the nurse licensure compact (NLC), state boards of nursing may issue registered nurses (RNs) and licensed practical nurses (LPNs) with a multistate license, which allows them to practice both in the state where they legally reside and in all other compact states.
With a multistate license, nurses can start working in another state right away without having to apply and wait for another license. They can also provide cross-border or telehealth nursing to clients in any of the compact states. Nurses do need to be aware, however, of the requirements to qualify for and maintain your multistate license.
What is the Nurse Licensure Compact?
The Interstate Commission of Nurse Licensure Compact Administrators (ICNLCA) determines the policy and rules for the nurse licensure compact (NLC), and the process is administered by the National Council of State Boards of Nursing (NCSBN).
The nurse licensure compact was introduced in 2000, and up to 2015, the required licensure legislation was passed in 25 US states. Some states did not join mainly because of gaps identified in the compact agreement, particularly regarding criminal background checks.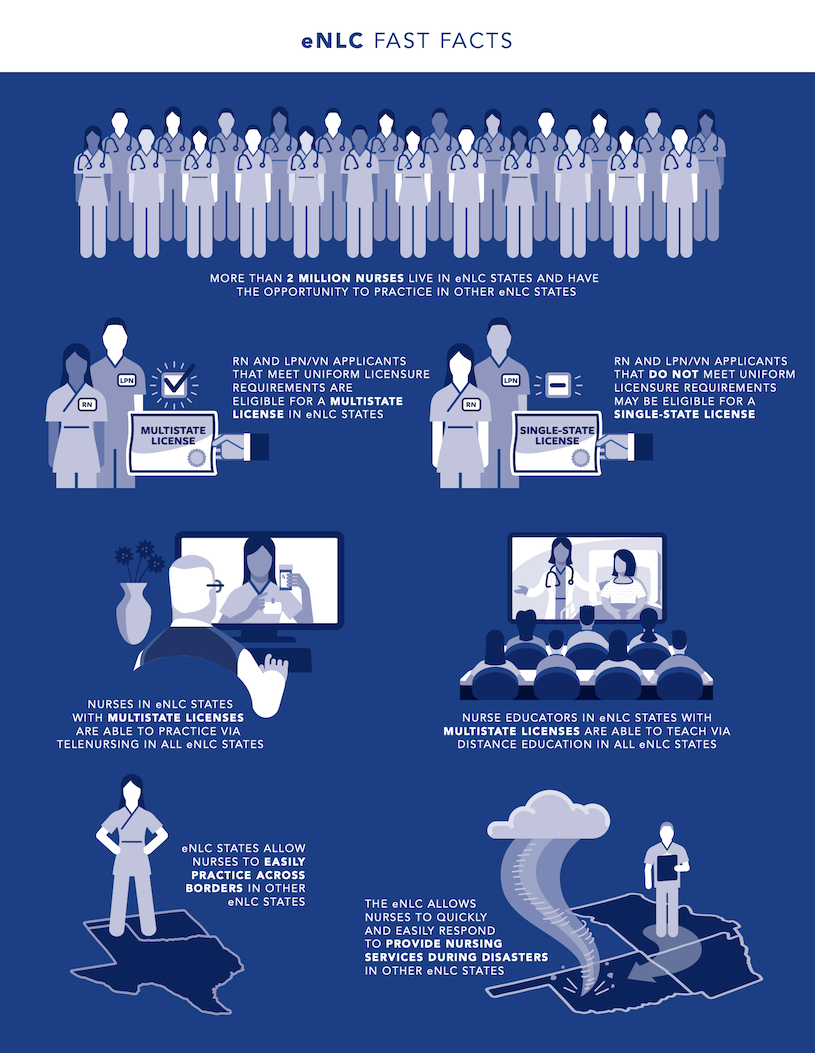 A new model, known as the Enhanced Nurse Licensure Compact (eNLC), was adopted in 2015 and implemented in January 2018. Under the eNLC, nurses can obtain the multistate license only if they meet 11 different requirements that are uniform across all the compact states. They are as follows:
Meets the requirements for licensure in the home state (state of residency);
a. Has graduated from a board-approved education program; or
b. Has graduated from an international education program (approved by the authorized accrediting body in the applicable country and verified by an independent credentials review agency);
Has passed an English proficiency examination (applies to graduates of an international education program not taught in English or if English is not the individual's native language);
Has passed an NCLEX-RN® or NCLEX-PN® Examination or predecessor exam;
Is eligible for or holds an active, unencumbered license (i.e., without active discipline);
Has submitted to state and federal fingerprint-based criminal background checks;
Has not been convicted or found guilty, or has entered into an agreed disposition, of a felony offense under applicable state or federal criminal law;
Has no misdemeanor convictions related to the practice of nursing (determined on a case-by-case basis);
Is not currently a participant in an alternative program;
Is required to self-disclose current participation in an alternative program; and
Has a valid United States Social Security number
Currently, 32 states have implemented the nurse licensure compact. The necessary legislation has been passed in a further two states, and they are in the process of implementation.
The nurse licensure compact applies only to registered nurses and licensed practical nurses. The NCSBN approved a Compact for Advanced Practice Registered Nurses in 2015, but it will only be implemented once legislation has been passed in 10 states. So far, only two states have the necessary legislation in place.
The NLC not only benefits nurses, but it also helps employers to fill nursing positions and provides the public with increased protection and greater access to care.
Advantages of the Nurse Licensure Compact
State boards of nursing issue nursing licenses in terms of state legislation, and a nurse may only provide nursing services to patients located within that state. Here are the advantages of the nurse licensure compact.
Streamlines licensure to employment. Before the nurse licensure compact was introduced, nurses needed to apply for a license in each state where they wanted to work. This was also the case in non-compact states, which is costly and time-consuming. There are fees for the license application, license verification, and a criminal background check. Then weeks or even months could pass before the license is issued.
Employers can fill positions quickly. Under the NLC agreement, nurses can start work in any compact state right away. Employers and nurses can take advantage of this NLC provision and can get the right qualifications to fill a vacant position quickly.
Rapid deployment of nurses. As you can imagine, the NLC has been particularly beneficial for travel nurses who no longer need to obtain multiple licenses. It also allows for the rapid deployment of additional health care providers in the event of a disaster.
Addresses nursing shortage. Under the NLC, nurses can also work in areas right across the border from where they live without having to apply for another license in the neighboring state. This can contribute to improved service delivery, especially in community health services in rural areas where there is often a shortage of nurses.
Nurses with a multistate license can also provide telenursing services to clients in any of the NLC states. Furthermore, nurse educators can follow up with students in other states. This has become very significant with the increase in online education.
Obtaining a Multistate Nursing License
You can qualify for a multistate license if the state board of nursing in your primary state of residence (PSOR) is part of the nurse licensure compact. Your PSOR is the state which has issued your driver's license or where you are registered as a voter and for federal tax purposes.
You must also meet the uniform licensure requirements (listed above) of the multistate license, and this is determined when you apply for your nursing license.
As a new graduate nurse, you need to apply for your initial license by examination and authorization to test in the state where you intend to work and reside, even if you'll be writing the national NCLEX in another state.
If you live in a compact state but only have a single state nursing license, you can apply for a multistate license on your state board of nursing's website. If you're not sure whether you hold a multistate license, especially if your state recently joined the compact, you can check for free via Quick Confirm on nursys.com.
What Happens When I Move?
If you hold a multistate license and move permanently to another compact state, you can start work right away but have to apply for a license in the new state of residence as soon as possible. Even if you renew your driver's license in the new state, your PSOR will change.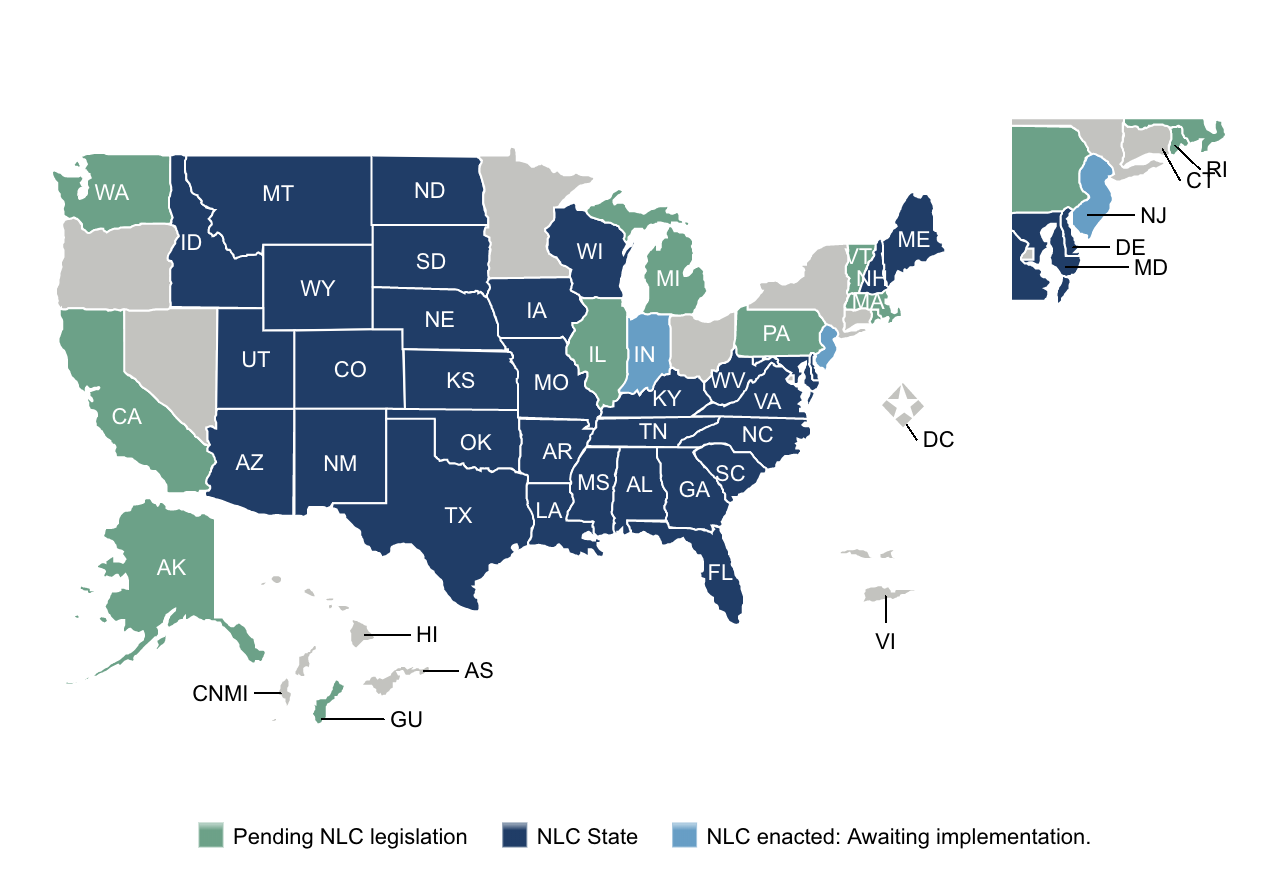 You'll have to apply for and obtain a single state license before you can work in a non-compact state. If you move permanently from a compact state to a non-compact state, your PSOR changes, and your multistate license will no longer be valid. You have to notify the nursing regulatory body of your former state, where you will then be allowed to retain a single state license.
If you're a nurse from another country working in the US on a visa and provide your country of origin as your place of residence, you'll qualify only for a single state license, even if you're working in a compact state.
The Future of Nurse Licensure Compact
"Since its beginnings, the work of NLC has been quintessential in helping remove barriers or unnecessary burdens to borderless practice and increasing access to care," wrote Sue Tedford, 2018-2019 Chair of the NLC Commission. "Due to overwhelming success, NLC's model of mutual recognition has become the model for other health care professions developing interstate licensure compacts."
Currently, more than 2 million nurses in the US have multiple state licenses which allow them to practice in other NLC states. NLC staff is actively working with non-compact state boards of nursing to achieve the goal of one state-based license, enforced locally and recognized nationally, in all US states and territories.
Nurse Licensure Compact Resources
Additional resources if you want to learn more about Nurse Licensure Compact (NLC):