Home
Authors
Posts by Paul Martin, RN
The nursing care plan for the client with deep vein thrombosis include: providing information regarding disease condition, treatment, and prevention; assessing and monitoring anticoagulant therapy; providing comfort measures; positioning the body and encouraging exercise; maintaining adequate tissue perfusion; and preventing complications.
Nursing care plan for clients with an aortic aneurysm is to modify risk factors, controlling the BP to prevent strain on the aneurysm, recognizing symptoms early, and preventing the occurrence of a rupture.
Here are four (4) nursing care plans (NCP) for pulmonary embolism:
This includes nursing care plans (NCP) for labor stages, augmentation of labor, and induction of labor.
Nursing plan and goals for fluid and electrolyte imbalances include: maintaining fluid volume at a functional level, patient exhibits normal laboratory values, demonstrates appropriate changes in lifestyle and behaviors including eating patterns and food quantity/quality, re-establishing and maintaining normal pattern and GI functioning.
Nursing care plan for clients with cystic fibrosis includes maintaining adequate oxygenation, promoting measures to remove pulmonary secretions, emphasizing the importance of adequate fluid and dietary intake, ensuring an adequate nutrition, and preventing complications.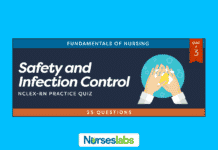 From handwashing techniques to client isolation, infection control covers topics of disease prevention, transmission, and management. Take this part three of the practice test about safety and infection control.
Take this 20-item examination that will review and challenge your knowledge about emergency nursing! Feel the rush and raucousness (not guaranteed) of the ER department in these questions that will absolutely traumatize you.
A nurse who handles clients in emergency situations where they are experiencing either trauma, injury, or sudden life threatening illness is trained to help solve the problem right away. This 20-item practice question comprises different emergency problems.
This 20-item NCLEX practice exam is intended to widen your knowledge on the diseases involving the integumentary system.