There are no shortcuts in providing quality nursing care, but here are some nursing life hacks for nurses to make our jobs easier.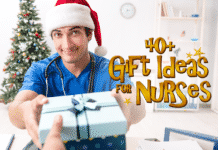 Let's take a look at the list of the best 40+ gift ideas you can buy for a nurse!
Caffeine has many benefits to humans, but are there any cons that nurses must know about their ultimate energy beverage?
Aside from missing lunch outs and movie dates, being friends with nurses is great.
Here are seven ways to alternatively express your gratitude for the everyday heroes who instantly answer your call for help.
To help you stay productive throughout the night, here are 7 must-do tricks for you to survive the night shift.
We nurses are the beacon of health advocating a healthy lifestyle and teaching our patients the tips and tricks of staying healthy. But sometimes, we resort to unhealthy vices that in turn question our credibility in providing care.
With these, Nurseslabs collected some coffee drink recipes that will spice up your plain old boring black coffee and give nurses much more extended energy throughout the day and night shifts.
A US study has raised the possibility that a dose of caffeine after a learning session may help to boost long-term memory. This is according to a study published in the journal Nature Neuroscience.
NURSING SCHOOL SURVIVAL KIT