In this guide for nursing theories, we aim to help you understand what comprises a nursing theory and its importance, purpose, history, types or classifications, and give you an overview through summaries of selected nursing theories.
Let's take a look down our memory lanes at these role models in nursing and try to see a part of us in them.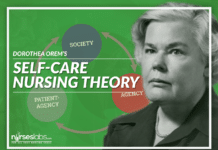 The Self-Care Nursing Theory or the Orem Model of Nursing was developed by Dorothea Orem is considered a grand nursing theory, which means the theory covers a broad scope with general concepts that can be applied to all instances of nursing.
Dorothea Elizabeth Orem (July 15, 1914 - June 22, 2007) was one of America's foremost nursing theorists who developed the Self-Care Nursing Theory, also known as the Orem Model of Nursing.
NURSING SCHOOL SURVIVAL KIT