Developing a nursing care plan for cataract patients requires a thorough understanding of the nursing diagnosis for this condition. Learn about common nursing diagnoses for cataracts and how they can be used to improve patient outcomes. Discover assessment, planning, and intervention strategies for cataract nursing care plans.
What are Cataracts?
A cataract is a gradually developing opacity of the lens or lens capsule of the eye. This condition occurs when the clear lens of the eye becomes cloudy, leading to blurred or distorted vision, and can significantly impact a person's quality of life. Cataracts can be caused by a variety of factors, including genetics, environmental factors, and certain medical conditions, and may require surgical intervention to restore vision. The prognosis is generally good and surgery improves vision in 95% of affected people.
Nursing Care Plans
Treatment of cataracts consists of surgical extraction of the cataractous lens opacity and intraoperative correction of visual deficits. The current trend is to perform the surgery as a same-day procedure. Nursing care revolves around patient education before and after surgery and providing safety.
Here are two (2) nursing care plans (NCP) and nursing diagnosis for patients with cataracts:
Disturbed Sensory Perception: Visual
Disturbed sensory perception: visual is a common issue for patients with cataracts due to several factors. Firstly, cataracts can cause poor visual acuity and decreased contrast sensitivity, leading to blurred or distorted vision. Secondly, changes in the eyes due to aging, such as a decrease in the transparency of the lens, can contribute to the development of cataracts and further impair visual function. As a result, patients with cataracts may experience a range of visual disturbances that can impact their ability to perform activities of daily living and negatively impact their quality of life.
Nursing Diagnosis
Disturbed Sensory Perception
May be related to
Cataracts
Poor visual acuity
Changes in the eyes due to aging
Possibly evidenced by
Visual distortions
Loss of vision
Diminished visual acuity
Photophobia
Night blindness
Myopia
Presbyopia
Accommodation changes
Changes in usual response to stimuli
Presence of cataract
Desired Outcomes
The patient will regain the optimal vision possible and will adapt to permanent visual changes
The patient will be able to verbalize understanding of visual loss and diseases of the eyes.
The patient will be able to regain vision to the maximum possible extent with the surgical procedure.
The patient will be able to deal with the potential for permanent visual loss.
The patient will maintain a safe environment with no injury noted.
The patient will be able to use adaptive devices to compensate for visual loss.
The patient will be compliant with the instructions given and will be able to notify the physician of emergency symptoms.
Nursing Assessment and Rationales
1. Assess the patient's ability to see and perform activities.
Provides a baseline for the determination of changes affecting the patient's visual acuity.
Nursing Interventions and Rationales
1. Encourage the patient to see an ophthalmologist at least yearly.
Can monitor progressive visual loss or complications. Decreases in visual acuity can increase confusion in elderly patients.
2. Provide sufficient lighting for the patient to carry out activities.
Elderly patients need twice as much light as younger people.
3. Provide lighting that avoids glare on surfaces of walls, reading materials, and so forth.
Elderly patients' eyes are more sensitive to glare and cataracts diffuse glare so the patient has more difficulty with vision.
4. Provide night light for the patient's room and ensure lighting is adequate for the patient's needs.
Patients' eyes may require longer accommodation time to changes in lighting levels. The provision of adequate lighting helps to prevent injury.
5. Prepare the patient for cataract surgery as warranted.
Provides knowledge, and facilitates compliance with the regimen.
6. Instruct patient regarding normal age-related vision changes, cataracts, and methods of dealing with visual acuity changes.
Helps increase the patient's understanding of visual changes and to make informed choices about options as the patient ages, the lens becomes denser and has less elasticity thus accommodation is decreased. Presbyopia is an age-related change that begins in people who are in their 40s and progresses. Visual acuity changes occur as the eye becomes more hyperopic as a result of neurologic changes in the visual pathways of the brain. The ability to distinguish fine details decreases because of the loss of neurons in the visual pathways in the brain.
Vitreous humor changes related to aging occur and consist of haziness, vertical flashing lights, line spots, or clusters of moving dots. The ability to differentiate colors also decreases with age because the cones that are responsible for color vision decline in sensitivity. In patients over 60, the lens may become yellowed from age, which results in blue objects appearing gray. Visual field decreases by approximately 1-3 inches per decade after 50.
7. Provide large print objects and visual aids for teaching.
Assists patient to see larger print and promotes a sense of independence.
8. If surgery is planned, instruct the patient and/or family regarding the procedure, post-procedure care, and the need for follow-up with the physician. Instruct about complications and emergency signs and symptoms (flashing lights with loss of vision, seeing a "veil" falling over the visual field, loss of vision in a specific portion of the visual field, etc.) of which to notify the physician.
Prepares the patient for what to expect, facilitates compliance and provides instruction about potential problems to lessen anxiety.
Recommended Resources
Recommended nursing diagnosis and nursing care plan books and resources.
Disclosure: Included below are affiliate links from Amazon at no additional cost from you. We may earn a small commission from your purchase. For more information, check out our privacy policy.
Ackley and Ladwig's Nursing Diagnosis Handbook: An Evidence-Based Guide to Planning Care
We love this book because of its evidence-based approach to nursing interventions. This care plan handbook uses an easy, three-step system to guide you through client assessment, nursing diagnosis, and care planning. Includes step-by-step instructions showing how to implement care and evaluate outcomes, and help you build skills in diagnostic reasoning and critical thinking.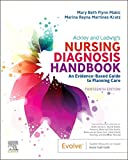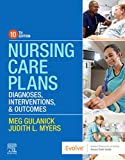 NANDA International Nursing Diagnoses: Definitions & Classification, 2021-2023
The definitive guide to nursing diagnoses is reviewed and approved by NANDA International. In this new version of a pioneering text, all introductory chapters have been rewritten to provide nurses with the essential information they need to comprehend assessment, its relationship to diagnosis and clinical reasoning, and the purpose and application of taxonomic organization at the bedside. A total of 46 new nursing diagnoses and 67 amended nursing diagnostics are presented.
Nurse's Pocket Guide: Diagnoses, Prioritized Interventions, and Rationales
Quick-reference tool includes all you need to identify the correct diagnoses for efficient patient care planning. The sixteenth edition includes the most recent nursing diagnoses and interventions from NANDA-I 2021-2023 and an alphabetized listing of nursing diagnoses covering more than 400 disorders.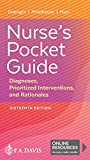 Nursing Diagnosis Manual: Planning, Individualizing, and Documenting Client Care 
Identify interventions to plan, individualize, and document care for more than 800 diseases and disorders. Only in the Nursing Diagnosis Manual will you find for each diagnosis subjectively and objectively – sample clinical applications, prioritized action/interventions with rationales – a documentation section, and much more!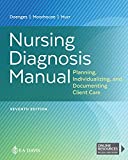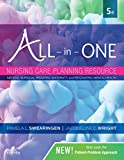 See Also
Other recommended site resources for this nursing care plan:
Other ophthalmic nursing care plans: