Nursing care planning goals for the child with acute glomerulonephritis is directed toward the excretion of excess fluid through urination [...] Here are four (4) nursing care plans (NCP) for Acute Glomerulonephritis:
The nursing care planning goals for a patient with Bronchopulmonary Dysplasia (BPD) centers on decreasing further lung injury...Here are five (5) nursing care plans (NCP) for Bronchopulmonary Dysplasia (BPD):
Down Syndrome is primarily caused by trisomy of chromosome 21, which gives rise to multiple systemic complications as part of the syndrome.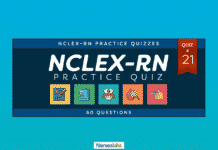 This is a 60-item examination about the concepts of Cardiovascular Nursing which includes Myocardial Infarction, Heart Failure, and Aortic Aneurysm. The challenging questions in this exam can help you in your board exam or NCLEX.
The nursing goals for a client with hydrocephalus may include improving cerebral tissue perfusion, reducing anxiety, preventing injury, and the absence of complications. Here are five (5) nursing care plans (NCP) for hydrocephalus:
Mechanical ventilation can partially or fully replace spontaneous breathing....
Hypertension is one of the most common lifestyle diseases to date.
Diuretics are drugs that primarily increase the excretion of sodium. Learn about thiazide, loop, potassium-sparing, osmotic diuretics, and carbonic anhydrase inhibitors.
This is the second part of our practice quiz about cardiovascular drugs. In this 30-item set, we'll cover topics related to nitrates, ACE inhibitors, diuretics and many more. Let's help you ace your NCLEX!
NURSING SCHOOL SURVIVAL KIT