Peptic ulcer is an ulceration in the mucosal wall of the lower esophagus, stomach, pylorus, or duodenum. The ulcer may be referred to as duodenal, gastric, or esophageal, depending on its location. The most common symptom of both gastric and duodenal ulcers is epigastric pain. It is characterized by a burning sensation and usually occurs shortly after meals with gastric ulcer and 2-3 hours afterward with duodenal ulcer.
Predisposing factors of peptic ulcer includes infection with the gram-negative bacteria Helicobacter pylori which may be acquired through the ingestion of food and water, excessive HCL secretion in the stomach, chronic use of non-steroidal anti-inflammatory drugs (NSAIDs) which weakens the lining of the GI tract by reducing the protective function of the mucosal layer, increased stress associated with illness and surgery, alcohol ingestion and excessive cigarette smoking.
Nursing Care Plans
The nursing goals of a client with a peptic ulcer disease include reducing or eliminating contributing factors, promoting comfort measures, promoting optimal nutrition, decreasing anxiety with increased knowledge of disease, management, and prevention of ulcer recurrence and preventing complications
Here are five (5) nursing care plans (NCP) and nursing diagnosis for patients with peptic ulcer disease:
Acute Pain
Nursing Diagnosis
May be related to
Abdominal distention
Abdominal muscle spasm
Recent nonsteroidal anti-inflammatory drug (NSAID) or acetylsalicylic acid (ASA) use
Possibly evidenced by
Desired Outcomes
Client will report satisfactory pain control at a level less than 2 to 4 on a scale of 0 to 10.
Client uses pharmacological and nonpharmacological pain relief measures.
Client will exhibit increased comfort such as baseline levels for HR, BP, and respirations and relaxed muscle tone for body posture.
Nursing Interventions
Rationale
Assess the client's pain, including the location, characteristics, precipitating factors, onset, duration, frequency, quality, intensity, and severity.
Clients with gastric ulcer typically demonstrate pain 1 to 2 hours after eating. The client with duodenal ulcers demonstrate pain 2 to 4 hours after eating or in the middle of the night. With both gastric and duodenal ulcers, the pain is located in the upper abdomen and is intermittent. Client may report relief after eating or taking an antacid.
Encourage the use of nonpharmacological pain relief measures:

Acupressure
Biofeedback
Distraction
Guided imagery
Massage
Music therapy

Nonpharmacological relaxation techniques will decrease the production of gastric acid, which in turn will reduce pain.
Instruct the client to avoid NSAIDs such as aspirin.
These medications may cause irritation of the gastric mucosa.
Instruct the client that meals should be eaten ar regularly paced intervals in a relaxed setting.
An irregular schedule of meals may interfere with the regular administration of medications.
Encourage the importance of smoking cessation.
Smoking decreases the secretion of bicarbonate from the pancreas into the duodenum, resulting in increased acidity of the duodenum.
Administer the prescribed drug therapy:

Antacids
Antibiotics such as amoxicillin, clarithromycin, metronidazole, tetracycline
Histamine receptor antagonists
Prostaglandin analogues
Proton pump inhibitor
Sucralfate

Antacids buffer gastric acid and prevent the formation of peptin. This mechanism of action promotes of healing of the ulcer. Antibiotics treat the Helicobacter pylori infection and promote healing of the ulcer. As the ulcer heals, the client experience less pain. H2 receptor antagonists block the secretion of gastric acid. Prostaglandin analogue reduces acid secretion and enhance the integrity of the gastric mucosa to resist injury. Proton pump inhibitors block the production and secretion of gastric acid and thereby reduce gastric pain. Sucralfate forms a barrier at the base of the ulcer crater to protect the healing ulcer from gastric acid.
Recommended Resources
Recommended nursing diagnosis and nursing care plan books and resources.
Disclosure: Included below are affiliate links from Amazon at no additional cost from you. We may earn a small commission from your purchase. For more information, check out our privacy policy.
NANDA International Nursing Diagnoses: Definitions & Classification, 2021-2023
The definitive guide to nursing diagnoses as reviewed and approved by the NANDA International. In this new version of a pioneering text, all introductory chapters have been rewritten to provide nurses with the essential information they need to comprehend assessment, its relationship to diagnosis and clinical reasoning, and the purpose and application of taxonomic organization at the bedside. A total of 46 new nursing diagnoses and 67 amended nursing diagnostics are presented.
Ackley and Ladwig's Nursing Diagnosis Handbook: An Evidence-Based Guide to Planning Care
We love this book because of it's evidence-based approach to nursing interventions. This care plan handbook uses an easy, three-step system to guide you through client assessment, nursing diagnosis, and care planning. Includes step-by-step instructions show how to implement care and evaluate outcomes, and help you build skills in diagnostic reasoning and critical thinking.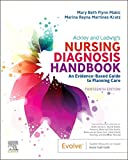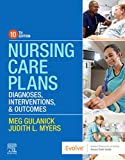 Nurse's Pocket Guide: Diagnoses, Prioritized Interventions, and Rationales
Quick-reference tool includes all you need to identify the correct diagnoses for efficient patient care planning. The sixteenth edition includes the most recent nursing diagnoses and interventions from NANDA-I 2021-2023 and an alphabetized listing of nursing diagnoses covering more than 400 disorders.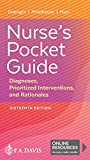 Nursing Diagnosis Manual: Planning, Individualizing, and Documenting Client Care
Identify interventions to plan, individualize, and document care for more than 800 diseases and disorders. Only in the Nursing Diagnosis Manual will you find for each diagnosis…. subjectively and objectively – sample clinical applications, prioritized action/interventions with rationales – a documentation section, and much more!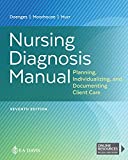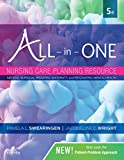 See also
Other recommended site resources for this nursing care plan:
More nursing care plans related to gastrointestinal disorders: