Cholecystectomy is the surgical removal of the gallbladder. Cholecystectomy is performed most frequently through laparoscopic incisions using laser. However, traditional open cholecystectomy is the treatment of choice for many patients with multiple/large gallstones (cholelithiasis) either because of acute symptomatology or to prevent recurrence of stones.
A cholecystectomy consists of excising the gallbladder from the posterior liver wall and ligating the cystic duct, vein, and artery. The surgeon usually approaches the gallbladder through a right upper paramedian or upper midline incision if necessary, the common duct may be explored through this incision. When stones are suspected in the common duct, operative cholangiography may be performed (if it has not been ordered preoperatively). The surgeon may dilate the common duct if it is already dilated as a result of a pathologic process. Dilation facilitates stone removal. The surgeon passes a thin instrument into the duct to collect the stones, either whole or after crushing them.
After exploring the common duct, the surgeon usually inserts a T-tube to ensure adequate bile drainage during duct healing (choledochostomy). The T-tube also provides a route for postoperative cholangiography or stone dissolution, when appropriate.
A conventional open cholecystectomy is indicated when a laparoscopic cholecystectomy does not allow for retrieval of a stone in the common bile duct and when the client's physique does not allow access to the gallbladder. Occasionally, when a client is very obese, the gallbladder is not retrievable via laparoscopic instruments. Further, a surgeon may have difficulty accessing the gallbladder in an adult with a small frame and may need to perform the conventional open cholecystectomy.
Nursing Care Plans
Nursing care plans for patients who underwent cholecystectomy includes promoting optimal respiratory function, preventing complications, management of pain, and provision of information about disease, procedures and treatment needs.
Here are 8 nursing care plan (NCP) and nursing diagnosis for cholecystectomy:
Ineffective Breathing Pattern
Nursing Diagnosis
May be related to
Pain
Muscular impairment
Decreased energy/fatigue
Possibly evidenced by
Tachypnea; respiratory depth changes, reduced vital capacity
Holding breath; reluctance to cough
Desired Outcomes
Establish effective breathing pattern.
Experience no signs of respiratory compromise/complications.
| Nursing Interventions | Rationale |
| --- | --- |
| Observe respiratory rate, depth. | Shallow breathing, splinting with respirations, holding breath may result in hypoventilation or atelectasis. |
| Auscultate breath sounds. | Areas of decreased or absent breath sounds suggest atelectasis, whereas adventitious sounds (wheezes, rhonchi) reflect congestion. |
| Assist patient to turn, cough, and deep breathe periodically. | Promotes ventilation of all lung segments and mobilization and expectoration of secretions. |
| Show the patient how to splint incision. Instruct effective breathing techniques. | Facilitates lung expansion. Splinting provides incisional support and decreases muscle tension to promote cooperation with the therapeutic regimen. |
| Elevate the head of bed, maintain low-Fowler's position. | Maximizes expansion of lungs to prevent or resolve atelectasis. |
| Support abdomen when coughing, ambulating. | Facilitates more effective coughing, deep breathing, and activity. |
Recommended Resources
Recommended nursing diagnosis and nursing care plan books and resources.
Disclosure: Included below are affiliate links from Amazon at no additional cost from you. We may earn a small commission from your purchase. For more information, check out our privacy policy.
NANDA International Nursing Diagnoses: Definitions & Classification, 2021-2023
The definitive guide to nursing diagnoses as reviewed and approved by the NANDA International. In this new version of a pioneering text, all introductory chapters have been rewritten to provide nurses with the essential information they need to comprehend assessment, its relationship to diagnosis and clinical reasoning, and the purpose and application of taxonomic organization at the bedside. A total of 46 new nursing diagnoses and 67 amended nursing diagnostics are presented.
Ackley and Ladwig's Nursing Diagnosis Handbook: An Evidence-Based Guide to Planning Care
We love this book because of it's evidence-based approach to nursing interventions. This care plan handbook uses an easy, three-step system to guide you through client assessment, nursing diagnosis, and care planning. Includes step-by-step instructions show how to implement care and evaluate outcomes, and help you build skills in diagnostic reasoning and critical thinking.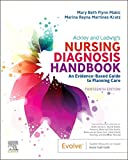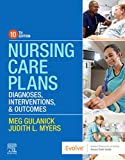 Nurse's Pocket Guide: Diagnoses, Prioritized Interventions, and Rationales
Quick-reference tool includes all you need to identify the correct diagnoses for efficient patient care planning. The sixteenth edition includes the most recent nursing diagnoses and interventions from NANDA-I 2021-2023 and an alphabetized listing of nursing diagnoses covering more than 400 disorders.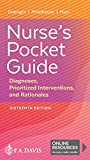 Nursing Diagnosis Manual: Planning, Individualizing, and Documenting Client Care
Identify interventions to plan, individualize, and document care for more than 800 diseases and disorders. Only in the Nursing Diagnosis Manual will you find for each diagnosis…. subjectively and objectively – sample clinical applications, prioritized action/interventions with rationales – a documentation section, and much more!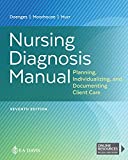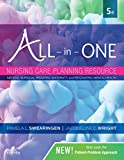 See also
Other recommended site resources for this nursing care plan:
More nursing care plans related to gastrointestinal disorders: