Nurses at a number of Texas hospitals now have a new assistant in the form of Moxi, the robot. Moxi has reduced nurses' workload by taking over busy-work tasks – and even the patients love it.
While nurses are chronically overworked, fetching and carrying takes up around 30% of their time. Moxi, programmable to the needs of a particular unit, takes over many of these jobs, allowing nurses to spend more time with their patients. Moxi's humanoid shape is non-threatening and allows it to move easily along the hospital corridors. It even has some social intelligence built-in so that people feel very comfortable around it.
Developing Moxi
Moxi was developed by Diligent Robotics after the team had spent 150 hours shadowing nurses to establish which tasks the robot could take over. Once designed and built, the developers took the robot out for a number of fine-tuning trails in the real hospital world. This included being Moxi being taught its work, through human-guided learning. It was during the trails that developers were surprised by how much interest the patients were showing in Moxi – and they went on to add some further social interaction features.
When the trails started, "Some nurses were like, 'It creeps me out a little, I don't like robots, I'm not into AI,'" explains Andrea Thomaz, one of the founders of Diligent Robotics. "But by the end they [were] like, 'Hey Moxi, hey girl, how's it going?' It was dramatic, in a matter of two to three weeks."
Moxi's characteristics
The robot has about the same dimensions as a human – with a head; a flexible, robotic arm with a gripper; and a thin torso on a base with wheels. Moxi's head, with blinking LED eyes, turns like ours does – and it turns and looks at you when spoken to.
Moxi is linked to hospital records and can be preprogrammed to run routine errands when specific details are entered on a patient's record. It can also respond to a call button, voice commands or through a touch screen.
Examples of what Moxi does
Nurses set up rules and tasks for Moxi depending on the routine and needs of the unit. The robot runs a lot of errands for nurses – like taking specimens to the lab or collecting bags of soiled linen from rooms and taking them to the cleaning area. It's been programmed to collect the items for admission kits and dropping it off in the room for a new patient as soon as it gets the command that the room is clean. With tasks such as these, nurses are freed from having to remember them – what they need is just there where and when they need it.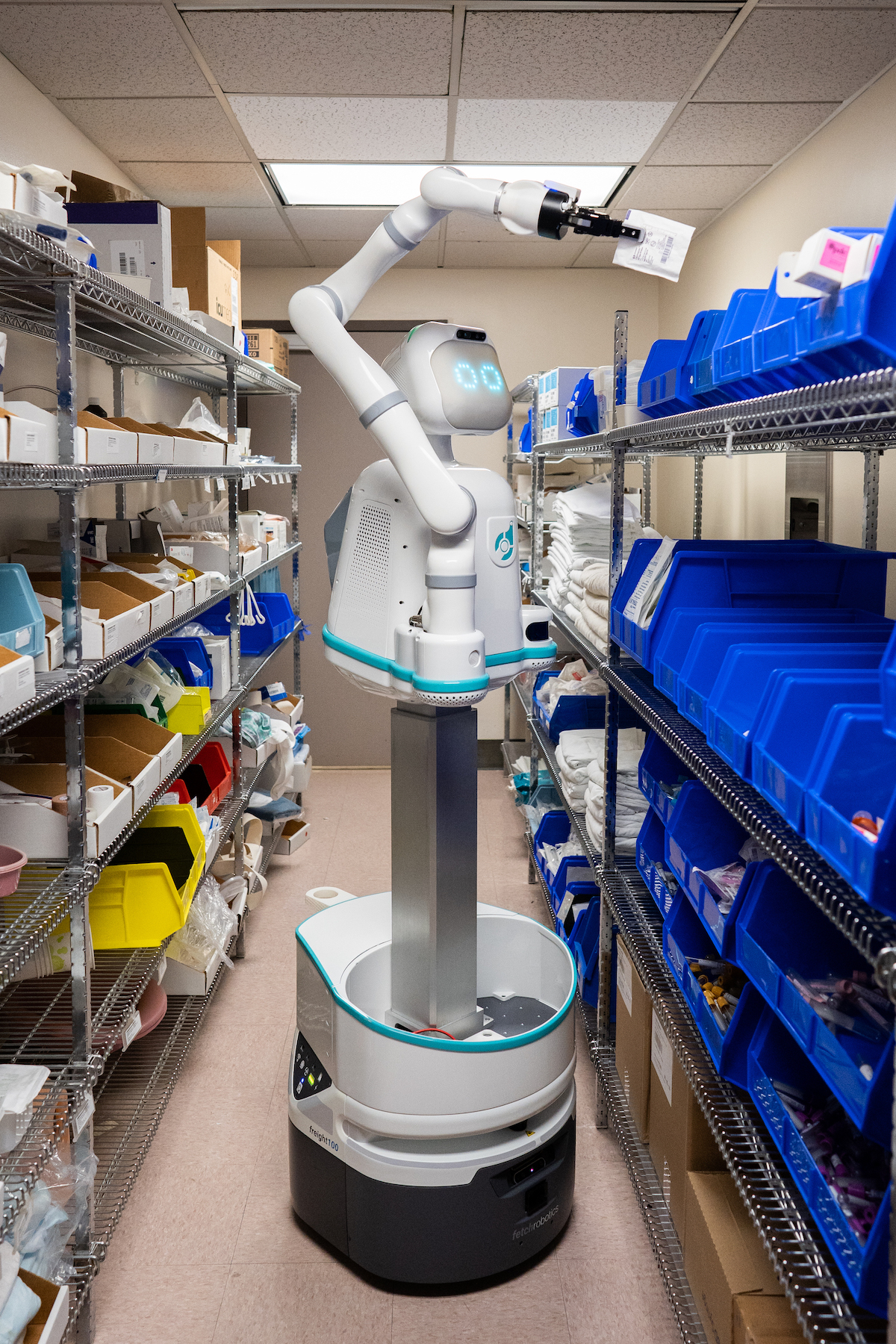 As another example, from patient records, the robot can establish when a patient is due for a urinary catheter replacement. Moxi will collect the correct catheter and place it in the basket outside the patient's room. When not busy with other tasks, Moxi makes rounds on the floor to interact face-to-face with staff and say "Hi there". Through cameras and sensors, it's also able to get out of the way of other people, or when a patient is being transported on a gurney.
Patients are fascinated by Moxi, even asking to take selfies with it. So now hospitals have even programmed it to make social rounds – flashing heart or rainbow eyes at patients and their visitors.
Are robots taking over nurses' jobs?
The one question everyone asks about robots is whether people will eventually end up without jobs. Or hearing about robots on the hospital floor, nurses are up in arms about the idea of robots taking over patient care.
You can rest assured that Moxi is there to allow nurses to spend more time with their patients by taking over their busy-work. "We're helping them augment their staff," said Thomaz. "It's hard to argue that we're taking anyone's job. Everyone is trying to make the nurses they have to go further."