Most medical practitioners such as the nurses and even the doctors choose scrubs suits as their working uniforms. In fact, the scrub set comprising of a loose top and pants is the standard uniform for nurses in the US and in several other countries. Some hospitals have come up with uniform regulations that specific colors, cut and fit. However, in most health-related institutions, nurses are allowed to wear scrubs of personal choice. [no_toc]
Face it… Most female and male nurses nowadays love fashion and need to look great whether it is on the job, casual gathering or going out on the town. And since these scrubs are your constant buddy at work, they must reflect the kind of person you are by merely choosing the best that will naturally complement your personality and style.
If you are going to purchase your uniform scrubs, you can remember some hints on buying them. Here are a few things that you should know about selecting the right scrubs.
1. Expensive vs. Cheap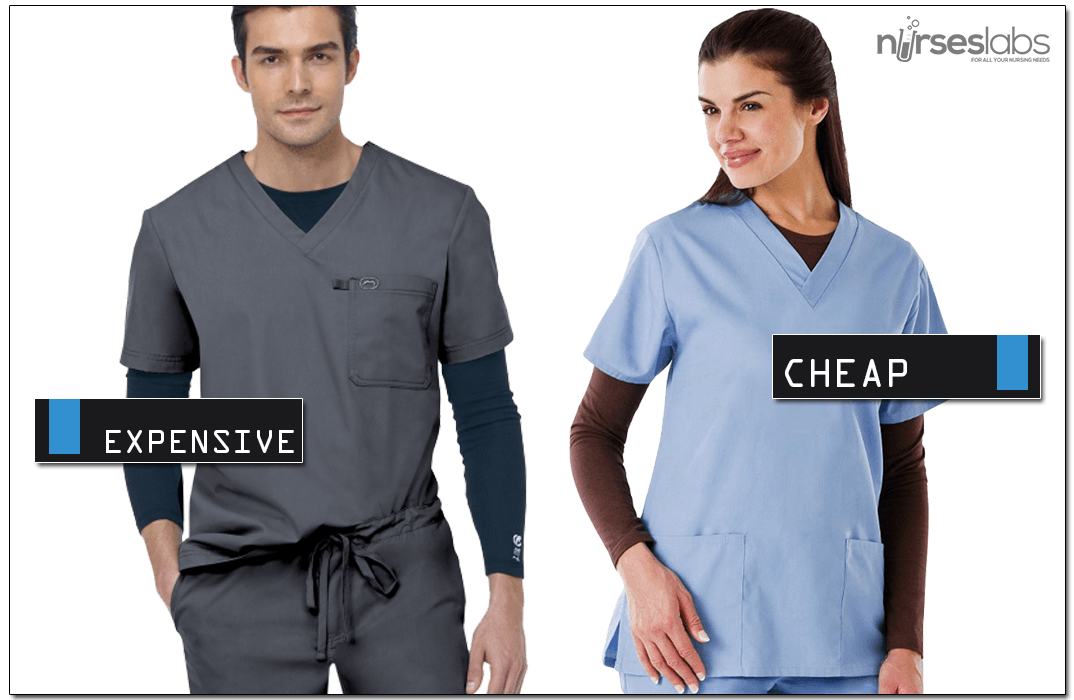 Even if it means you have to spend more, choose and buy scrubs from a good quality manufacturer. Don't let go on the quality just because you eyed on a few cheap pairs at the shop. Take note that you have to be in time for your shifts and you cannot bother with linty scrubs, or scrubs with the stitching coming out, or scrubs with the color washed out. Get one good pair instead of 3 bad ones. Focusing on branded ones does not mean hit the retailer and spend all your money on multiple outfits. Remember that most brands hold sales!
2. Basic vs. Trendy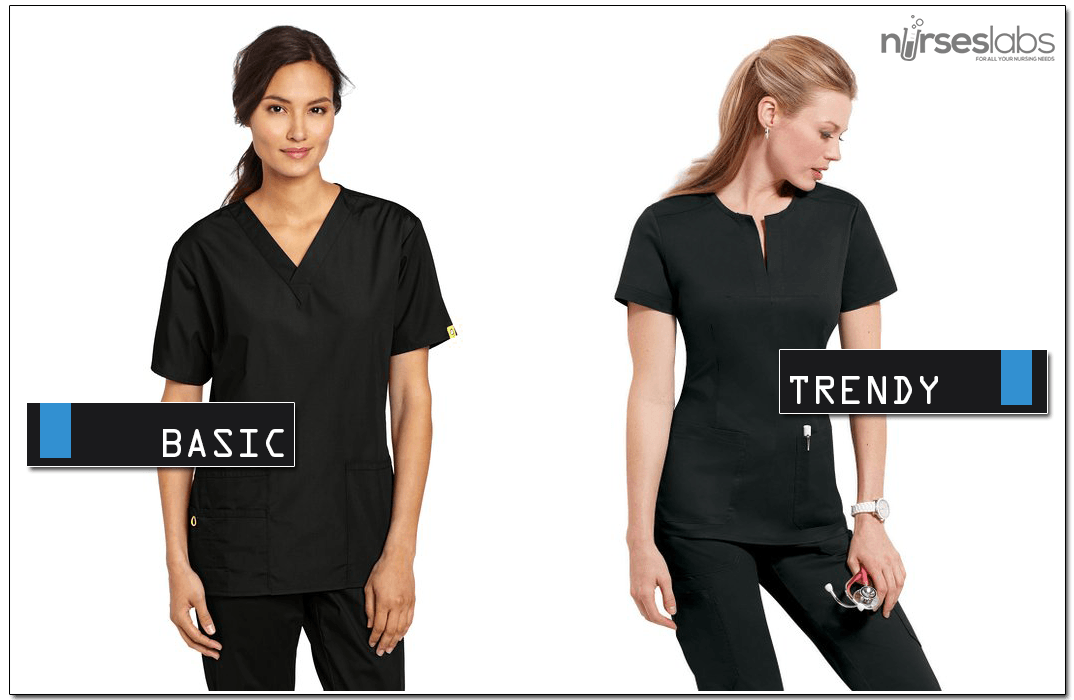 No one would know you better than your own self. If you are the simple type of person, you feel most comfortable wearing the same basic thing everyday (or some iteration of it). But looking around your workplace, probably you are already being left out to the newest fashion trends. Your decision will greatly depend on whether you will feel comfortable with a new look because of either stylish or basic tunic design. You can discover a new you if you give yourself a chance to try out different styles while at home or out with some friends on your day off. The result may boost your self-esteem which is a positive sign. Finding the right scrub clearly takes a bit of trial and error.
3. V-neck vs. Mock Wrap vs. Round vs. Square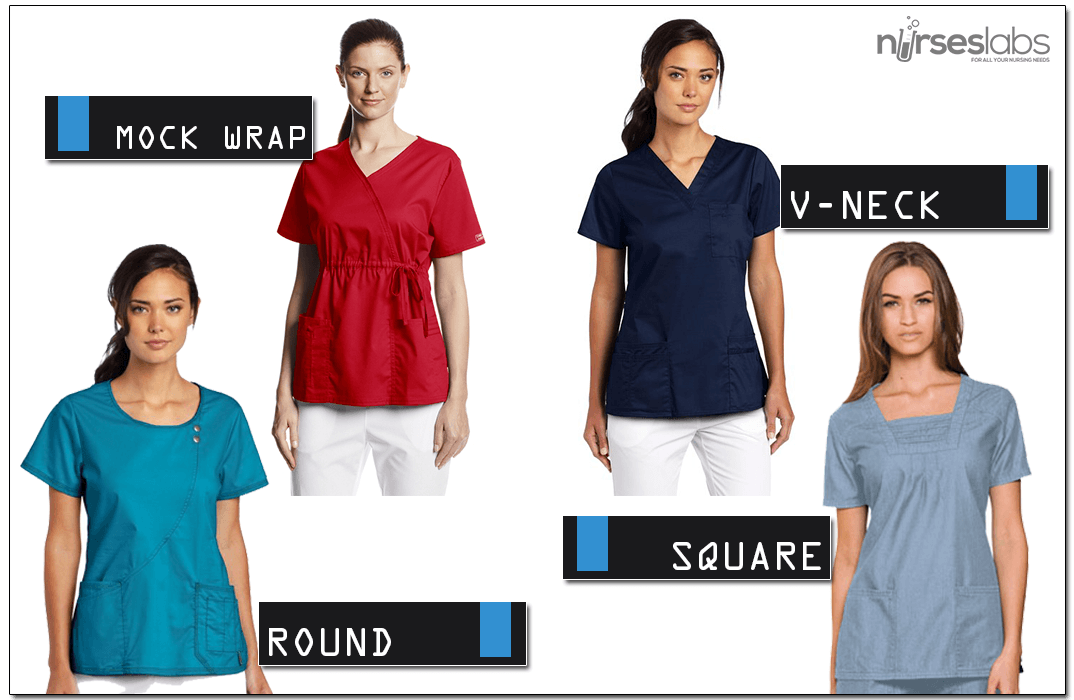 As long as the design fits comfortably, there's nothing wrong in buying scrubs with different neck cuts. Choosing between v-neck, mock wrap and round neck nurse uniforms is like deciding whether you want basic or stylish scrubs. Moreover, you can also come up with the u-shape, scoop neck, split neck, and other neck designs. As long as your employer is ok with the style aspects, go ahead and buy them and make yourself feel good.
4. Chest Pocket vs. No Chest Pocket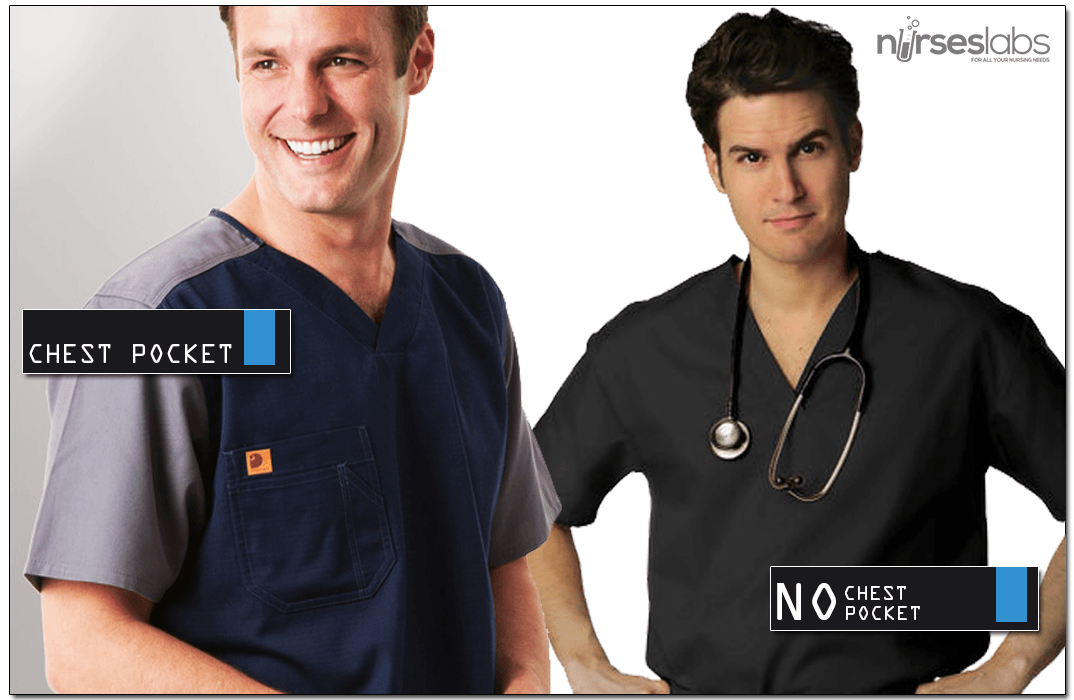 Aside from choosing comfortable scrubs, it is also necessary to consider its usefulness on your job. Put into consideration the things you usually put in your chest pocket, and how important these stuff are. If you often look on the storage space that it provides, then stick to it. However, if loading the chest pocket already puts some distress to your neck and shoulders though, simply drop it. It is more necessary for males to have scrubs with chest pocket for pencil, pen and cell phone slots.
5. Patch Pockets vs. No Patch Pockets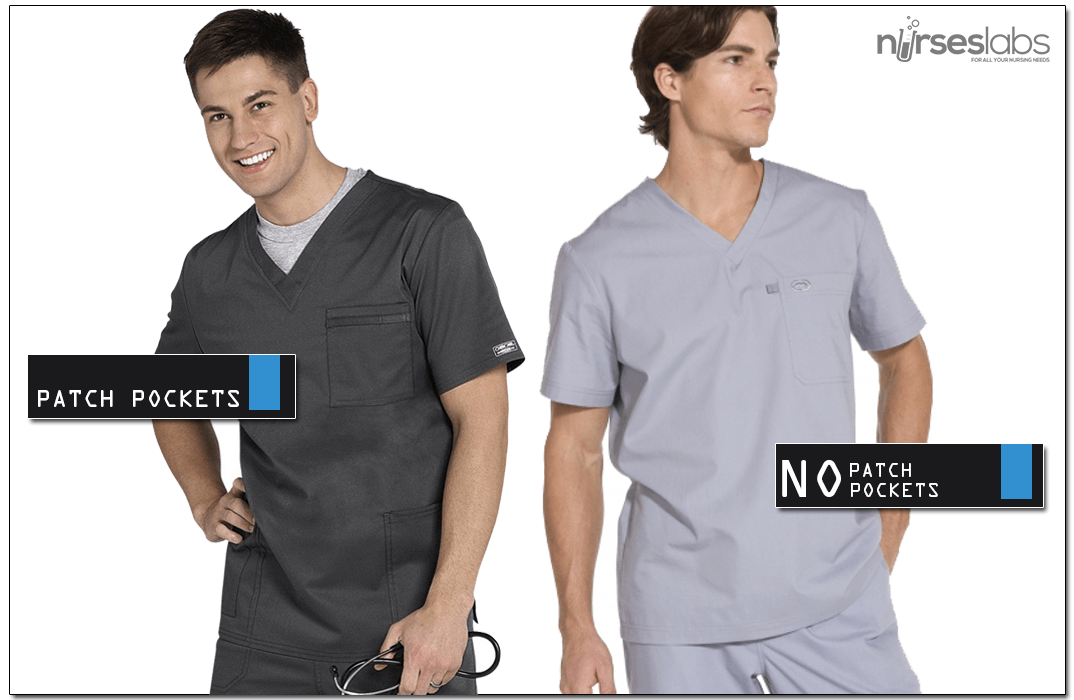 Aside from pens and a cellphone, bringing along medical instruments at all times is important among healthcare workers. Since you'll be carrying a patient chart, a stethoscope or other equipment in your hands, you need pockets to store other things. If you are the type of person who wants to be ready all the time, patch pockets should be present in your nurse uniforms scrubs, in your scrub tops and scrub pants. But if you are annoyed with these gadgets and may feel that they are actually working with so much clutter, then drop the idea. Remember that featured pockets should be kept in a limited number. Things such as alcohol pads, a pair of scissors, and even a pair of gloves must be kept in pockets for handy use. So pick tops and pants with roomy pockets. Some designers don't include pockets for women, since bulky pockets interfere with the body shape.
6. White vs. Colored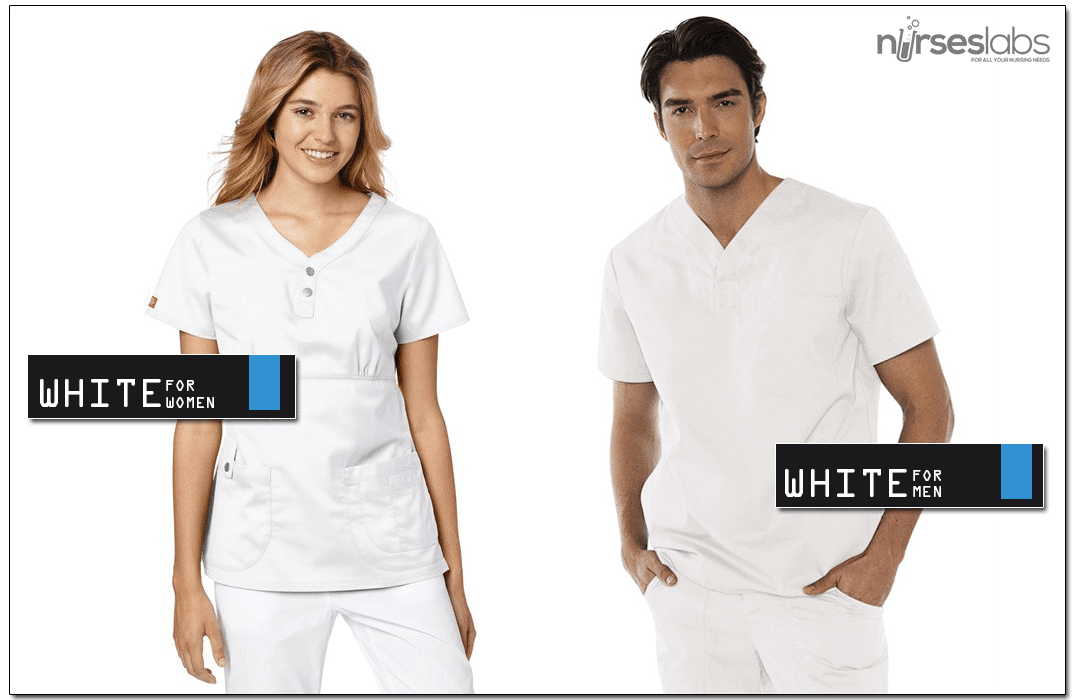 It's a fact that white reflects on doctors and nurses. It looks really clean that you don't want any drop of stain reaches the fabric. If you are this type, then accept the fact that white scrubs are dirt magnets. It certainly goes along with the profession.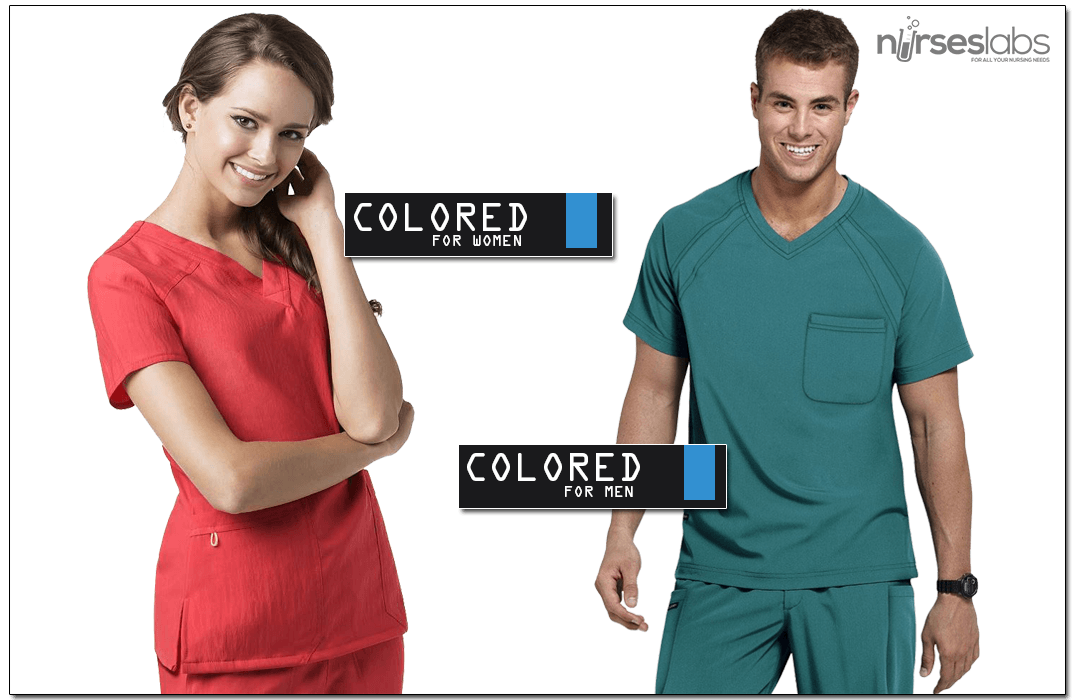 Anyway, there are hospitals, clinics, and other medical institutions that allow their employees to pick the color of nurses uniforms scrubs that they want to use. So before you buy your scrubs, get an idea of your employer's color scheme. If there's no specific rule, pick colors that are strong and dark, such as black, navy blue, dark brown and maroon. These hold stains much better than light shades.
7. Dark vs. Light Colors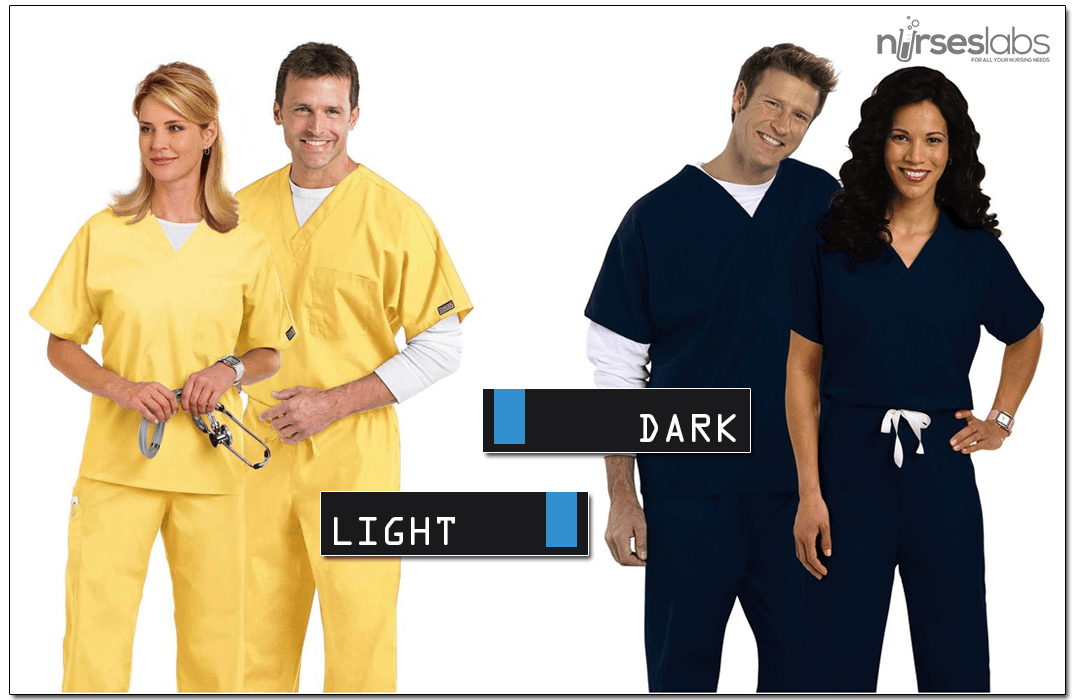 Colors are widely available and they can be fun to choose, because most people have their own preferences. Those scrub suits that are green and blue in color are the ones that you will frequently see. For this, you don't have to worry if you are either the petit or the heavy type. Dark colors, such as black and navy blue usually suit plus size individuals because of their ability to cloak or reduce size. Light colors, on the other hand, make one look bigger because they draw much attention to the part of the body that wears the kind of colors. You may also need to change the tints and hues of your nurses uniforms scrubs according to the season, to improve the mood or simply go with it. Health care professionals may also wear the nurse uniforms that is trending in fashion.
8. Long vs. Short Tops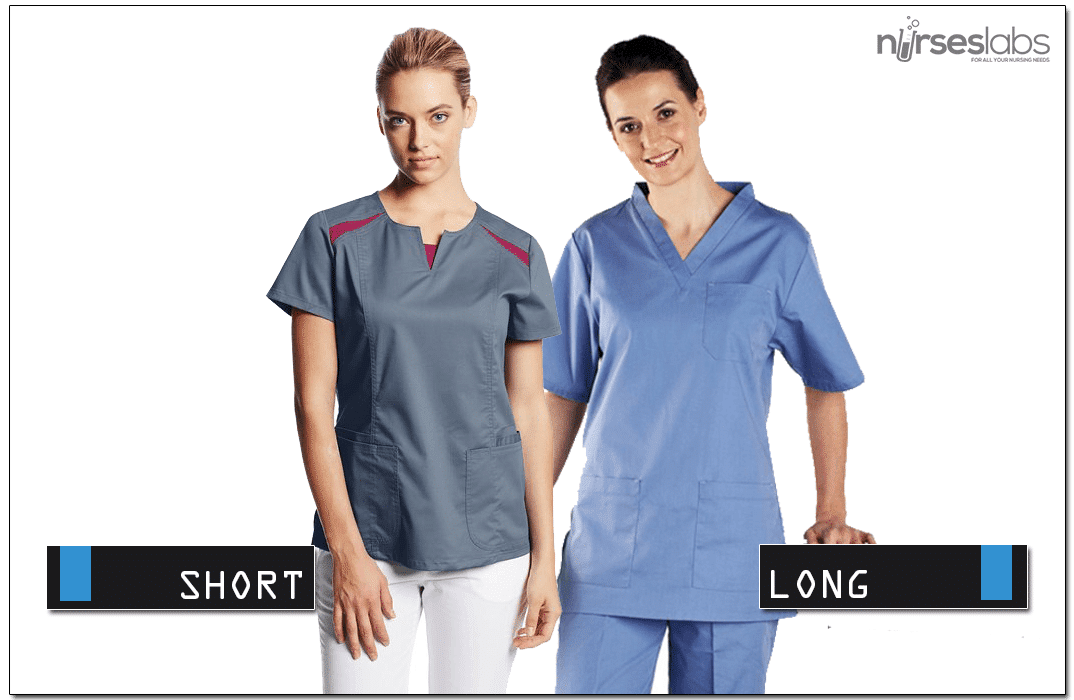 This is really important to healthcare workers or nurses who are bottom heavy. If you are this kind, you should wear long tops that skim over your hips. This will cover up multitude of sins. Remember, though, that long scrub tops would best suit tall individuals; shorter people will look even shorter in them. And so, a little adjustment in the length of the nurse uniforms may be necessary for short plus size health care workers. Although, of course, you don't have much of choice if the hospital where you're working is running a dress code.
9. Fit vs. Loose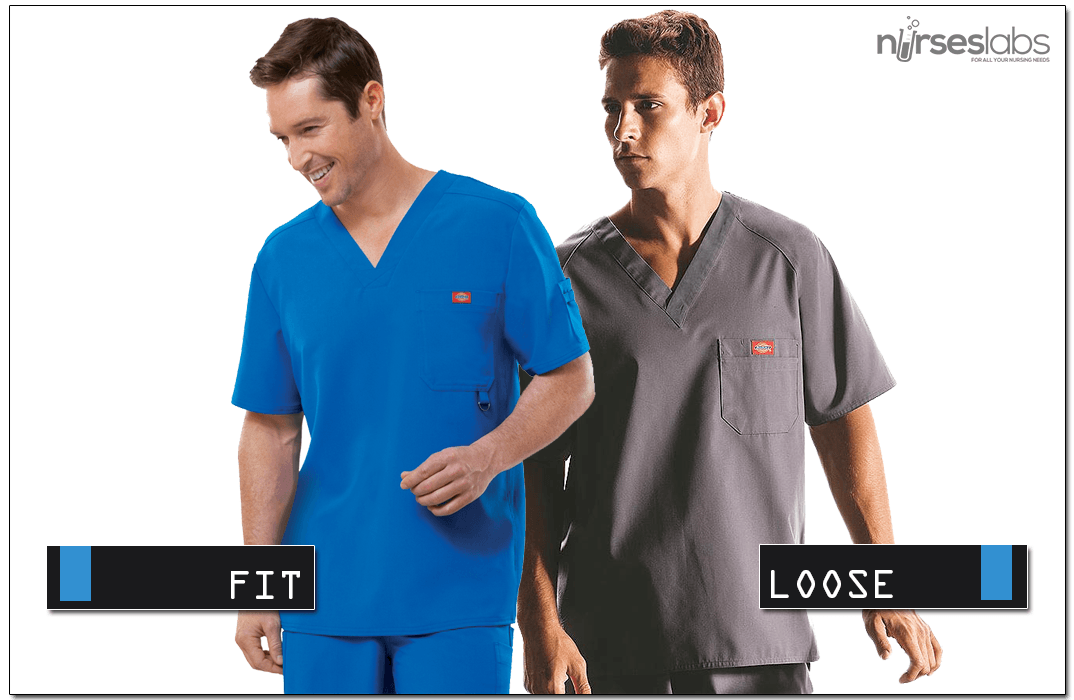 Though scrubs are initially made loose-fitting and baggy, still try them on for fit before you buy them. They may look to be a good fit on the hanger but you won't know till you try. For males, scrubs are either too wide or too fit. While most female nurses don't know their actual measurements. As a result, nurses tend to buy outfits that don't fit them as well as they should. When you buy scrubs, choose the right size for a good, comfortable fit. When you wear well-fitting scrubs, you'll feel more comfortable and more confident, and walk tall. And if nothing matches your measurements, it would be best to seek help from the best tailors and seamstresses in your place. This will allow your own self to guarantee repairs and adjustments as well. Your scrubs shouldn't be so baggy that movement is difficult, or so tight that they'll split.
10. Side Slits vs. No Side Slits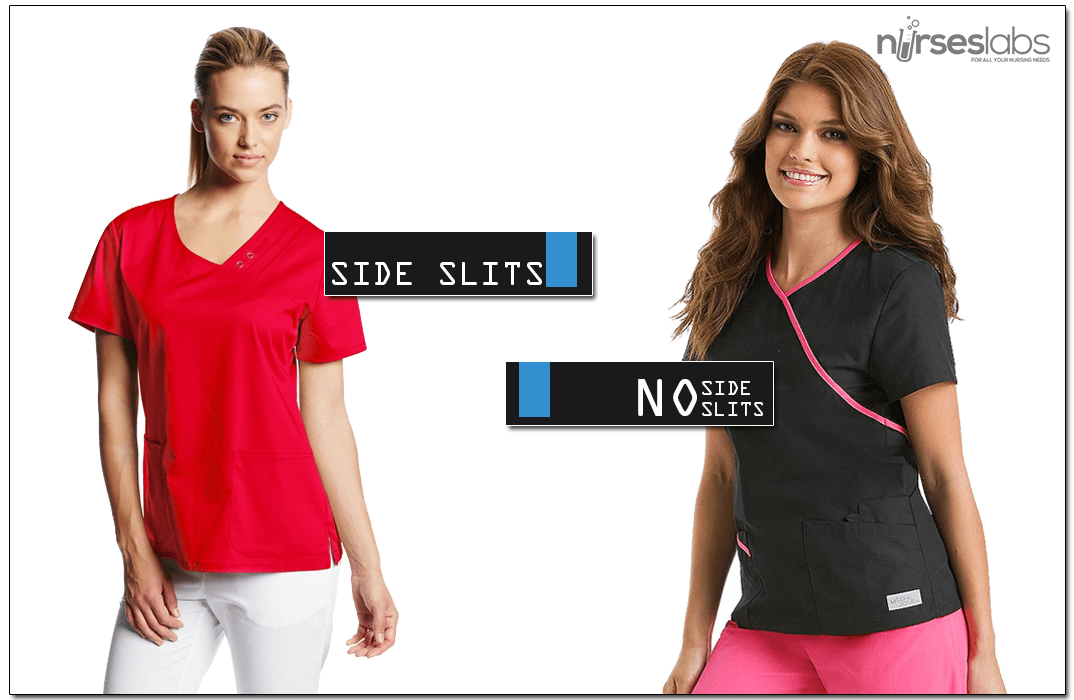 Another factor from choosing the right uniform is considering the health care provider's easiness in movement. Side slits or vents will increase comfort and will provide air. However, the slits should depend on the length of the scrub. If the workwear scrub top is shorter in size and in length, the side slits would most likely expose some part of your waist. In this case, choose the ones with no side slits. But if your scrub pants has back and front pockets, and you are wearing small size scrub top with longer center back length, side slits will greatly help in reaching for the pockets.
11. Drawstrings vs. Buttons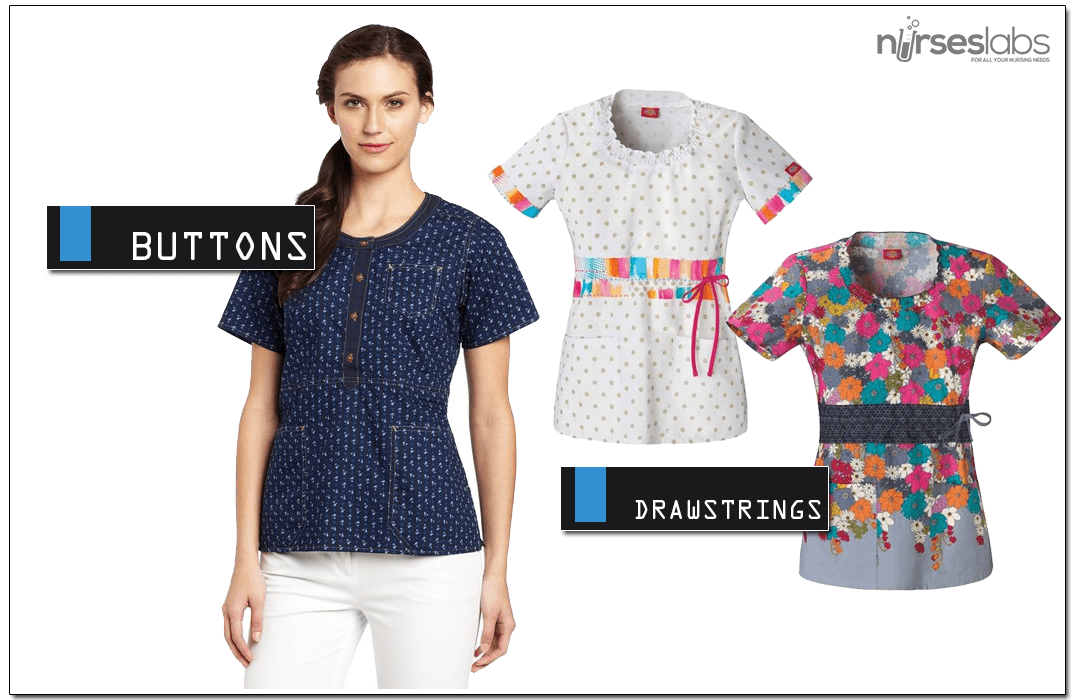 To add up to the style of your workwear scrubs, drawstrings and buttons are the typical design for medical nursing scrubs tops and pants. Both may also be used in adjusting the right fit corresponding to your body size.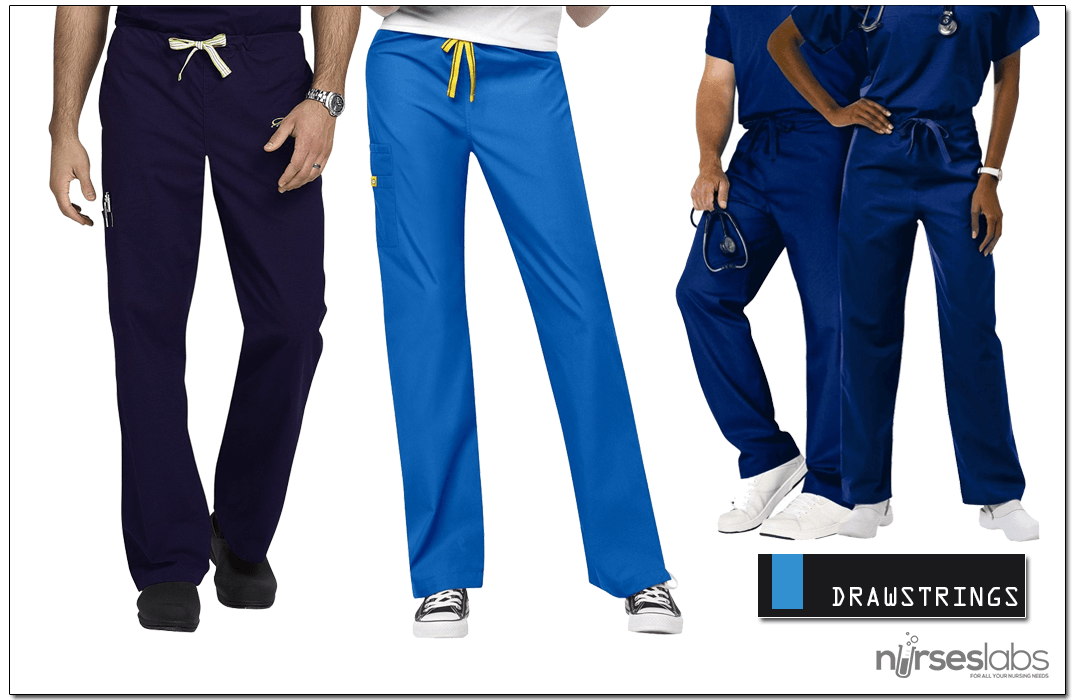 Make sure the pants don't slide down your hips and display your inner wear when you bend. This not only looks unprofessional but is also very embarrassing for staff and patients alike. Some scrubs have bands that run across the waist and a tie in the back to highlight this area.
12. Plain vs. Embroidered vs. Prints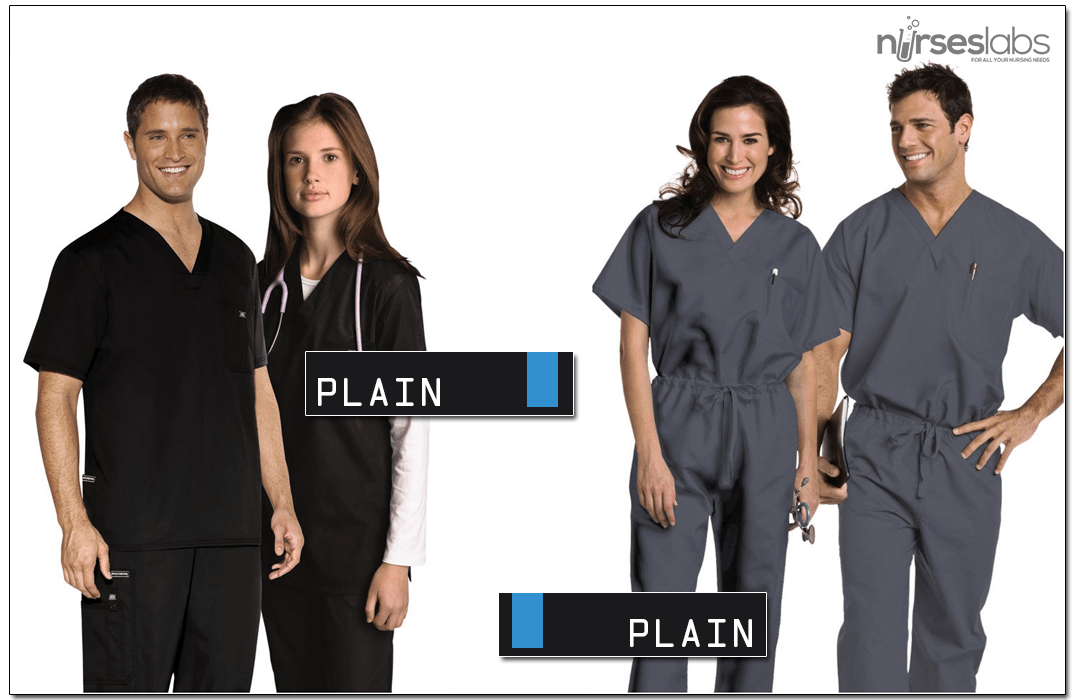 This may greatly depend on the rules of the hospital that you work for. Even if you buy your scrubs from a shop, there's no reason why you cannot put your own unique stamp especially if you're tired looking dull in your plain scrubs.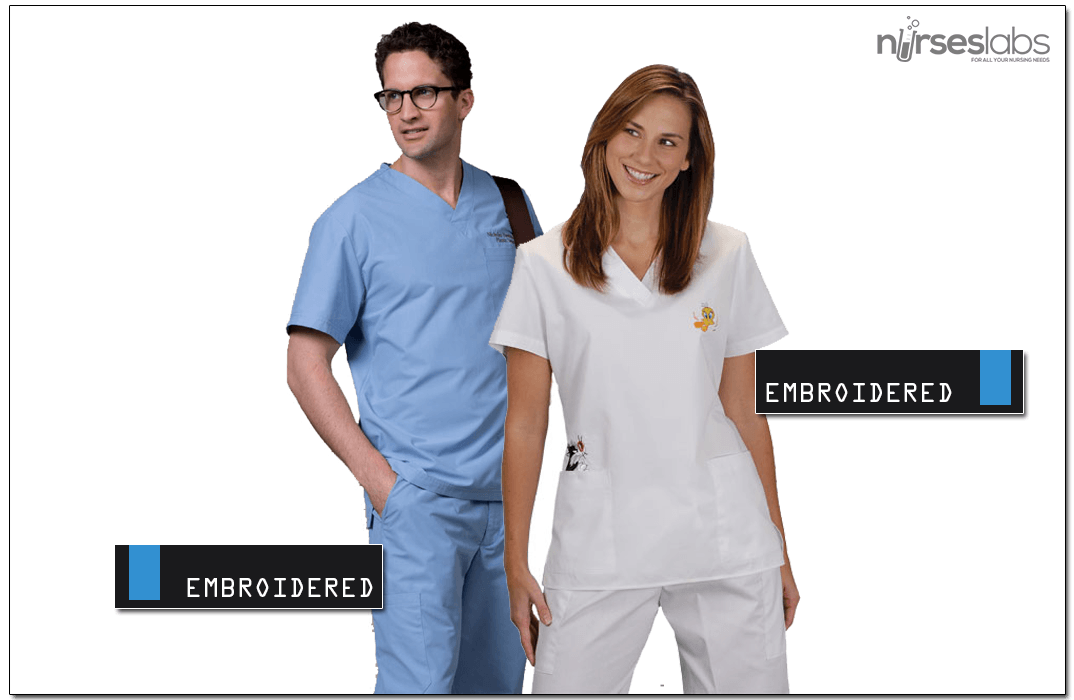 Try getting your name embroidered on the side of your top for a very unique look unless you are required to use nameplate pin. You can also choose to put your embroidered nickname or initials on one side of the sleeve in an alternative color.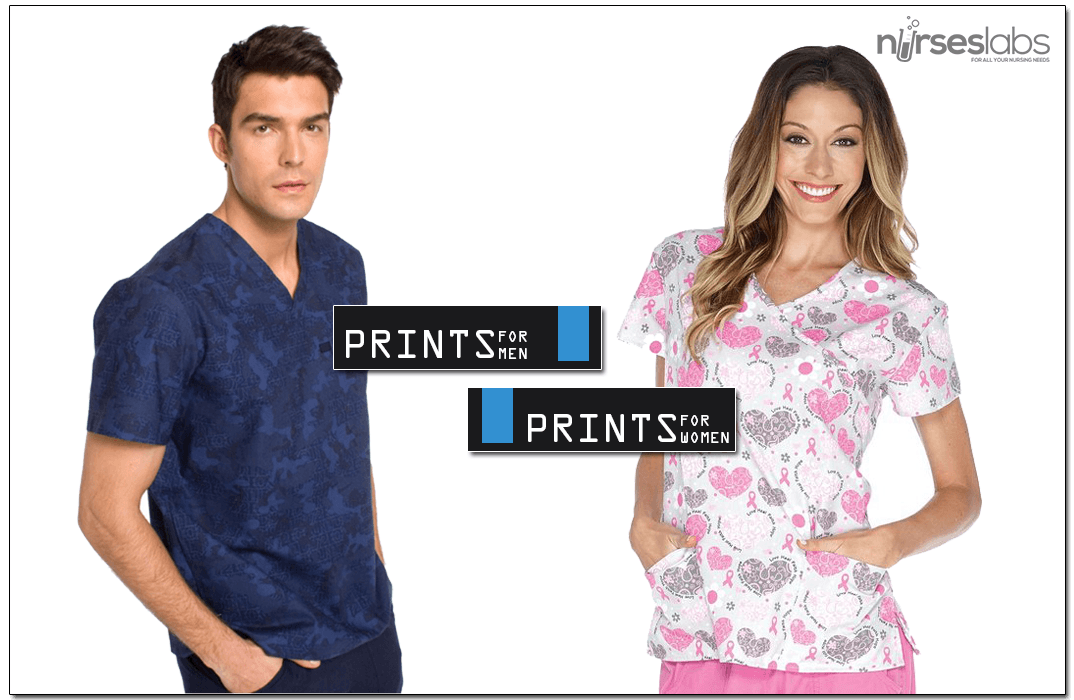 However, when you mix scrubs, ensure that when you wear a printed item, you downplay the effect using a solid color item. For example, you can wear a printed bottom with a solid top, which reflects one of the main colors in your bottom's print.