The social media images of nurses with facial marks and bruising from the extended use of personal protective equipment (PPE) during the COVID-19 epidemic are heartbreaking. And these pictures don't even tell the whole story.
The masks, goggles, and other safety equipment used by healthcare staff were never designed to be used for full shifts. They were also not designed for the reuse that has become necessary because of the shortage of supplies in the midst of the pandemic.
Skin problems experienced with PPE
A study in China by the Journal of American Academy of Dermatology reported that 97% of staff working in two different COVID-19 units reported PPE-related skin damage. The incidence increased when PPE was worn continuously for longer than six hours, and especially with N95 masks and goggles.
Facial skin problems from the masks, goggles, and shields are mainly as a result of extended pressure, moisture build-up, and chafing. The bridge of the nose is most often affected as it's a bony prominence with little soft tissue underneath the skin. Other parts of the face that are frequently involved are the area across the cheekbones, the forehead when wearing a shield, and the backs of the ears from mask elastics. There have also been reports of outbreaks of acne.
Health care staff have reported eczema and dermatitis on their hands from the frequent hand cleaning and wearing gloves for extended periods. Furthermore, the heat, moisture from sweating, and lack of air circulation caused by wearing gowns all day can cause redness, rashes, and skin irritation on the rest of the body. This inflammatory condition usually occurs in larger skin folds. It's similar to nappy rash and can also lead to secondary bacterial or fungal infections.
The following tips to prevent and manage PPE-related skin problems are summarized from advice provided by experts from across the world.
1. Moisturize regularly
After your shift, wash your face and neck with soap and water. Pat rather than rub your skin dry, and then apply a good quality moisturizer. Apply moisturizer before donning your PPE. As it needs a chance to dry and be absorbed into your skin, a good time to moisturize is when you're getting ready to go to work.
A study found that only 22% of health care workers applied hand cream regularly after hand washing. Make sure that you dry your hands well after cleaning and then apply an appropriate cream before putting on your gloves. Wash and moisturize your hands as soon as you take off your gloves.
2. Check that your mask fits comfortably
Skin problems are often caused when a mask is either not put on properly or not correctly fitted. Take your time when you put your mask on. Make sure that it is sitting comfortably and isn't too loose or too tight. Make the necessary adjustments before stepping out to care for your patients. As for N95 masks, they should be fitted to your face, and you should only wear the one that fits you. Lastly, replace your mask right away if it starts to feel really uncomfortable while you're working or becomes wet or soiled.
3. Relieve pressure regularly
Take your mask, goggles, and or face shield off at least every four hours if at all possible. Even relieving the pressure for a few minutes to allow for normal blood flow can prevent lasting skin damage.
4. Use a barrier cream for additional protection
A barrier cream is a further protective measure that you can use if you know you're going to be wearing your PPE for a long time. This is especially important if you already have underlying skin damage, as when the redness doesn't recover within a short while after you've removed your PPE and there is evidence of bruising.
You can apply a barrier cream, for example, dimethicone, to the parts of your face most affected by PPE. These long-lasting products seal the skin off against moisture and friction and some are available in the form of convenient wipes. Allow to dry for about a minute before donning your PPE.
5. Apply dressings when necessary
You can also use protective and moisture absorbing dressings between your skin and areas where there is pressure or friction. This may become necessary if you already have broken skin.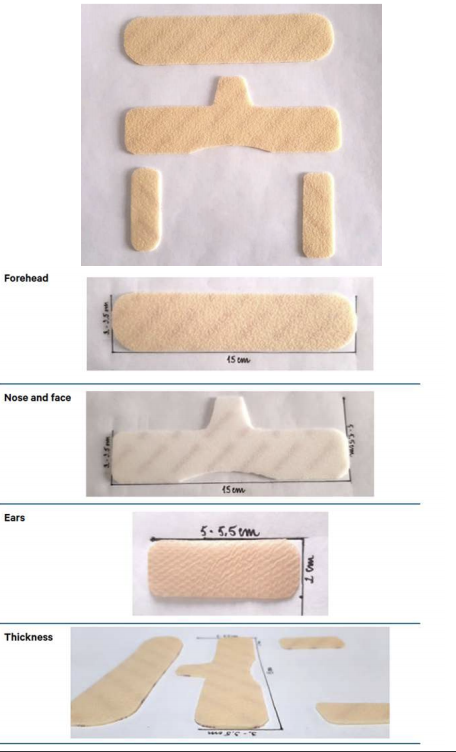 Before taking this step, discuss it with your infection control department to confirm that the proposed dressings won't interfere with the effectiveness of the PPE and are in line with your employer's protocol. You may need a refitting if used with a fitted respirator mask.
An outline of the types of dressings that can be used and a cutting pattern for different parts of the face can be found in the guidelines provided by the Nurses Specialized in Wound, Ostomy, and Continence organization based in Canada.
6. Protect your ears
There are a few DIY solutions to protect the backs of your ears from irritation, or even ulceration, from the elastic loops of your mask. This mostly involves buttons on caps or headbands that you can hook the elastic onto. However, be careful that this doesn't pull the mask tighter and so increase the pressure on your face.

Surgical masks with ties around the back of the head appear to cause less irritation, so you might go for this option if you do have a choice.
7. Manage heat rashes
Some health care providers who have to wear gowns all-day experience this red, itchy rash, known as intertriginous dermatitis. It's caused by moisture from sweat being trapped in skin folds.
To prevent this condition make sure that you dry off well after your bath or shower. Avoid tight and chafing clothing and wear moisture-absorbing underwear. You can also use talcum powder, or even corn starch, to help keep the area dry.
In the early stages of the rash, you can apply a barrier cream to the affected area to help protect your skin. Should the area become infected you will need to get a prescription for an appropriate antibiotic or antifungal ointment, and possibly a mild topical steroid.
8. Stay hydrated
Make sure that you drink lots of water during your breaks and before and after work. A dry skin is more likely to become irritated and damaged – think of dry, chapped lips during winter.
Take care of your skin
Even minor irritations from PPE can increase your risk of infection with COVID-19 as you subconsciously touch your face or adjust your mask more often. Broken skin provides a portal for the virus to enter your body and can also lead to other infections.
Use the tips we have provided to look after your skin. Report injured, broken skin to your supervisor and complete an incident form. If the condition becomes more serious consult your health care provider for appropriate treatment.
Recommended Resources