Alcohol withdrawal syndrome (AWS) is a common clinical condition that occurs in individuals with alcohol use disorder who abruptly stop or reduce their alcohol intake. It is characterized by a range of symptoms that can vary from mild to severe and potentially life-threatening. Nursing care plans for alcohol withdrawal are an essential part of managing patients with AWS. This article aims to provide an overview of nursing care plans for alcohol withdrawal nursing diagnosis, including their nursing interventions, and nursing management.
What is Alcohol Withdrawal Syndrome?
Alcohol, a central nervous system depressant, is used socially in our society for many reasons: to enhance the flavor of food, to encourage relaxation and conviviality, for celebrations, and as a sacred ritual in some religious ceremonies. Therapeutically, it is the major ingredient in many OTC/prescription medications. It can be harmless, enjoyable, and sometimes beneficial when used responsibly and in moderation.
It is rapidly absorbed from the stomach and small intestine into the bloodstream. On the other hand, alcohol withdrawal refers to symptoms that may occur when a person who has been drinking too much alcohol every day suddenly stops drinking alcohol.
Alcohol withdrawal symptoms usually occur within 8 hours after the last drink but can occur days later. Symptoms usually peak in 24 – 72 hours but may persist for weeks. Common symptoms include anxiety or nervousness, depression, fatigue, irritability, jumpiness or shakiness, mood swings, nightmares and not thinking clearly.
Nursing Care Plans
Nursing care plans for alcohol withdrawal are designed to support patients with AWS and ensure their safety and comfort during the withdrawal process. Nursing care planning for patients who are undergoing alcohol withdrawal includes: maintaining physiological stability during the acute withdrawal phase, promoting safety, providing appropriate referral and follow-up, and involvement of SO in the process.
Here are five nursing diagnoses for alcohol withdrawal nursing care plans (NCP):
Anxiety/Fear
Patients with alcohol withdrawal are at risk for anxiety and fear related to the cessation of alcohol intake and physiological withdrawal symptoms. Hospitalization and the threat to self-concept can further exacerbate these feelings, as patients may feel a loss of control over their own lives and worry about the impact of their condition on their relationships and daily activities.
Nursing Diagnosis
May be related to
Cessation of alcohol intake/physiological withdrawal
Situational crisis (hospitalization)
Threat to self-concept perceived threat of death
Possibly evidenced by
Feelings of inadequacy, shame, self-disgust, and remorse
Increased helplessness/hopelessness with loss of control of own life
Increased tension, apprehension
Fear of unspecified consequences; identifies an object of fear
Desired Outcomes
The patient will verbalize the reduction of fear and anxiety to an acceptable and manageable level.
The patient will express a sense of regaining some control of the situation/life.
The patient will demonstrate problem-solving skills and use resources effectively.
Nursing Assessment and Rationales
1. Determine the cause of anxiety, involving the patient in the process. Explain that alcohol withdrawal increases anxiety and uneasiness. Reassess the level of anxiety on an ongoing basis.
A person in the acute phase of withdrawal may be unable to identify and accept what is happening. Anxiety may be physiologically or environmentally caused. Continued alcohol toxicity will be manifested by increased anxiety and agitation as the effects of the medication wear off.
2. Monitor the patient for signs of depression.
To prevent suicidal attempts.
Nursing Interventions and Rationales
1. Develop a trusting relationship through frequent contact being honest and nonjudgmental. Project an accepting attitude about alcoholism.
Provides patient with a sense of humanness, helping to decrease paranoia and distrust. Patients will be able to detect the biased or condescending attitudes of caregivers.
2. Maintain a calm environment, minimizing noise.
Reduces stress.
3. Inform the patient about what you plan to do and why. Include patients in the planning process and provide choices when possible.
Enhances a sense of trust, and explanation may increase cooperation and reduce anxiety. Provides a sense of control over self in circumstances where the loss of control is a significant factor. Note: Feelings of self-worth are intensified when one is treated as a worthwhile person.
4. Reorient frequently.
The patient may experience periods of confusion, resulting in increased anxiety.
5. Orient the patient to reality.
He may also experience hallucinations and may try to harm himself and others.
6. Administer medications as indicated:
6.1. Benzodiazepines: chlordiazepoxide (Librium), diazepam (Valium)
Antianxiety agents are given during acute withdrawal to help the patient relax, be less hyperactive, and feel more in control.
6.2. Barbiturates: phenobarbital, or possibly secobarbital (Seconal), pentobarbital (Nembutal)
These drugs suppress alcohol withdrawal but need to be used with caution because they are respiratory depressants and REM sleep cycle inhibitors.
7. Arrange "Intervention" (confrontation) in a controlled setting.
Process wherein SO and family members, supported by staff, provide information about how the patient's drinking and behavior have affected each one of them, helps the patient acknowledge that drinking is a problem and has resulted in the current situational crisis.
8. Provide consultation for referral to detoxification and crisis center for ongoing treatment programs as soon as medically stable (oriented to reality).
The patient is more likely to contract treatment while still hurting and experiencing fear and anxiety from the last drinking episode. Motivation decreases as well-being increases and the person again feel able to control the problem. Direct contact with available treatment resources provides a realistic picture of help. Decreases time for patients to "think about it," change minds or restructure and strengthen denial systems.
Recommended Resources
Recommended nursing diagnosis and nursing care plan books and resources.
Disclosure: Included below are affiliate links from Amazon at no additional cost from you. We may earn a small commission from your purchase. For more information, check out our privacy policy.
Ackley and Ladwig's Nursing Diagnosis Handbook: An Evidence-Based Guide to Planning Care
We love this book because of its evidence-based approach to nursing interventions. This care plan handbook uses an easy, three-step system to guide you through client assessment, nursing diagnosis, and care planning. Includes step-by-step instructions showing how to implement care and evaluate outcomes, and help you build skills in diagnostic reasoning and critical thinking.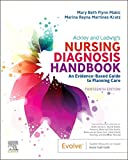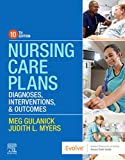 NANDA International Nursing Diagnoses: Definitions & Classification, 2021-2023
The definitive guide to nursing diagnoses is reviewed and approved by the NANDA International. In this new version of a pioneering text, all introductory chapters have been rewritten to provide nurses with the essential information they need to comprehend assessment, its relationship to diagnosis and clinical reasoning, and the purpose and application of taxonomic organization at the bedside. A total of 46 new nursing diagnoses and 67 amended nursing diagnostics are presented.
Nurse's Pocket Guide: Diagnoses, Prioritized Interventions, and Rationales
Quick-reference tool includes all you need to identify the correct diagnoses for efficient patient care planning. The sixteenth edition includes the most recent nursing diagnoses and interventions from NANDA-I 2021-2023 and an alphabetized listing of nursing diagnoses covering more than 400 disorders.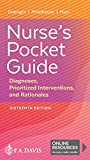 Nursing Diagnosis Manual: Planning, Individualizing, and Documenting Client Care
Identify interventions to plan, individualize, and document care for more than 800 diseases and disorders. Only in the Nursing Diagnosis Manual will you find for each diagnosis…. subjectively and objectively – sample clinical applications, prioritized action/interventions with rationales – a documentation section, and much more!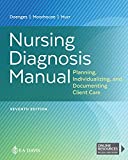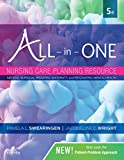 See also
Other recommended site resources for this nursing care plan:
Other care plans for mental health and psychiatric nursing: