When 2020 was declared as the "Year of the Nurse and Midwife," no-one could have imagined the extent to which the profession would be highlighted as nurses have become indispensable on the frontlines of the COVID-19 epidemic. It has certainly shown the "true value of nurses to the people of the world" – which the ICN had determined as the focus of International Nurses Day this year.
Many nurses might not have the opportunity and inclination to celebrate the upcoming Nurses Week and International Nurses Day on May 12, although their commitment and tireless service certainly deserves recognition.
Given the current circumstances, why don't you use Nurses Week as a personal celebration to take a close look at whether you're paying enough attention to looking after yourself.
Resilience needs self-care
The vast majority of people are going through periods of feeling heavy-hearted in the light of the extreme life-changes and uncertainty we're experiencing. Nurses on the frontlines are under even more pressure. A recent survey by Nursing Times found that around 90% of nurses felt more stressed and anxious than usual.
Nurses are facing even greater staff shortages and longer working hours, are being challenged by working in unfamiliar environments, dealing with more severely ill and dying patients, and often without the necessary PPE. They're concerned about the risk of becoming infected themselves and about colleagues who are infected, while also worrying about their loved ones from whom they are often separated.
Nurses need to stay healthy if they want to continue caring for others and this means that they need to practice self-care more than ever. Unmanaged stress affects the physical, emotional, and mental health – including the immune system. Eventually, it can lead to burnout and even post-traumatic stress syndrome.
Self-care is not about spoiling yourself with treats such as chocolates, a new outfit, or a bubble bath. It's about taking charge and addressing those things that drag you down and doing what's needed to maintain and increase your physical, mental, and emotional resilience.
To help you get started, we're providing you with 8 reminders of self-care activities for when you're not at work – although a few of them you can even practice while working.
1. Check out from COVID-19 on your days off
Avoid dwelling on your work and COVID-19 during your time off. The information overload about the pandemic in the news, on social media, and in conversations only serves to increase our fear and anxiety.
Limit your reading only to one or two trusted sources to keep up to date. Scroll past the constant COVID-19 discussions on social media. Hide groups on your feed if necessary or even completely avoid social media for at least a few hours. Rather read a good book, watch a movie, or listen to some uplifting podcasts.
2. Take control of your thoughts
Continuous negative thought patterns cause depression and anxiety. Have a good cry if you need to, but after that take note of your actual thoughts.
Much of our mental state is determined not by what is actually happening but by where it leads our thoughts. Divert negative thoughts to more positive ones – for example, instead of dwelling on what might happen if you or your family should become infected, focus on the fact that the majority don't become seriously ill.
Practice self-compassion – forgive yourself for not meeting all of your personal expectations. Take note of the emotions you're feeling and allow them without judgment – it's OK not to be OK in these times.
Practice gratitude – you will most likely experience a shift in your mood when you write a list of 10 things that you're grateful for.
3. Practice mindfulness
Research is increasingly demonstrating that meditation and other mindfulness practices reduce stress and anxiety, while also improving self-awareness and overall emotional health.
There are many guided meditation phone apps and YouTube videos to get you started. However, you don't necessarily have to sit on the floor with legs crossed and take deep breaths. Any activity which allows your mind to slow down while you focus on the moment has similar benefits.
Take a slow walk in nature while you consciously look at and listen to everything around you. Observe all your sensations while taking a bath. Knitting, crochet, and any other arts and crafts are also calming.
You can also try brief mini-meditations throughout your day to relieve stress at work. Take a few deep breaths, focus on your heart, and think about something that makes you smile.
4. Play and have some fun
Most of what we do as adults are driven by a particular goal or outcome. Take some time to do something every day for no reason other than having some fun. Laughter is one of the best stress relievers – it actually reduces stress hormones, releases endorphins, and boosts your immune system.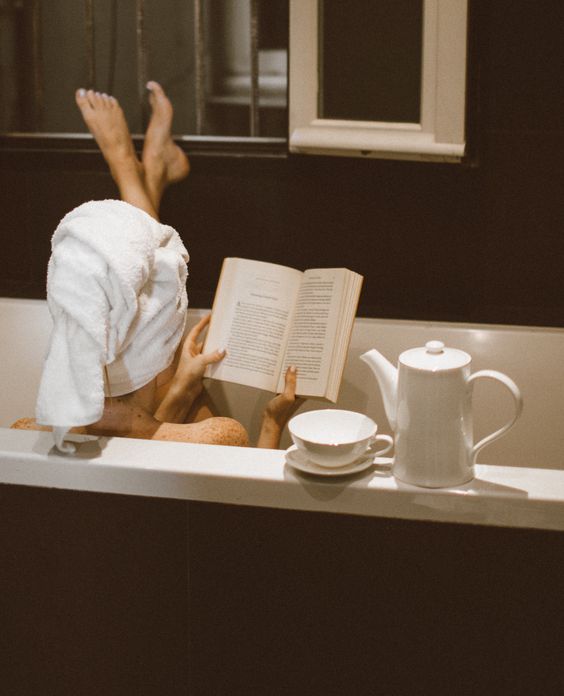 Need some ideas?
Put on some music with a good beat and dance, even dress up and mimic the singer if you want to.
Watch a comedy or read some old comics.
Do kid things – blow bubbles, play with paints or clay, make a collage with noodles or leaves, play a prank on someone.
Be silly with your kids or play with your pets.
Cook your favorite recipe and share it with your family or friends.
5. Socialize with friends and family
Social interaction with close family and friends is one of the pillars of mental health. The curtailment of face-to-face social interaction during the lockdown is probably a very significant factor in the stress, anxiety, and depression most people are feeling.
Your interaction with people at work isn't the same as contact with family and friends. With them, we can talk about and get advice about our problems, chat about everyday things, and even share some laughs.
Face-to-face contact with family and friends using one of the many video chat apps is much more meaningful than messages on social media or even telephone calls. For a real mood-booster arrange a virtual coffee get-together with a group of friends, or even a dance party.
6. Get out into nature
Go outside and exercise for both physical and mental health, especially if you're under lockdown. Exercise is probably less necessary if you're a nurse working in a busy unit all day, but you should still need to get out into the fresh air and sunshine.
Vitamin D is important for a healthy immune system and Vit D deficiency is starting to get serious attention as a possible factor in the severity of COVID-19 – so be sure to get your daily dose of sunlight.
7. Eat a healthy diet
As a nurse you don't need to be told what constitutes a healthy diet – but are you practicing what you preach?
Take stock of your eating patterns. Are you only eating for fuel to keep going or also providing our body with the essential vitamins and minerals it needs for optimal health?
8. Sleep better with a bedtime routine
Stress and anxiety tend to disrupt sleeping patterns. If you find that you're suddenly experiencing sleeping problems it might be time to follow the advice of sleep scientists.
They strongly advise a winding-down routine before bedtime as this allows for a shift in neurotransmitters to prepare for sleep. Stop any mentally challenging work for at least an hour before bedtime, avoid blue light – your phone, the TV, and your computer. Play some soothing music and have a nice warm bath.
Commit to self-care action
We've discussed a number of steps you can take in your daily life that will help you to reduce stress and anxiety and tackle each new day with more vitality. You've probably identified some areas where you can improve on self-care.
Treat your future self this Nurses Week by committing to taking action on at least one or two of these areas – and put it down in writing to strengthen your resolve.
We also want to remind you to obtain professional mental health support if you're experiencing symptoms of major depression or burnout.
Wishing you a good Nurses Week and a healthy 2020!