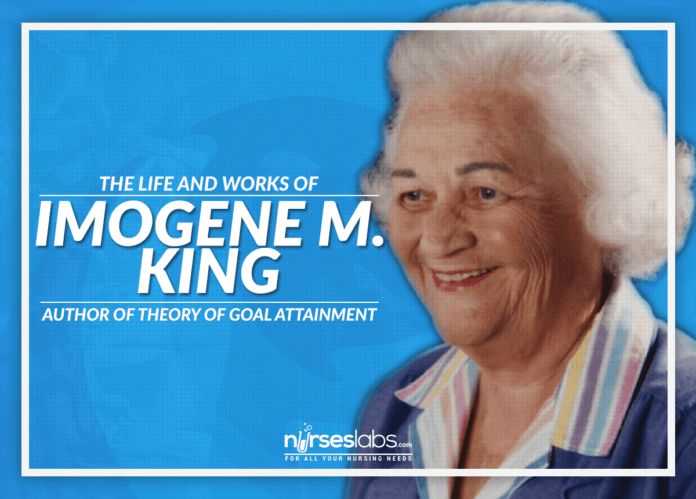 Imogene Martina King (January 30, 1923 – December 24, 2007) was one of the pioneers and most sought nursing theorists for her Theory of Goal Attainment which was developed in the early 1960s. Her work is being taught to thousands of nursing students from all over the world and is implemented in a variety of service settings as well.
As a recognized global leader, King truly made a positive difference for the nursing profession with her significant impact on nursing's scientific base. She made an enduring impact on nursing education, practice, and research while serving as a consummate, active leader in professional nursing.
Early Life
---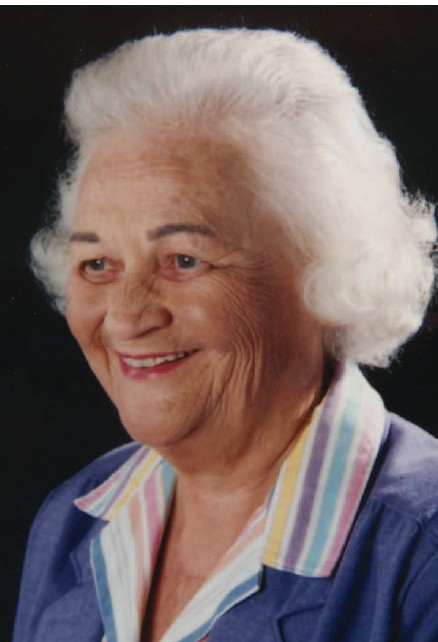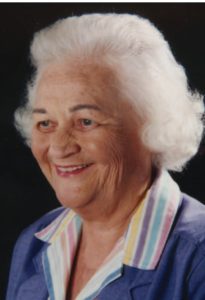 King was born Jan. 30, 1923, in West Point, Iowa. During her early high school years, she decided to pursue a career in teaching. However, her uncle, the town surgeon, offered to pay her tuition to nursing school. She eventually accepted the offer, seeing nursing school as a way to escape life in a small town. Thus began her remarkable career in nursing.
Education
---
King excelled in her nursing studies despite the fact that it was not her first choice to consider. In 1945, she received a diploma in Nursing from St. John's Hospital School of Nursing in St. Louis, Missouri.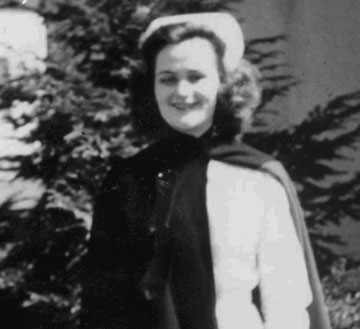 While working in a variety of staff nurse roles, King started coursework toward a Bachelor of Science in Nursing Education, which she received from St. Louis University in 1948. In 1957, she received a Master of Science in Nursing from St. Louis University.
She went on to study with Mildred Montag as her dissertation chair at Teacher's College, Columbia University, New York, and received her EdD in 1961.
Career and Appointments
---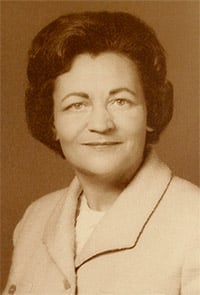 After receiving her diploma in 1945, King worked in a variety of staff nurse roles. From 1947 to 1958, she worked as an instructor in Medical-Surgical nursing and was an assistant director at St. John's Hospital School of Nursing. King developed a master's degree program in nursing based on a nursing conceptual framework from 1961 to 1966 at Loyola University in Chicago. Her first theory article appeared in 1964 in the journal, Nursing Science, which nurse theorist Martha Rogers edited.
Under Jessie Scott, King served as an Assistant Chief of Research Grants Branch, Division of Nursing at the U.S. Department of Health, Education, and Welfare between 1966 and 1968. While King was in Washington, DC, her article "A Conceptual Frame of Reference for Nursing" was published in Nursing Research (1968).
In 1969, King conducted a World Health Organization nursing research seminar in Manila, Philippines, where she met Midori Sugimori of Japan. From then on, the two nurses kept in touch. Sugimori translated King's two theory books into Japanese, and the books strongly influenced nursing education in Japan. The doctoral dissertation of Tomomi Kameoka tested the theory of goal attainment in Japan. King was present when Kameoka presented her research at the honor society's 2001 Biennial Convention.
From 1968 to 1972, King served as the director of the School of Nursing at Ohio State University in Columbus. King then returned to Chicago in 1972 as a professor in the Loyola University graduate program. She also served from 1978 to 1980 as Coordinator of Research in Clinical Nursing at the Loyola Medical Center Department of Nursing. From 1972 to 1975, King was a member of the Defense Advisory Committee on Women in the Services for the U.S. Department of Defense. She also was elected alderman for a 4-year term (1975 to 1979) in Ward 2 at Wood Dale, Illinois.
In 1980, King was appointed professor at the University of South Florida College of Nursing, in Tampa. King continued to provide community service and to help plan care through her conceptual system and theory at various health care organizations, including Tampa General Hospital.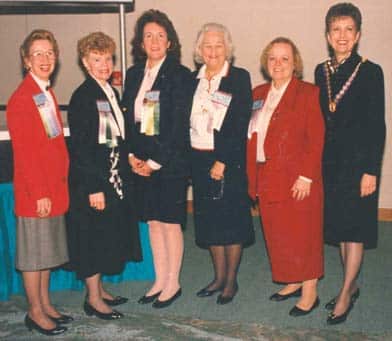 King retired in 1990 and was named professor emeritus at the University of South Florida. She never really retired, as she was always there for students, faculty, and colleagues who were using her theory, and even went "round the clock" to implement her theory at Tampa General Hospital. King also served on the nursing advisory board, and guest lectured at the University of Tampa.
King was keynote speaker at two STTI theory conferences in 1992, and presented application of her theory at multiple regional, national, and international STTI conferences. King communicated regularly with students who were learning about theories within her conceptual system.
King was a long-time member of the American Nurses Association (ANA), first with the Missouri Nurses Association, and she was also active in Illinois and Ohio. Upon her move to Tampa, Florida, she became a member in the Florida Nurses' Association (FNA) and FNA District 4, Tampa. King held offices such as president of the Florida Nurses Foundation, served on the FNA and the FNA District IV boards, and was a delegate from the FNA to the ANA House of Delegates.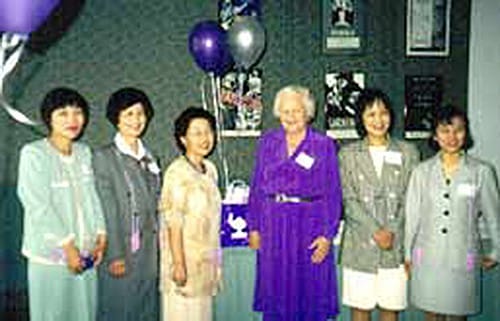 In 2000, King was keynote speaker for the 37th Annual Isabel Maitland Stewart Conference in Research in Nursing at Teachers College, Columbia University and was pleased that Mildred Montag was present.
The King International Nursing Group (K.I.N.G.) was created to facilitate the dissemination and utilization of King's conceptual system, the Theory of Goal Attainment, and related theories. King consulted with members of the organization on an individual basis regarding her theory and continues to be active.
Theory of Goal Attainment
---
Main Article: Theory of Goal Attainment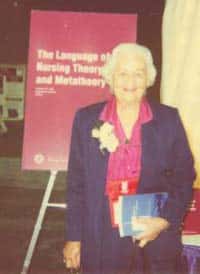 The Theory of Goal Attainment states that "Nursing is a process of action, reaction, and interaction whereby nurse and client share information about their perception in the nursing situation."
King's Theory of Goal Attainment was first introduced in the 1960s. From the title itself, the model focuses on the attainment of certain life goals. It explains that the nurse and patient go hand-in-hand in communicating information, set goals together, and then take actions to achieve those goals. The factors that affect the attainment of goals are roles, stress, space, and time. On the other hand, the goal of the nurse is to help patients maintain health so they can function in their individual roles. The nurse's function is to interpret information in the nursing process, to plan, implement, and evaluate nursing care.
To help nurses understand her work, she defined several terms which include the patient, defined as a social being who has three fundamental needs: the need for health information, the need for care that seeks to prevent illness, and the need for care when the patient is unable to help him or herself.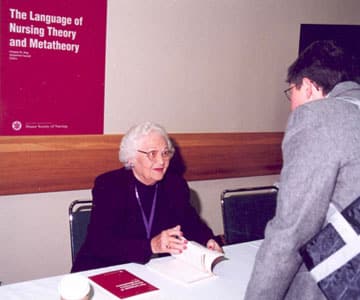 She also explained health as involving life experiences of the patient, which includes adjusting to stressors in the internal and external environment by using resources available. The environment, defined as the background for human interaction. It involves the internal environment, which transforms energy to enable people to adjust to external environmental changes, and it involves the external environment, which is formal and informal organizations. A nurse is considered part of the patient's environment.
There are three interacting systems in the Theory of Goal Attainment according to King. These are the personal system, the interpersonal system, and the social system. Each system is given different concepts. The concepts for the personal system are: perception, self, growth and development, body image, space, and time. The concepts for the interpersonal system are: interaction, communication, transaction, role, and stress. The concepts for the social system are: organization, authority, power, status, and decision making.
Works
---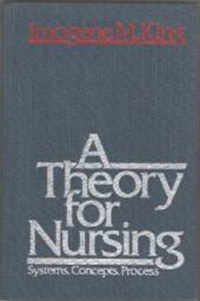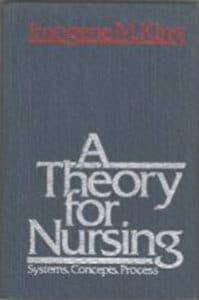 King earned recognition as a nurse theorist through the publication of Toward a Theory for Nursing: General Concepts of Human Behavior in 1971 and A Theory for Nursing: Systems, Concepts, Process in 1981, as well as numerous articles related to her conceptual system and theory of goal attainment.
While at Ohio State, where she served as the director of the School of Nursing, her book Toward a Theory for Nursing: General Concepts of Human Behavior (1971) was published. In this early work, King concluded, "a systematic representation of nursing is required ultimately for developing a science to accompany a century or more of art in the everyday world of nursing." Her book received the American Journal of Nursing Book of the Year Award in 1973.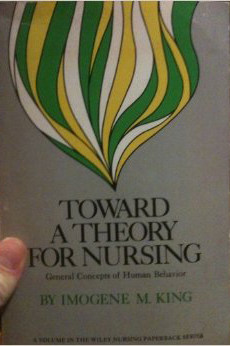 In 1981, the manuscript for her second book, A Theory for Nursing: Systems, Concepts, Process, was published. In addition to her first two books, she authored multiple book chapters and articles in professional journals, and a third book, Curriculum and Instruction in Nursing: Concepts and Process, was published in 1986.
Some of her works include: Theory for Nursing: Systems, Concepts, Process; Theory for Nursing: Systems, Concepts and Process; The Language of Nursing Theory and Metatheory; Toward a Theory for Nursing: General Concepts of Human Behaviour; and Curriculum and Instruction in Nursing: Concepts and Process.
King also authored several book chapters, for example, Frey & Sieloff 's Advancing King's Systems Framework and Theory of Nursing (1995), and Sieloff and Frey's Middle Range Theories for Nursing Practice Using King's Conceptual System (2007), which highlighted her studies by other authors.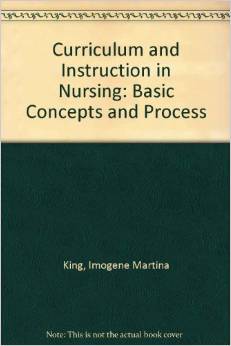 Awards and Honors
---
Her book, Toward a Theory for Nursing: General Concepts of Human Behavior, received the American Journal of Nursing Book of the Year Award in 1973. In 1980, she was awarded an honorary PhD from Southern Illinois University. King was one of the original Sigma Theta Tau International (STTI) Virginia Henderson Fellows, and she received the STTI Elizabeth Russell Belford Founders Award for Excellence in Education in 1989.
In 1994, King was inducted into the American Academy of Nursing (AAN) and served on the AAN Theory Expert Panel. She received the Jessie M. Scott Award in 1996. King was thrilled that Jessie Scott was there. King was in the ANA House of Delegates to hear President Clinton's congratulations on the ANA's 100th anniversary and his admiration of his mother as a nurse anesthetist.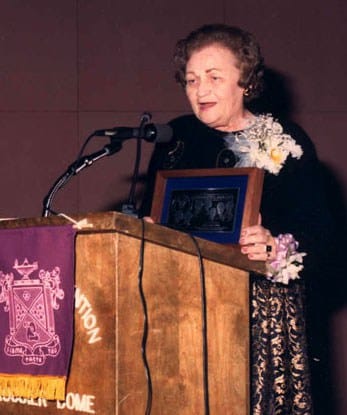 In 1997, King received a gold medallion from Governor Chiles for advancing the nursing profession in the State of Florida. In May 1998, she received an honorary doctorate from Loyola University, where her "Nursing Collection" is housed. In 1999, King was inducted into the Teachers College, Columbia University of Hall of Fame.
In 2004, she was inducted into the FNA Hall of Fame and the ANA Hall of Fame. She was inducted as a Living Legend in 2005.
Despite King's many awards and honors, she considered teaching students to be her most important accomplishment. Over the years, she enjoyed watching her nursing students become expert practitioners, teachers and researchers.
Death
---
King died on December 24, 2007, two days after suffering from stroke. Patricia Quigley, PhD, ARNP, CRRN, FAAN, announced King's passing to nursing colleagues with these words: "May we all burn a candle today for the light that Imogene shined on us with her smile, laughter, knowledge and passion for each day. We all shared in our love for her. Combining religion and science through nursing, her inspired voice was never weak—but strong with passion and conviction."
Midori Sugimori, Naomi Funashima, Kyoko Yokoyama and Tomomi Kameoka, four of the Japanese nurses whom King had mentored, traveled to Florida to pay their respects upon hearing of King's death.
King's memorial services were held January 4 in St. Pete Beach, Florida, and January 19 in Fort Madison, Iowa, where she was buried. Her last moments were attended by her friends, relatives and colleagues.
During both services, Patricia Messmer read the Nightingale Tribute, which included a synopsis of King's career and a poem, "Imogene Was There." Seven green Irish roses symbolized the seven decades of her nursing career. A Nightingale Lamp from the University of Pittsburgh, her graduation picture from St. John's Hospital School of Nursing and a current photo were also displayed for the memorial services.
References
---
Alligood, M., & Tomey, A. (2010). Nursing theorists and their work, seventh edition. Maryland Heights: Mosby-Elsevier.
Safier, G. (1977). Contemporary American leaders in nursing: An oral history. New York: McGraw Hill.

Imogene King Biography. (n.d.). Retrieved July 7, 2014, from http://king.clubexpress.com/content.aspx?page_id=22&club_id=459369&module_id=59920

http://www.reflectionsonnursingleadership.org/
External Links
---
Last updated on