Pressure ulcers, also known as bedsores, are a common problem in the healthcare industry. They occur when an area of the skin is subjected to pressure and is not relieved for a prolonged period of time. This can happen in individuals who are bedridden, use a wheelchair, or have limited mobility. Pressure ulcers can cause significant pain, discomfort, and even lead to serious complications such as infections, sepsis, and even death.
Nursing care plans are essential for the treatment of pressure ulcers. These care plans include a nursing diagnosis, assessment, interventions, and evaluation. In this article, we will discuss the nursing diagnosis for pressure ulcer (bedsores) nursing care plans in detail.
What are Pressure Ulcers?
A pressure ulcer (also known as bedsores or decubitus ulcer) is a localized skin injury where tissues are compressed between bony prominences and hard surfaces such as a mattress. They are caused by pressure in combination with friction, shearing forces, and moisture. The pressure compresses small blood vessels and leads to impaired tissue perfusion. The reduction of blood flow causes tissue hypoxia leading to cellular death.
Nursing Care Plans
Pressure ulcers in stages I through III can be managed with aggressive local wound treatment and proper nutritional support while stage IV pressure ulcers usually require surgical intervention.
Nursing care planning goals for clients experiencing pressure ulcer (bedsores) includes assessing the contributing factors leading to a lack of tissue perfusion, assessing the extent of the injury, promoting compliance with the medication regimen, and preventing further injury.
Here are three (3) nursing care plans (NCP) and nursing diagnoses for pressure ulcers (bedsores):
Risk For Ineffective Health Maintenance
Patients with pressure ulcers are at risk for ineffective health maintenance due to several factors, including impaired functional status, lack of previous experience in managing pressure ulcers, and the need for long-term pressure management. Impaired functional status can make it difficult for the patient to perform self-care activities and follow a treatment plan, while a lack of previous experience may result in inadequate wound care. Additionally, long-term pressure management requires ongoing attention and monitoring, which can be challenging for patients and their caregivers.
Nursing Diagnosis
Risk for Ineffective Health Maintenance
Risk factors
Impaired functional status.
Lack of previous similar experience.
Need for long-term pressure management.
Possible need for special equipment.
Possibly evidenced by
Not applicable for risk diagnosis. A risk diagnosis is not evidenced by signs and symptoms, as the problem has not occurred and nursing interventions are directed at prevention.
Desired Outcomes
The client and caregiver will verbalize understanding of the following aspects of home care: nutrition, pressure relief, wound care, and incontinence management.
The client and caregiver will verbalize their ability to cope adequately with the existing situation, and provide support/monitoring as indicated.
Nursing Assessment and Rationales
1. Assess the client's and caregiver's knowledge of and ability to provide local wound care.
Clients are no longer kept hospitalized until pressure ulcers have healed, The need for local wound care may continue at home for weeks to months.
2. Assess the client's and caregiver's understanding of the prevention of further pressure ulcer development.
Clients who are immobile will need frequent repositioning to lessen the risk of a breakdown in those areas that are intact.
3. Assess the client's and caregiver's understanding of the long-term nature of wound healing
Pressure ulcers may take weeks to months to heal even under ideal circumstances. The wound heals from the base of the ulcer up, and from the edges of the ulcer toward the center. Palliative wound care may be appropriate for clean, chronic, non-healing wounds.
4. Assess the client's and caregiver's understanding of the relationship between incontinence and further skin breakdown or complication of healing.
Managing incontinence may be the most difficult aspect of home management and is often the reason nursing home placements are made.
5. Assess the client's and caregiver's understanding of and ability to provide a High-calorie, high-protein diet throughout the course of wound healing.
Clients may require enteral feeding (through gastronomy tube, nasogastric tube feedings, or the oral route), which requires knowledge of preparation and the use of special equipment.
6. Assess for the availability of a pressure reduction or pressure-relief surface.
Clients may take a thick, dense foam mattress home from the hospital to place on their own bed. Rental provisions of low-air-loss beds (e.g., KinAir, Flexicare) and air-fluidized therapy beds (FluidAir, Skytron, Clintron) may be arranged but often pose a financial difficulty because few payer sources will cover the cost of these beds in the home.
Nursing Interventions and Rationales
1. Educate the client and the caregiver to report the following signs indicating wound infection: Fever, malaise, chills, foul-smelling odor, and purulent drainage.
Early detection prompts immediate intervention.
2. Educate the client and the caregiver in managing incontinence (e.g., use of moisture barrier ointments, use of underpads, use of external catheters).
Teaching proper techniques can prevent leakage and skin problems. Reusable products such as underpads or linen protectors made of cloth with a waterproof lining are better for the client's skin and are more economical but require laundering. Moisture barrier ointments protect intact skin from excoriation.
3. Educate the client and the caregiver regarding local wound care, and allow for a return demonstration.
This will allow the client to use new information immediately, thus enhancing retention. Immediate feedback allows the learner to make corrections, rather than practice the skill incorrectly.
4. Provide written instructions with listed resources.
Long-term management requires specific written plans to enhance adherence o treatment. Several internet resources provide lay education.
5. Involve a social worker or case manager.
Referral helps the client and family determine whether placement in an extended care facility is needed. Because many clients with pressures are older, it is often an older spouse who is available to provide care; as a result of the intensive nursing care needs of these clients, discharge to home is often unrealistic.
6. Consult a wound specialist to evaluate care in the home.
Besides evaluating the ability to deliver care, the specialist may be useful in securing specialty treatment.
7. Educate the client and the caregiver on the importance of pressure reduction and relief (e.g., turning schedule, use of specialty beds, use of relief surface where the client sits).
Information can nurture enhanced adherence to pressure ulcer treatment guidelines.
8. Discuss with the client and caregiver the possible need for respite care.
Long-term responsibility for client care in the home is burdening; those providing care may need help to understand that their needs for relaxation are important to the maintenance of health and should not be viewed as avoidance of the responsibility.
9. Discuss with the client and caregiver the need for in-home nursing care or homemaker services.
These provide all or part of the client's care and can be economical to the client. Also, keeping the client in his or her own environment lessen the risk of hospital-acquired infection and keeps the client in a familiar surrounding.
Recommended Resources
Recommended nursing diagnosis and nursing care plan books and resources.
Disclosure: Included below are affiliate links from Amazon at no additional cost from you. We may earn a small commission from your purchase. For more information, check out our privacy policy.
Ackley and Ladwig's Nursing Diagnosis Handbook: An Evidence-Based Guide to Planning Care
We love this book because of its evidence-based approach to nursing interventions. This care plan handbook uses an easy, three-step system to guide you through client assessment, nursing diagnosis, and care planning. Includes step-by-step instructions showing how to implement care and evaluate outcomes, and help you build skills in diagnostic reasoning and critical thinking.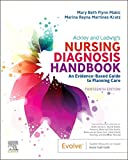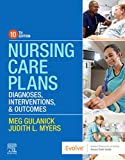 NANDA International Nursing Diagnoses: Definitions & Classification, 2021-2023
The definitive guide to nursing diagnoses is reviewed and approved by the NANDA International. In this new version of a pioneering text, all introductory chapters have been rewritten to provide nurses with the essential information they need to comprehend assessment, its relationship to diagnosis and clinical reasoning, and the purpose and application of taxonomic organization at the bedside. A total of 46 new nursing diagnoses and 67 amended nursing diagnostics are presented.
Nurse's Pocket Guide: Diagnoses, Prioritized Interventions, and Rationales
Quick-reference tool includes all you need to identify the correct diagnoses for efficient patient care planning. The sixteenth edition includes the most recent nursing diagnoses and interventions from NANDA-I 2021-2023 and an alphabetized listing of nursing diagnoses covering more than 400 disorders.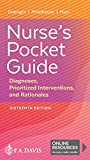 Nursing Diagnosis Manual: Planning, Individualizing, and Documenting Client Care
Identify interventions to plan, individualize, and document care for more than 800 diseases and disorders. Only in the Nursing Diagnosis Manual will you find for each diagnosis…. subjectively and objectively – sample clinical applications, prioritized action/interventions with rationales – a documentation section, and much more!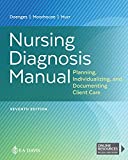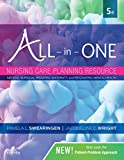 See also
Other recommended site resources for this nursing care plan:
Other nursing care plans affecting the integumentary system: