Dermatitis is a common skin condition that affects millions of people worldwide. It is an inflammatory condition that causes red, itchy, and irritated skin. Dermatitis can be caused by a variety of factors, including allergies, irritants, genetics, and autoimmune disorders. In this article, we will explore the nursing diagnosis for dermatitis and provide tips on how to develop effective nursing care plans to manage this condition.
What is Dermatitis?
Dermatitis is a general term that describes an inflammation of the skin. There are different types of dermatitis, including seborrheic dermatitis and atopic dermatitis (eczema). Although the disorder can have many causes and occur in many forms, it usually involves swollen, reddened, and itchy skin.
Nursing Care Plans
Nursing care for patients with dermatitis involves treatment for atopic lesions consisting of eliminating all allergens and avoiding irritants, extreme temperatures, and humidity changes, and other factors. Therapy also involves teaching the client the proper application of topical medications. Developing effective nursing care plans for patients with dermatitis requires a comprehensive approach that addresses the underlying causes of the condition, as well as the patient's individual needs and preferences.
Here are four (4) nursing care plans (NCP) and nursing diagnoses for patients with dermatitis:
Impaired Skin Integrity
Impaired skin integrity in patients with dermatitis is related to contact with irritants or allergens that trigger an inflammatory response in the skin. Contact with these substances causes the skin to become red, swollen, and itchy, which can lead to scratching and further damage to the skin's surface. Prolonged exposure to irritants or allergens can worsen the condition and increase the risk of infection and other complications.
Nursing Diagnosis
Related factors
Contact with irritants or allergens
Possibly evidenced by
Inflammation
Dry, flaky skin
Erosions, excoriations, fissures
Pruritus, pain, blisters
Desired Outcomes
The patient will maintain optimal skin integrity within the limits of the disease, as evidenced by intact skin.
Nursing Assessment and Rationales
1. Assess skin, noting color, moisture, texture, and temperature; note erythema, edema, and tenderness.
Specific types of dermatitis may have characteristic patterns of skin changes and lesions.
2. Assess the skin systematically. Look for areas of irritant and allergic contact.
Flexural areas (elbows, neck, posterior knees) are common areas affected by atopic dermatitis.
3. Assess skin for lesions. Note the presence of excoriations, erosions, fissures, or thickening.
Open skin lesions increase the patient's risk for infection. Thickening occurs in response to chronic scratching (lichenification).
4. Identify aggravating factors. Inquire about recent changes in the use of products such as soaps, laundry products, cosmetics, wool or synthetic fibers, cleaning solvents, and so forth.
Patients may develop dermatitis in response to changes in their environment. Extremes of temperature, emotional stress, and fatigue may contribute to dermatitis.
5. Identify signs of itching and scratching.
The patient who scratches the skin to relieve intense itching may cause open skin lesions with an increased risk for infection. Characteristic patterns associated with scratching include reddened papules that run together and become confluent, widespread erythema, and scaling or lichenification
6. Identify any scarring that may have occurred.
Long-term scarring may result in body image disturbances.
Nursing Interventions and Rationales
1. Encourage the patient to adopt skin care routines to decrease skin irritation:
One of the first steps in the management of dermatitis is promoting healthy skin and healing skin lesions.
2. Bathe or shower using lukewarm water and mild soap or nonsoap cleansers.
Long bathing or showering in hot water causes drying of the skin and can aggravate itching through vasodilation.
3. After bathing, allow the skin to air dry or gently pat the skin dry. Avoid rubbing or brisk drying.
Rubbing the skin with a towel can irritate the skin and exacerbate the itch-scratch cycle.
4. Encourage the patient to avoid aggravating factors.
Some change in lifestyle may be indicated to reduce triggers.
5. Apply topical lubricants immediately after bathing.
Lubrication with fragrance-free creams or ointments serves as a barrier to prevent further drying of the skin through evaporation. Moisturizing is the cornerstone of treatment. Over-the-counter moisturizing lotions include Eucerin, Lubriderm, and Nivea. Lotions are lighter and less emollient than creams. If more moisturizing is required than a lotion can provide, a cream is recommended. These include Keri cream, Cetaphil cream, Eucerin cream, and Neutrogena Norwegian formula. Ointments are the most emollient. Vaseline Pyre Petroleum Jelly or Aquaphor Natural Healing Ointment may be beneficial.
6. Apply topical steroid creams or ointments.
These drugs reduce inflammation and promote the healing of the skin. The patient may begin using over-the-counter hydrocortisone preparations. If these are not effective, the physician may include prescription corticosteroids for topical use. The usual application is twice daily, thinly and sparingly. Do not use an occlusive dressing, because this potentiates the action and systemic absorption of the steroid. The usual duration of use of topical steroids is up to 14 days in adults.
7. Apply topical immunomodulators (TIMs):
7.1. Pimecrolimus (Elidel)
Elidel is used as a short-term and long-term management of mild to moderate atopic dermatitis in nonimmunocompromised adults and children 2 years of age and older, who did not respond to other treatments.

7.2. Tacrolimus (Protopic)
Tacrolimus (Protopic) is used as a short term management of moderate to severe atopic dermatitis in nonimmunocompromised adults and children 2 years of age and older, who did not respond to other treatments.
8. Prepare the patient for phototherapy or photochemotherapy.
This treatment modality uses ultraviolet A or B light waves to promote the healing of the skin. The addition of psoralen, which increases the skin's sensitivity to light, may benefit patients who do not respond to phototherapy alone.
Recommended Resources
Recommended nursing diagnosis and nursing care plan books and resources.
Disclosure: Included below are affiliate links from Amazon at no additional cost from you. We may earn a small commission from your purchase. For more information, check out our privacy policy.
Ackley and Ladwig's Nursing Diagnosis Handbook: An Evidence-Based Guide to Planning Care
We love this book because of its evidence-based approach to nursing interventions. This care plan handbook uses an easy, three-step system to guide you through client assessment, nursing diagnosis, and care planning. Includes step-by-step instructions showing how to implement care and evaluate outcomes, and help you build skills in diagnostic reasoning and critical thinking.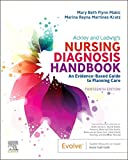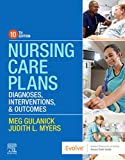 NANDA International Nursing Diagnoses: Definitions & Classification, 2021-2023
The definitive guide to nursing diagnoses is reviewed and approved by NANDA International. In this new version of a pioneering text, all introductory chapters have been rewritten to provide nurses with the essential information they need to comprehend assessment, its relationship to diagnosis and clinical reasoning, and the purpose and application of taxonomic organization at the bedside. A total of 46 new nursing diagnoses and 67 amended nursing diagnostics are presented.
Nurse's Pocket Guide: Diagnoses, Prioritized Interventions, and Rationales
Quick-reference tool includes all you need to identify the correct diagnoses for efficient patient care planning. The sixteenth edition includes the most recent nursing diagnoses and interventions from NANDA-I 2021-2023 and an alphabetized listing of nursing diagnoses covering more than 400 disorders.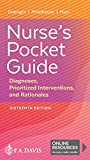 Nursing Diagnosis Manual: Planning, Individualizing, and Documenting Client Care 
Identify interventions to plan, individualize, and document care for more than 800 diseases and disorders. Only in the Nursing Diagnosis Manual will you find for each diagnosis subjectively and objectively – sample clinical applications, prioritized action/interventions with rationales – a documentation section, and much more!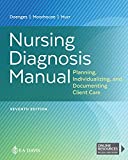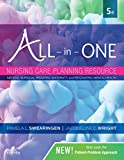 See also
Other recommended site resources for this nursing care plan:
Other nursing care plans affecting the integumentary system: