Bipolar disorders are mood disorders that comprise of one or more manic or hypomanic episode and usually one or more depressive episodes with periods of relatively normal functioning in between. They are said to be linked to biochemical imbalances in the brain and it is said that the disease is genetically transferred.
Nursing Care Plans
Clients with bipolar disorders are at a high risk for suicide. Although clients in the manic phase are briefly agitated, energized and elated, their underlying depression makes them likely to inflict self-injury.
Essential responsibilities of nurses are to provide a safe environment, to improve the self-esteem, to meet the physiologic needs and to guide patients toward socially appropriate behavior.
Here are six nursing care plans and nursing diagnosis for bipolar disorders:
Risk For Injury
Nursing Diagnosis
Risk factors
Affective, cognitive, and psychomotor factors.
Biochemical/neurologic imbalances.
Exhaustion and dehydration.
Extreme hyperactivity/physical agitation.
Rage reaction.
Possibly evidenced by
Abrasions, bruises, cuts from running/falling into objects.
Extreme hyperactivity.
Impaired judgment (reality-testing, risk behavior).
Lack of fluid ingestion.
Lack of control over purposeless and potentially injurious movements.
Desired Outcomes
Patient will respond to the medication within the therapeutic levels.
Patient will sustain optimum health through medication management and therapeutic regimen.
Patient will have stable cardiac status while in the hospital.
Patient will drink 8 oz of fluid every hour throughout the day while on acutely manic stage.
Patient will remain free from falls and abrasions every day while in the hospital.
Patient will be free of dangerous levels of hyperactive motor behavior with the aid of medications and nursing interventions within the first 24 hours.
Patient will spend time with the nurse in a quiet environment three to four times a day between 7 am and 11 pm with the aid of nursing guidance.
Patient will take short voluntary rest periods during the day.
Patient will be free of excessive physical agitation and purposeless motor activity within 2 weeks.
Patient will be free of injury within 2 to 3 weeks:

Stable cardiac status.
Skin free of abrasions and scrapes.
Well dehydrated.
| Nursing Interventions | Rationale |
| --- | --- |
| Provide structured solitary activities with the assistance of a nurse or aide. | Structure provides focus and security. |
| Provide frequent rest periods. | Prevents exhaustion. |
| Provide frequent high-calorie fluids (e.g., fruit shake, milk). | Prevents the risk of serious dehydration. |
| Maintain a low level of stimuli in client's environment (e.g., loud noises, bright light, low-temperature ventilation). | Helps minimize escalation of anxiety. |
| Acute mania might warrant the use of phenothiazines and seclusions to decrease any physical harm. | Exhaustion and death result from dehydration, lack of sleep, and constant physical activity. |
| Observe for signs of lithium toxicity (e.g., nausea, vomiting, diarrhea, drowsiness, muscle weakness, tremor, lack of coordination, blurred vision, or ringing in your ears). | There is a small margin of safety between therapeutic and toxic doses. |
| Protect client from giving away money and possessions. Hold valuables in a hospital safe until rational judgment returns. | Client's "generosity" is a manic defense that is consistent with irrational, grandiose thinking. |
| Redirect violent behavior. | Physical exercise can decrease tension and provide focus. |
Recommended Resources
Recommended nursing diagnosis and nursing care plan books and resources.
Disclosure: Included below are affiliate links from Amazon at no additional cost from you. We may earn a small commission from your purchase. For more information, check out our privacy policy.
NANDA International Nursing Diagnoses: Definitions & Classification, 2021-2023
The definitive guide to nursing diagnoses as reviewed and approved by the NANDA International. In this new version of a pioneering text, all introductory chapters have been rewritten to provide nurses with the essential information they need to comprehend assessment, its relationship to diagnosis and clinical reasoning, and the purpose and application of taxonomic organization at the bedside. A total of 46 new nursing diagnoses and 67 amended nursing diagnostics are presented.
Ackley and Ladwig's Nursing Diagnosis Handbook: An Evidence-Based Guide to Planning Care
We love this book because of it's evidence-based approach to nursing interventions. This care plan handbook uses an easy, three-step system to guide you through client assessment, nursing diagnosis, and care planning. Includes step-by-step instructions show how to implement care and evaluate outcomes, and help you build skills in diagnostic reasoning and critical thinking.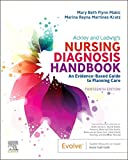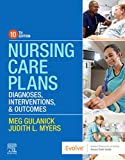 Nurse's Pocket Guide: Diagnoses, Prioritized Interventions, and Rationales
Quick-reference tool includes all you need to identify the correct diagnoses for efficient patient care planning. The sixteenth edition includes the most recent nursing diagnoses and interventions from NANDA-I 2021-2023 and an alphabetized listing of nursing diagnoses covering more than 400 disorders.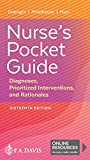 Nursing Diagnosis Manual: Planning, Individualizing, and Documenting Client Care
Identify interventions to plan, individualize, and document care for more than 800 diseases and disorders. Only in the Nursing Diagnosis Manual will you find for each diagnosis…. subjectively and objectively – sample clinical applications, prioritized action/interventions with rationales – a documentation section, and much more!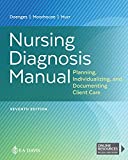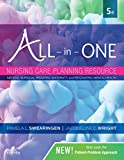 See also
Other recommended site resources for this nursing care plan:
Other care plans for mental health and psychiatric nursing: